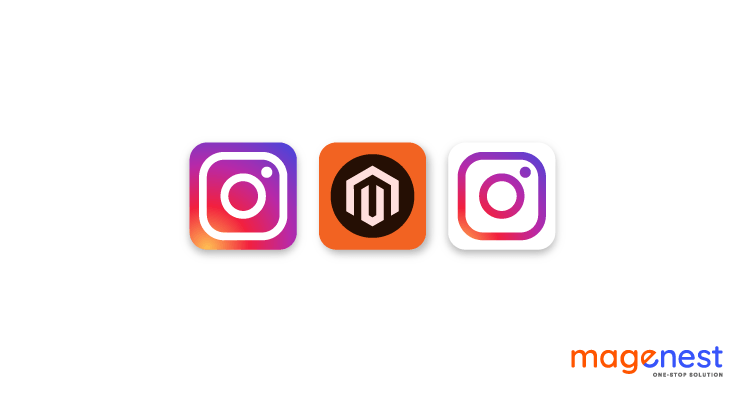 Instagram is becoming a perfect platform for eCommerce businesses to introduce products to customers through a shoppable visual art gallery. And it will be more perfect if you can display this gallery right on your eCommerce store to increase customer engagement and boost your sales by integrating a Magento 2 Instagram feed extension.
In this article, let's explore how your business can benefit from this outstanding module!
Magento 2 Instagram feed provides customers with strong incentives to shop
Customers will be more likely to make a purchase when they can see many realistic photos of your product rather than only looking at basic product images on the product page. Therefore, integrating your Instagram feed full of beautiful shoppable posts into your eCommerce store can encourage buyers to make a purchase more easily.
The Magento 2 Instagram feed extension offers many features to help you make your gallery look more attractive to visitors.
Display the gallery and slider in different positions and different types of layout
With this Magento Instagram feed extension, store managers can choose anywhere on your online store to showcase Instagram photos and videos. It could be a full gallery that appears on the main menu and collects all the media on a separate page, or an eye-catching widget placed on each product page that shows how your product looks in real life instead of only boring default product images.
What is more, the widget and gallery could be displayed in multiple layouts with various animation effects. You can totally decide how images and videos should be showcased, whether in standard or dynamic grid layout. You can also choose to pull all media types or only images, as well as customize the call-to-action upon the mouse hover on a photo.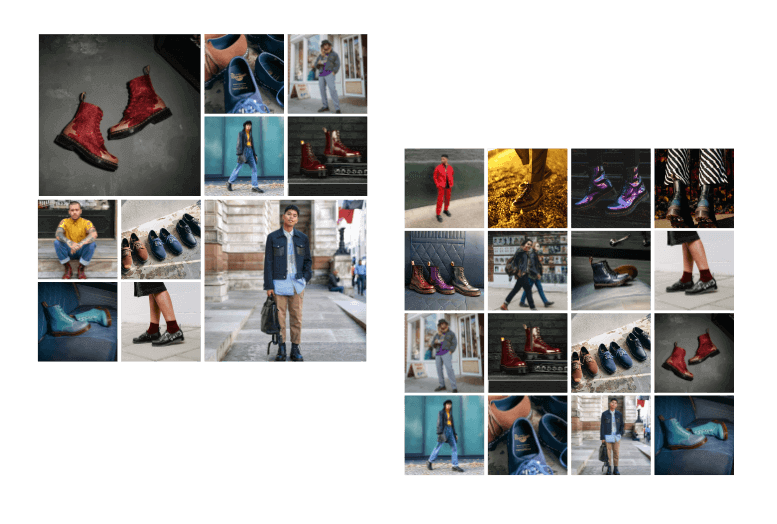 >>>> Check it out: Instagram Shopping: 4 Easy steps to set up on your account
Feature products on Instagram photos by using hotspots
One of the most interesting features of this Magento 2 Instagram feed extension is that it allows you to pin featured products on each photo as which you could do with shoppable product tags on Instagram. This feature is really helpful in case there is more than one item appearing in a photo.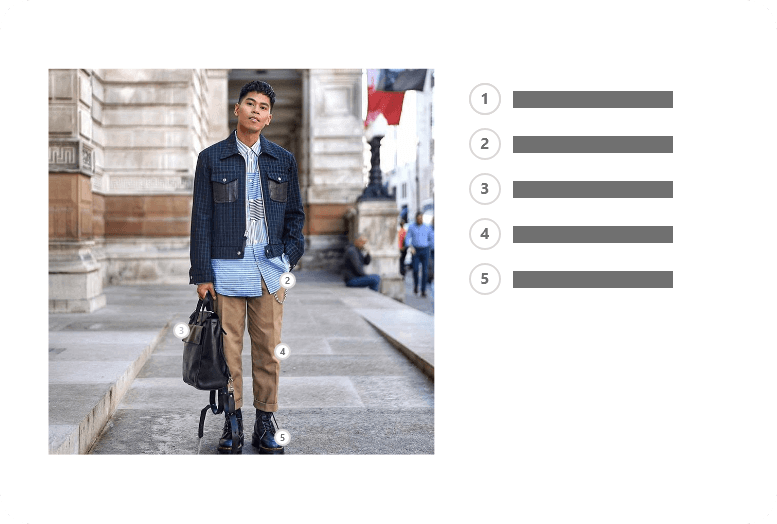 The module provides users with a handy drag-and-drop pinpoint tool in the backend to quickly locate product pins to the right position. Store admins are enabled to add up to five hotspots to each photo. When customers click on the pin, they will be redirected to the corresponding product page.
Use hashtags to show collections in Magento 2 Instagram feed
Thanks to this Magento Instagram Shop extension, you can help shoppers easily view photos and videos by specific hashtags. This will provide customers with the right content they are looking for on your site more quickly, increasing the chance they will add items to their shopping cart.
Not only your own hashtags on your Instagram account but you can also display trending hashtags from other public accounts right on the gallery of your store.

>>>> Learn more: 5 Tips To Generate Sales With Shoppable Instagram Feed
Manage Magento 2 Instagram feed to optimize your store's performance
Track how Magento 2 Instagram feed is performing
This Magento 2 Instagram feed extension provides you with a detailed report indicating the number of clicks on each photo and how many times the featured product is added to shopping carts. By using these statistics, you can easily calculate the conversion rate of each post.
The report also shows the most viewed photos and products, as well as the best converting Instagram posts. In this way, you get all the essential information that will help you adjust your current marketing strategies and make them more suitable for your target audience.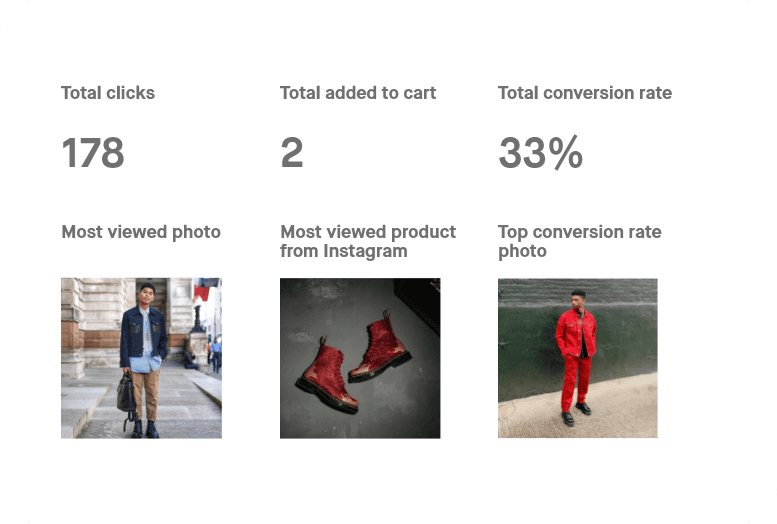 Manage all Instagram posts in one place
In the backend, store admins can easily manage all of your images and photos in the gallery with three different lists: Instagram Photos (all pulled photos), Instagram Tagged Photos (those from your own hashtags), and Instagram Top Photos (those from public accounts).
You are enabled to customize all images by mass action: choose the number of photos displayed in a single slide, set the animation speed and direction, specify the margin between photos in a slider, etc.
Conclusion
Magento 2 Instagram feed extension by Magenest offers store owners advanced features to integrate your Instagram gallery into the Magento 2 online store, making your eCommerce store become more visually appealing, increasing customer engagement, and generating more conversions. The comprehensive and easy-to-use configuration options of this module will help you customize the look and feel of your Instagram gallery without requiring much time and effort.
From only $49 for a Magento 2 Instagram feed extension, you have all the tools you need to make your site more attractive and get more conversions!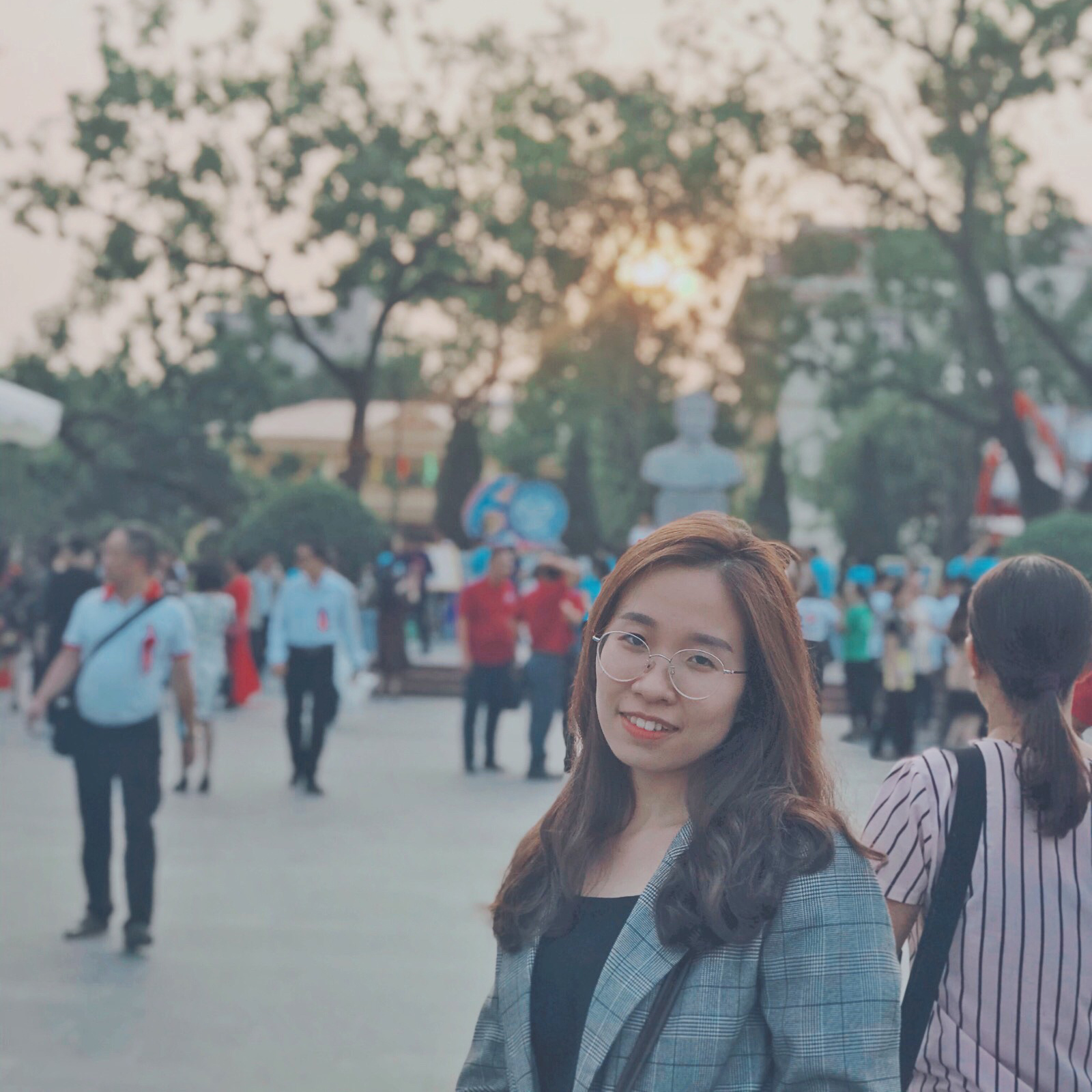 Marketing Executive | Content Manager