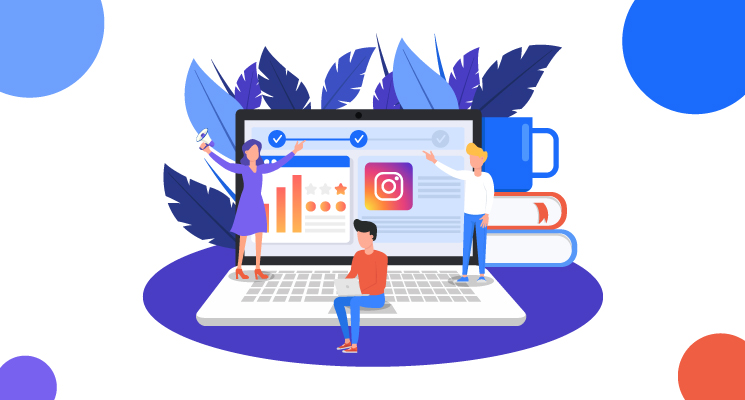 With the help of social networks like Facebook or Instagram, brands are getting closer to consumers than ever. Choosing the perfect Magento 2 Instagram integration extension is the most important task among Magento-based websites now.
The influence of Instagram on the eCommerce world
Instagram is the dreamland of retailers. As a photo-centric platform, Instagram is proving its superiority in helping users get access to a wide range of items.
More than half of 500 million active users daily explore new products and brands right on the platform. Moreover, the launching of Shopping features in 2019 has allowed customers to directly purchase within Instagram.
Connecting eCommerce stores with Instagram positively affects different aspects of a business.
Inevitably, stores can skyrocket their revenue since there are more routes for people to shop. Thanks to the user-friendly interface, your brand can get more attention from potential buyers.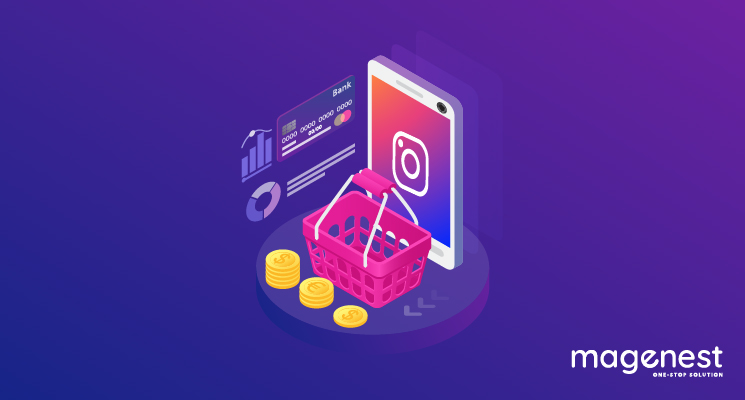 Your followers also have the chance to be a part of your journey through hashtags and tagging systems. These user-generated contents help you create a community of loyal customers and attract potential buyers.
Building a seamless way from websites to Instagram account is a smart strategy for brand marketing. You have the statistics of what products are trending through the reactions of the audience. You can save lots of resources by building your own campaign based on real-time performance.
In fact, brands have realized the amazing advantages of optimizing Instagram. There are around 25 million business accounts on the platform, from giant names to your local shops.
Everyone is seizing the opportunities, so don't leave your store behind the game!
But wait, you cannot win if you haven't prepared for the battlefield.
Besides rich resources and a comprehensive strategy, you need to upgrade your technology to fit in with the demand of the market.
Today, let us show you the top 7 exceptional Magento 2 Instagram extensions that guarantee to rock your eCommerce world!
Who are the leaders in Magento 2 Instagram integration?
After our thorough analysis, we have come up with 7 outstanding providers that give you the best online shopping experience through Instagram.
The main feature of all these extensions is linking Instagram feed into the eCommerce sites, however, each product has its own unique points to support different aspects of the business.
A kindly reminder that the list is not a ranking list and the quoted prices here can change.
Magenest 
As a Business Solution Partner of Magento, Magenest is a reputable Magento provider in the APAC region. More than 6-years experience has helped them build a comprehensive extension for Instagram integration.
Magenest Instagram Shop brings you all the fundamental features of an Instagram integration tool. With simple configuration steps, admin can easily customize photo sliders and gallery. 

Instagram Shop also allows users to put attractive CTAs (Call-to-Action) to strengthen the relationship with customers. Retailers can put social sharing button at the end while the 'Shop Now' button appears when buyers hover on photos.
For the Plus version, Magenest brings you more amazing features, such as multiple layout options for the slider and gallery; you don't have to limit yourself with one boring appearance.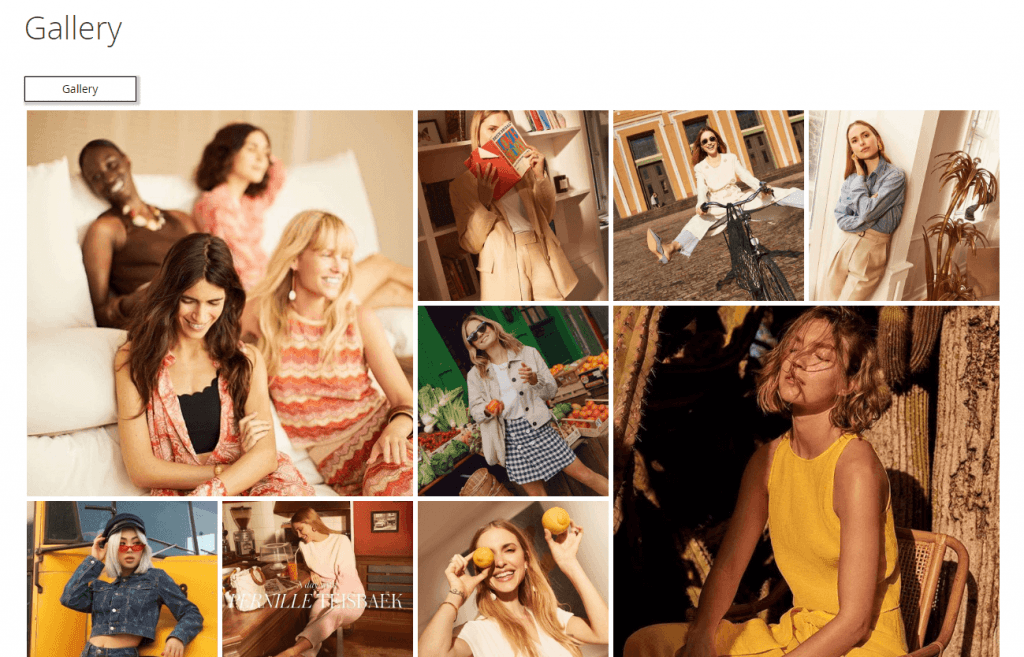 Thanks to drag-and-drop tools, Instagram Shop by Magenest helps you pin products onto the photos. These hotspots can pinpoint up to 5 products, so don't worry about introducing your items. You can also organize your post based on hashtags and product categories.
One outstanding feature is it shows you a detailed report on the performance of Instagram posts. Magento 2 Instagram Shop gives you the statistics on total clicks, views, likes, comments or total conversion rate. With this automatical analysis, retailers can build a suitable campaign for their content as well as understanding the behaviours of buyers.
Hundreds of eCommerce stores have been choosing Magenest to power their sites since the extension has the most useful features for Instagram integration, and they can have this flawless product at a reasonable price.
Instagram Shop supports different versions of Magento for the best productivity of the pages, especially it has high mobile responsive rate. If there're any errors during your usage, Magenest is always ready to support and update the product.
Magecomp
As a certified Extension Builder Partner of Magento, Magecomp is trusted by many stores. Magento 2 Instagram Integration by Magecomp is also a great choice for retailers.
The extension helps you show Instagram images on homepage and product detail page. One amazing feature of this extension is it supports multiple users: admin can add multiple Instagram users and hashtags to the list to fetch Instagram posts.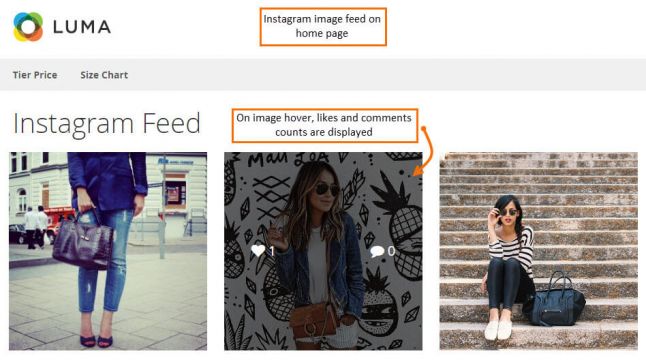 With the Pro Version, Magecomp gives customers a wide range of helpful tools as it gives more power to the admins to configure Instagram integration. Besides, more layouts and hotspots function, now they can add and edit images directly on the backend of the store.
Stores are also able to put titles on the photos and show navigation from these photos to the product pages.
Mageplaza
In terms of free Instagram extensions, Mageplaza with its Instagram Feed for Magento 2 is an effective tool to link this social network into your pages.
Mageplaza is a Select Extension Builder of Magento so the product has various functions facilitating stores in taking advantage of social media platform.
It allows the Instagram feed to be embedded anywhere you want in your pages. You can sort out Instagram posts for the most impactful interface for the visitors. The extension also supports CTAs, such as popup to appear on the wanted location.
The number of likes and comments are shown to illustrate the interaction of customers with the products, which makes potential buyers build trust with your brand.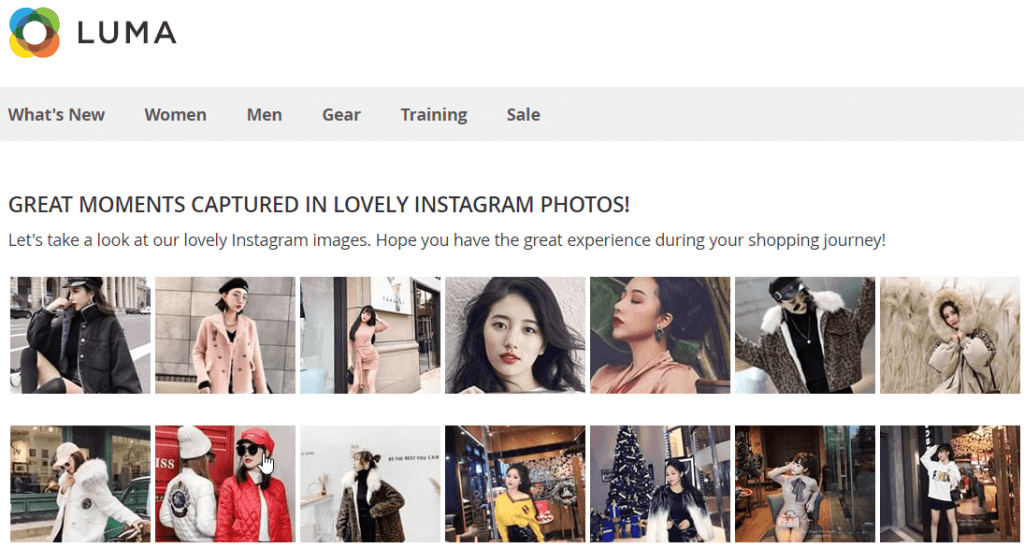 In case you have used Mageplaza products before, Magento 2 Instagram Feed is compatible with other extensions like Twitter Widget.
Weltpixel
Another item you can consider is Magento Instagram Feed Widget by Weltpixel. With easy installation and configuration, this extension has simplified the works of many retailers.
Stores can display different layouts in their preferred ways. Other than showing photos based on categories, Instagram posts can be presented by user account. Weltpixel also allows admins to add descriptions and titles on the images as well as changing the resolution of each post according to the requirements.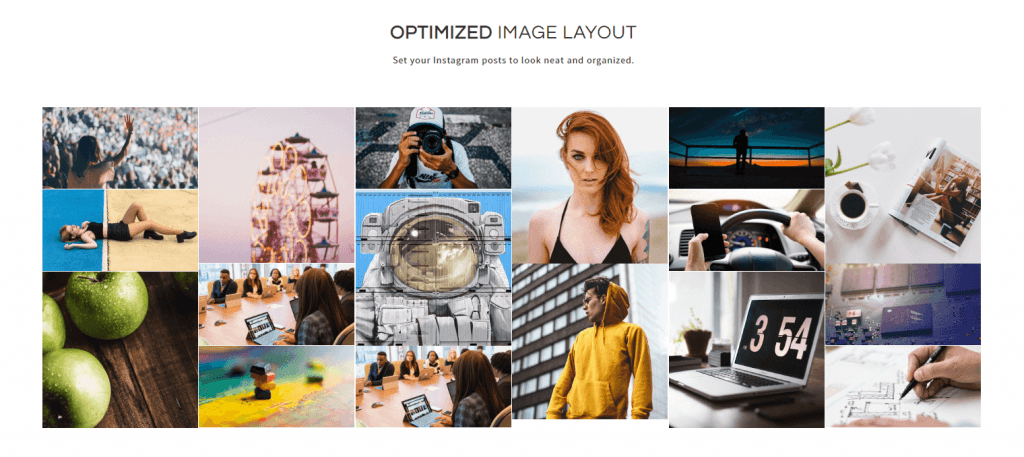 Meetanshi
Meetanshi is a famous Magento Extension Builder Partner from India. With more than 8-years experience, they have developed over 100 Magento extensions. Therefore their Magento 2 Instagram extension is the choice of numerous online merchants.
With simple drag-and-drop pins and one-click image fetch, the extension makes it easy for customers to connect between two worlds. Users can also redirect visitors to product pages when clicking on the titles.
Magento 2 Instagram supports the default Instagram view and allows the posts to appear in the description section as well as the media gallery. Store owners can set up the number of posts showing up on the page.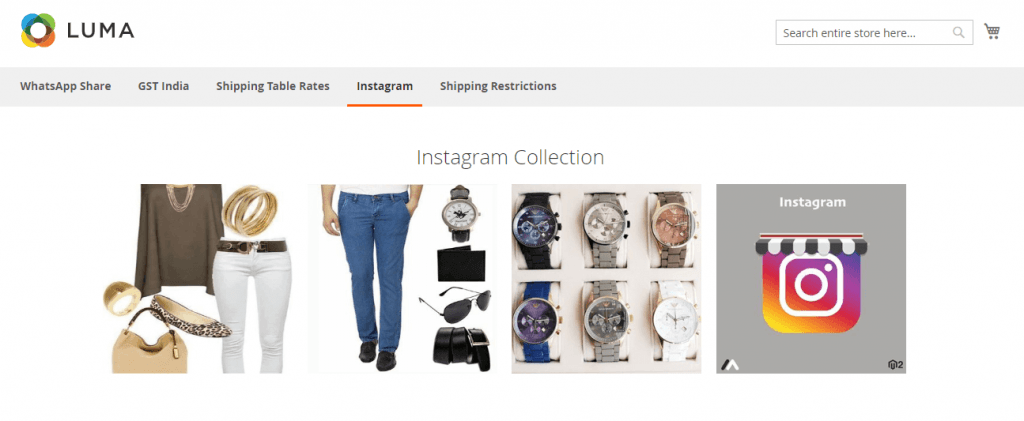 Amasty
Instagram Feed by Amasty is also a favourite choice among eCommerce store owners. As a Premier Magento Extension Builder, Amasty has developed an extension that helps store attract more visitors and boost revenue by increasing high-quality content.
Providing a lifetime update, this extension helps store owners regulate the quantity and resolution of each post they want to show. It's easy to sort pictures based on specific criteria and display at any location on the page.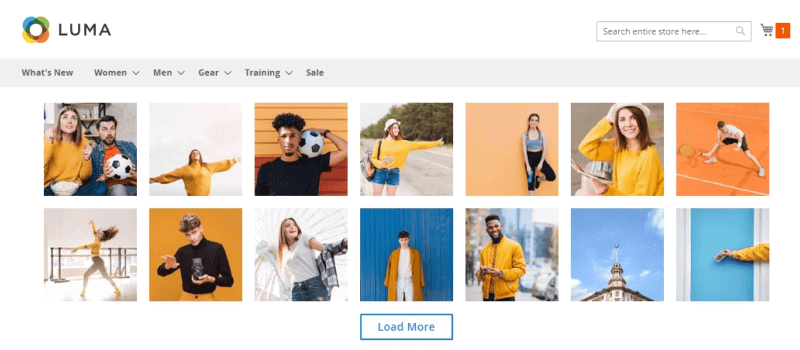 Retailers can follow the customers' engagements since Instagram Feed shows the like and comments of particular posts. Buyers can also interact with product images through CTAs.
Solwin Infotech
Another free Instagram integration product is the Magento 2 Instagram Widget by Solwin Infotech. The extension is easily installed and managed which helps retailers promote the brand's awareness through Instagram connection.
Like all the above products, Instagram Widget allows admins to put Instagram into the page; in the form of a widget-like block, your profile can be added anywhere. You're also in charge of setting the limit and title for the pictures so they serve you efficiently.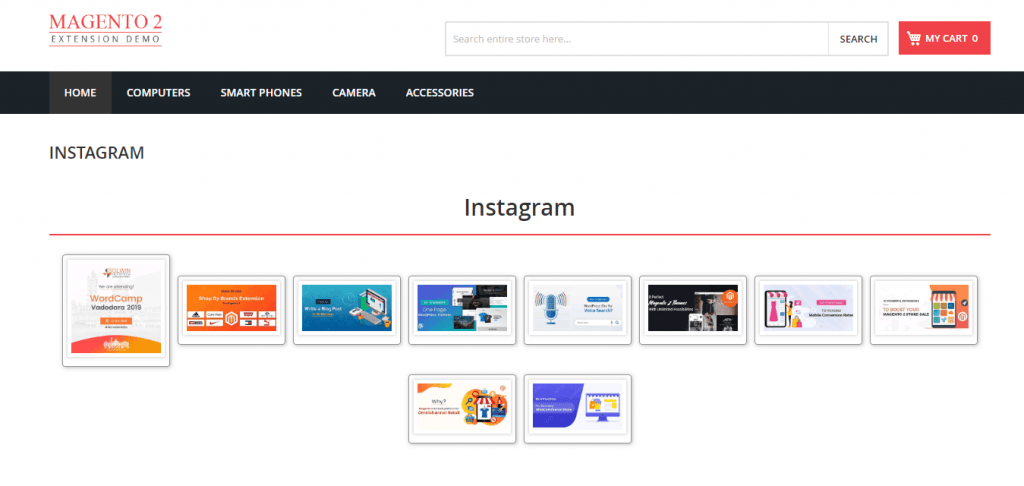 The chart below shows the price of each particular product.
| | | |
| --- | --- | --- |
| Name | Price | Pro/Plus Version |
| Magenest | $49 | $149 |
| Magecomp | $99 | $149 |
| Mageplaza | Free | N/A |
| Weltpixel | $99 | N/A |
| Meetanshi | $119 | N/A |
| Amasty | $149 | N/A |
| Solwin Infotech | Free | N/A |
Epilogue,
Optimizing Instagram to boost eCommerce revenue is becoming more common among store owners. We hope that this article has introduced you the best extensions for Instagram integration. Based on your needs, you can choose the most suitable product to support your development. If you have any recommendations, comment below so we can update our list!
At Magenest, we're confident to bring you the flawless Magento services. Our professional team is always ready to assist you in elevating the eCommerce site, so don't hesitate to contact us for more amazing products!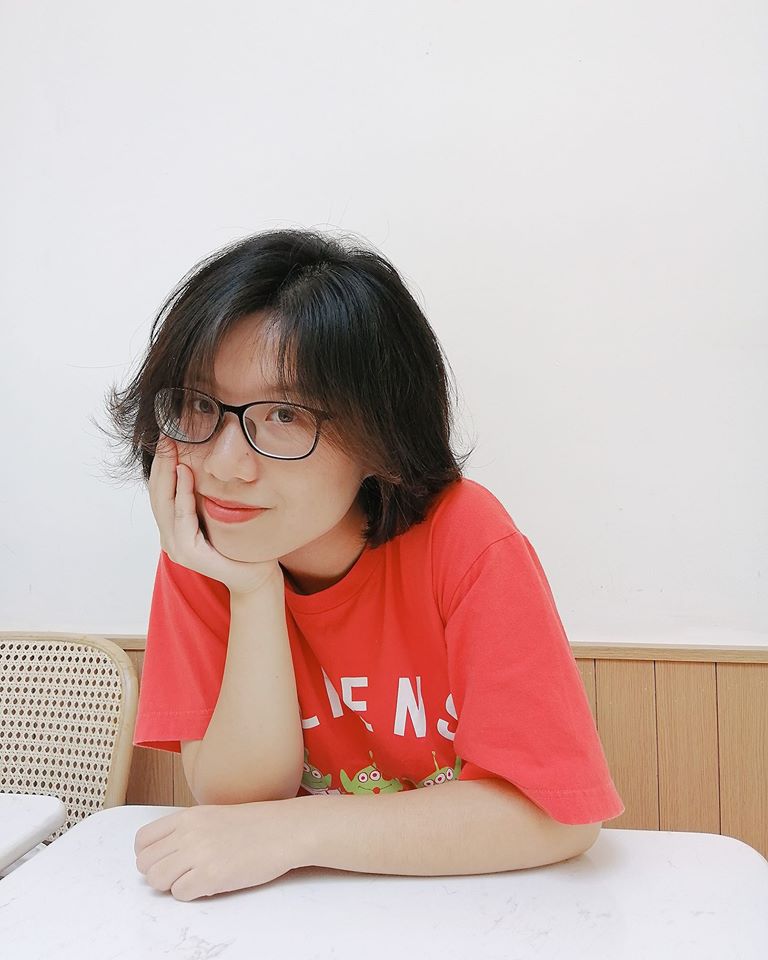 Marketing Executive | Learning new things every day.