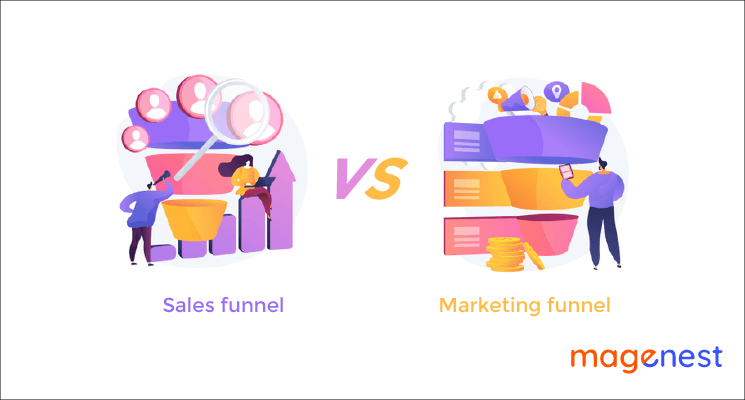 Probably, you have heard all kinds of talking about funnels: sales funnels, marketing funnels, and conversion funnels. All of them have, during recent years, become remarkably popular due to the success of some online businesses.
A lot of businessmen set out to adopt certain funnels to boost their revenue, yet, they do not always know when to adopt which funnel. And that is a huge slip of the tongue.
This article will take a look at one of the most controversial subjects: sales funnel vs marketing funnel to help you understand the terms, know their difference, and determine the more suitable one for your brand.
Definition: Sales Funnel vs Marketing Funnel
Before defining these terms, we need to understand the meaning of "funnel".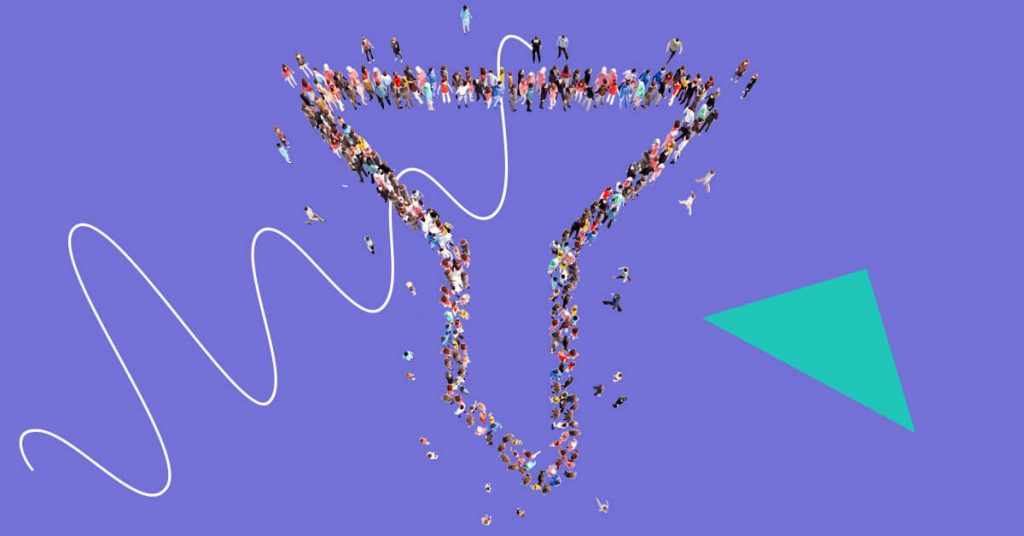 A funnel may be expressed as a journey that a customer makes from just a prospect to an actual buyer, in other words, it is the set of actions that occur before a customer purchases the desired product or service.
Thus, is there a difference between sales funnel vs marketing funnel?
What is a Marketing Funnel?
Marketing is a fundamental business function that allows brands to improve visibility and gain a competitive advantage over other competitors. For this reason, a marketing funnel is an approach that guides potential customers throughout the whole journey; from the first moment they interact with a brand, way up to the point where they overcome the urge to purchase the product or service.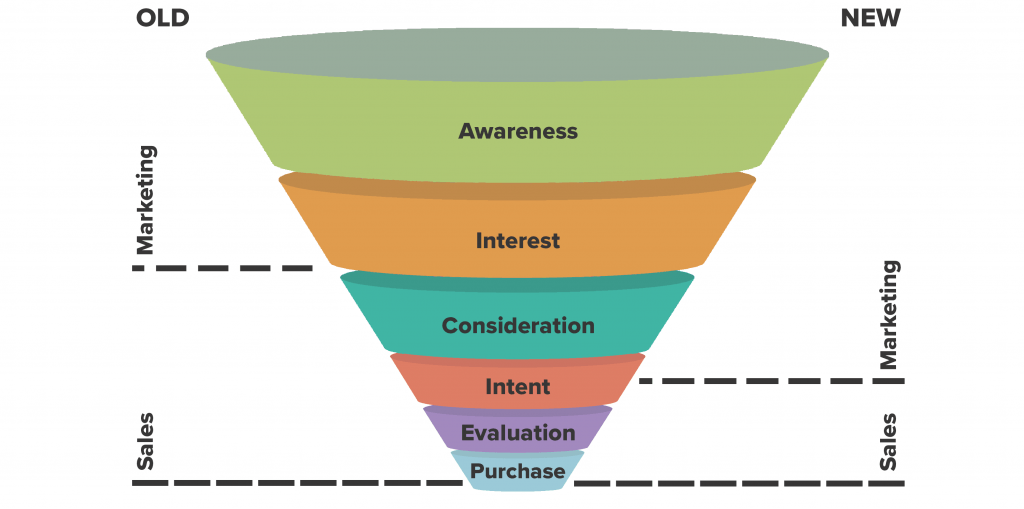 A marketing funnel helps prospects get acquainted with a brand. It is also famous for facilitating businesses in visualizing their customer journey and therefore devising some sales support marketing strategies.
The marketing funnel made out of three components: building awareness, maintaining interest, and customer evaluation.
The marketing funnel can be separated into two phases:
1. Lead generation: This comprises the formulation of marketing campaigns to increase brand awareness: inbound marketing, content marketing, online ads, viral campaigns, direct email, and more,… to inform all new potential customers about your offerings.
At this stage, writing landing page copy and creating website navigation is very important to get customers involved in knowing about your product or service.
2. Lead nurturing: As soon as a prospect grows an interest in the brand, the subsequent step is to nurture the lead. This is when a business makes an effort to build a prosperous relationship with the prospect by introducing them to the product or service with tailor-made content to assist their purchasing decision.
This level is all about building trust and engagement by sending emails, newsletters, free ebooks,… to interested-subscribers on a regular basis.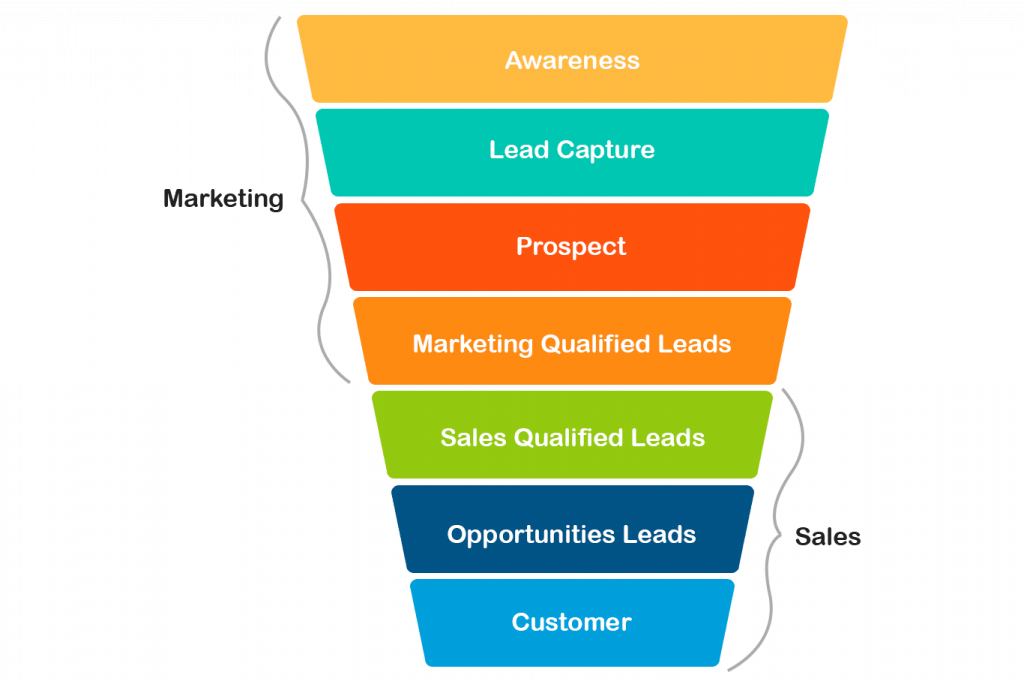 The end of this stage is also the phase where a marketing funnel lightly turns into a sales funnel.
What is a Sales Funnel?
As you can see, the marketing funnel usually draws attention to sponsoring a brand to as many audiences as possible. Its goal is to attract potential prospects who can quickly transition into actual buyers. The moment such prospects are detected and they develop a certain interest in the brand's product or service, they will enter the sales funnel. From this moment on, the prospect would become a sales prospect.
The sales funnel can be identified as the process that leads a sales prospect from the marketing stages to conversion one. This sales funnel is at the narrowest end of the conically shaped marketing funnel.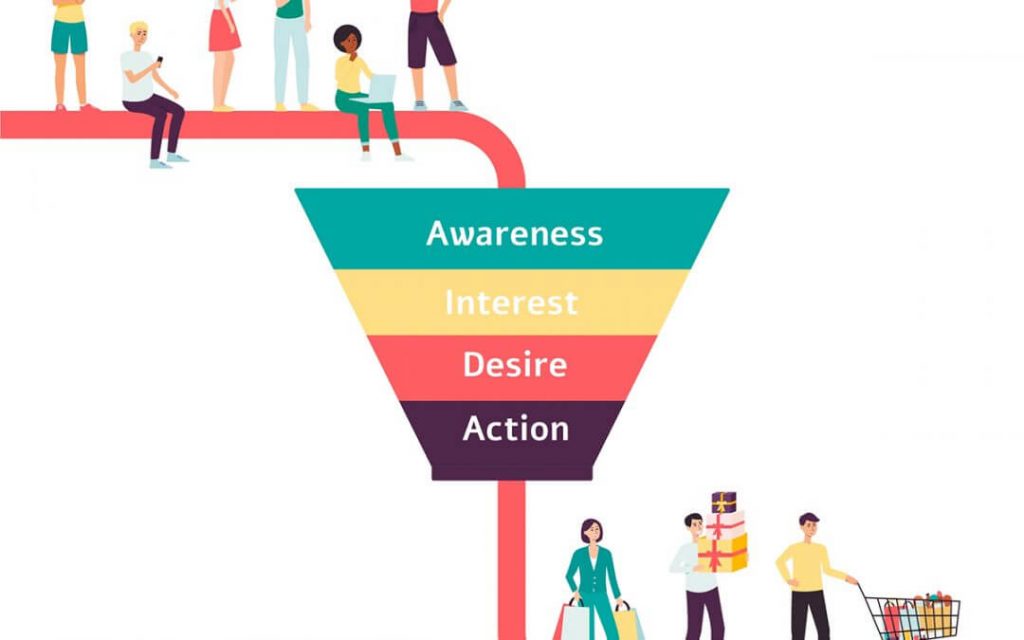 Since awareness has been built already, the next step is to make the visitors believe you are better than others and slightly push the visitors to buy your offerings. Thereafter, they enter the further engagement stages: commit to your solution. Finally, they will decide to purchase, maybe speeded up with free trials or demonstrations.
However, the sales funnel does not end here! In this day and age, the subsequent phase is customer retention. And you should never overlook the follow-up, too.
There are various benefits that sales funnels can provide you with.
boosting sales – by increasing sales and inspiring trust.

identifying problem areas – track and address them.

automation of the sales process – saving time and efforts.
However, before creating your first sales funnel, it will be better if you check out some effective sales funnel examples and base on that to build your own.
Differentiation: Sales Funnel vs Marketing Funnel
There is a slight difference in sales funnel vs marketing funnel. It turns out that these terms can be interchanged, and breaking them up is tough. The most salient dissimilarity between the two terms appears to be the context of use.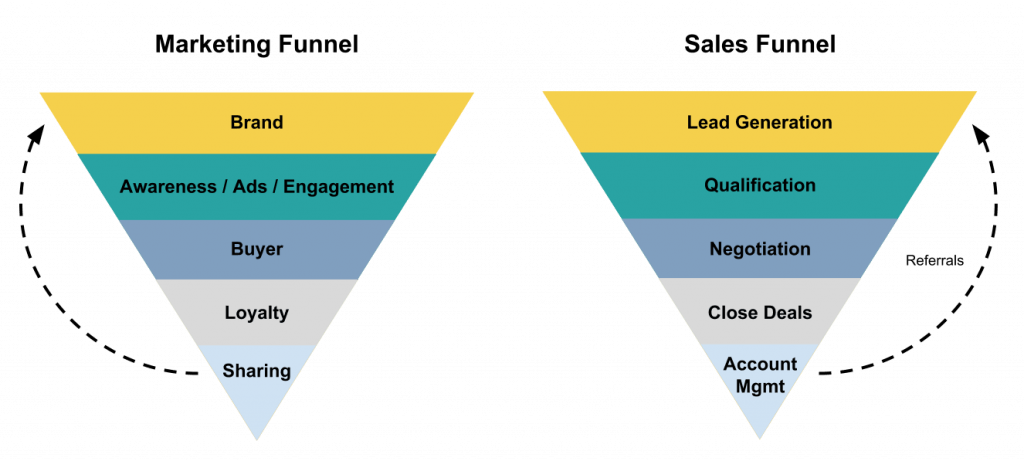 For the most part, sales and marketing are two clear-cut distinctive functions. Each has its own special journey map that sets out the progress of a potential customer.
The marketing funnel's bottom marks the peak of the sales funnel. This implies that the sales funnel is driven by marketing activities that create awareness to generate product demand.
Marketing Funnel

Sales Funnel

A marketing funnel is the high-level strategy to guide customers from absolutely unaware of your brand to actual, loyal customers.





The phases of the marketing funnel, therefore, start at raising awareness and make it to the end with conversion.

On the other side, the sales funnel is the process whereby you plan to get people to take action — either logging in to your email list, purchasing a product, or participating in an event.





It's a series of sites that are made to seamlessly persuade a customer to go from point A (i.e. be inquisitive about your product) to point B (i.e purchasing your product).

In that way, a sales funnel is actually a part of the marketing funnel.
Yet, many businesses are joining these functions together, hence it is becoming harder and harder to distinguish marketing techniques with a sales support marketing strategy. In addition, businesses are catching up with custom-made stages for each funnel to rationalize their operations. Consequently, there has been a subtle line between the sales funnel vs marketing funnel.
Sales Funnel vs Marketing Funnel: Both important to businesses
"Sales funnel vs marketing funnel" is a complicated topic that can be argued all day long. However, it's good to perceive that sales and marketing are alike in many ways. Though they aren't the exact same thing, they should tell the same story.
Marketing funnel advertises a product or service to give leads a motivation to buy. Whereas, the sales funnel deals with the leads generated from the marketing funnel and trying to entice them to buy as often as possible.
That may be the best to conclude the topic of sales funnel vs marketing funnel.