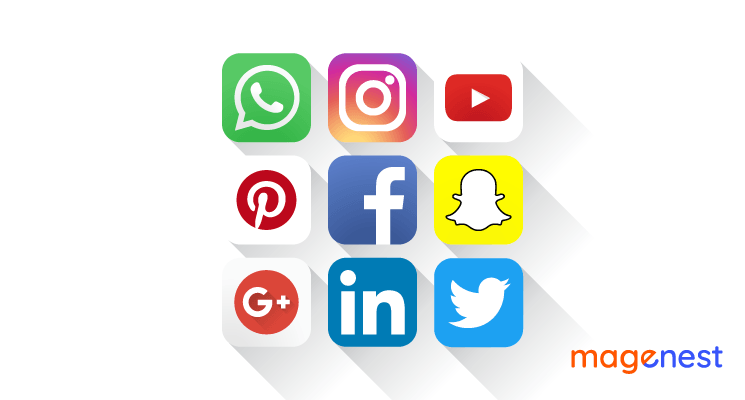 Social login is an outstanding invention that originated from the huge number of Social Media accounts nowadays. We cannot deny that Social Media, such as Facebook, Twitter, Whatsapp, etc., plays a crucial role in our life. Moreover, it obviously changes the way we are living and creates a new virtual world where people can learn and share information. People can create new organizations and communities by using those web-based online tools. The fact that people have been using the Internet and our virtual world for various purposes, both for personal and organizational objectives, such as education, business, sharing, interest, etc.
Some trustworthy studies have also shown that people spend from five to six hours on average per day on Social Media platforms. And online businesses are booming nowadays because of the outstanding convenience of the Internet. The problem is that before making any online purchases, customers need to create their accounts on that store, the online accounts will be used for various purposes such as making orders, keeping track of orders, and reviewing products. However, creating a new account is such a really hard and time-consuming process, especially with those who are busy or not frequent online users. Therefore, social login will help online business owners and customers solve this problem.
If you are planning on doing online business, you are in the right place. This article will show you everything you need about social login, which is a must-have tool to boost your business.
What is Social Login
Social login or social sign-in is a process of using Social Media accounts to register for an online store so that the customers can make their purchases and keep track of their orders afterward. In other words, social login is a way that is mainly designed to help the users use the Internet a lot faster and more convenient.
This process will simplify the registration experiences of users instead of creating an account from the beginning. More specifically, the users can access the account on both mobile and desktop platforms with fewer registration procedures. And this is also an attractive and useful feature for businesses to encourage customers to stay longer on their sites and indirectly provide some useful information from social accounts for further customer research.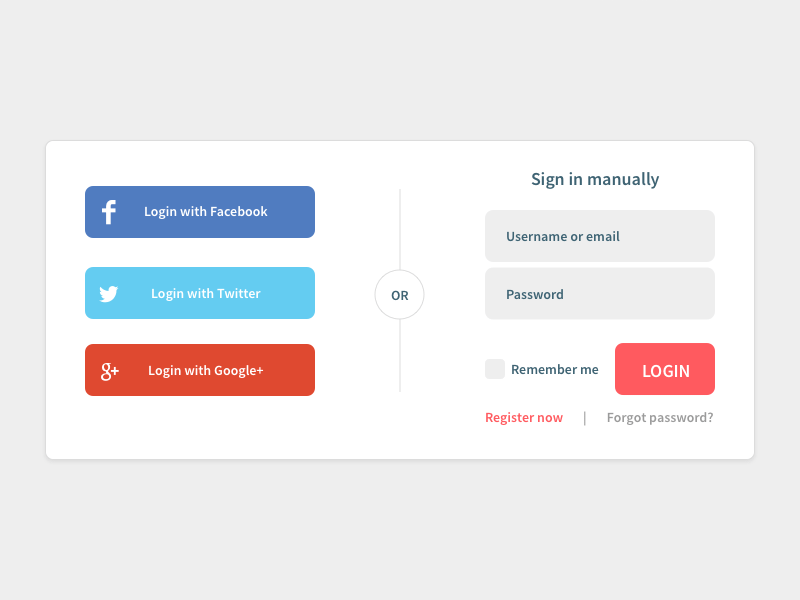 How many steps are there for a simple social login process?
Users will have to follow three simple steps below:
Step 1: Customers can use an app on mobile or site on desktop platforms to choose their Social Media account. You can easily see a notification popped up on your screen with a button or a form that asks you to sign in with Facebook, Twitter, Instagram, etc.
Step 2: At this stage, the social network provider will receive your request. As a user, you need to accept the access permissions before you can log in to the site.
Step 3: The social provider will confirm your identity, and then you can get access to the site.
Some Social Media accounts which are commonly used by customers and business owners, such as Facebook, Gmail, LinkedIn, Dropbox, Microsoft, Reddit, Instagram.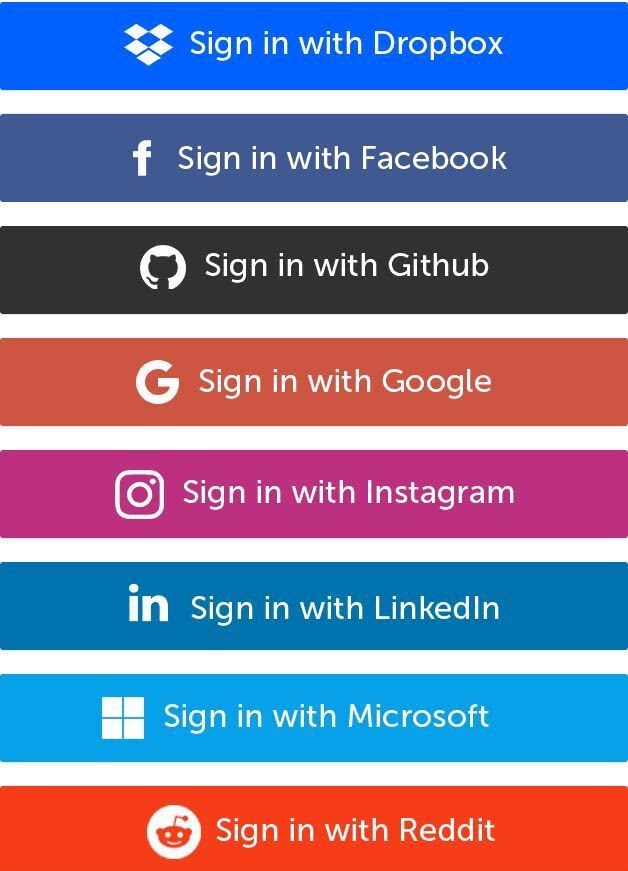 Benefits of Social Login
Despite some disadvantages of social login, this web-based online tool brings us various advantages that we cannot deny, such as:
Simpler and faster registration process: With only several clicks, the customers can complete their signing-in process, which is much faster and easier for those who do not use the Internet frequently. Thus, they can immediately focus on their buy process without wasting too much time on verifying the account by SMS or Email as it is while creating a totally new account.
Social login is a useful Marketing tool, why is it? It is obvious that people can use their Social Media account to comment and review your products. In case they allow those comments to appear on their newsfeed, such as on Facebook, their friends and family members can see your product. This tool can create an added value to your business and expand your customers soon.
Social login improves the customers' buying experiences. In other words, they will find online shopping is a relaxing experience because they do not need to remember all the login accounts when shopping. This will give rise to your increase in business profit.
Social login provides familiarity to the customers because they still use social accounts to sign in as what they often do on other sites. If your brand is new or not really well-known, this tool may be useful.
Customer-friendly mobile platform: Users spend over 90% of their time searching things and making purchases on mobile, so social login will help in this case.
The convenience of this tool will increase the creation rates and loyalty among users.
Social login can also collect valuable data for further customer research, thus, business owners can use it to improve the experience of users.
Besides those benefits mentioned above, there are other advantages that are really necessary for eCommerce:
Social login improves customers' experiences on the website, therefore, they are less likely to abandon their shopping carts.
This tool encourages a customer to log in faster, hence increasing the average time they spend on the site.
There will be fewer login failures, thus, more customers can purchase your products.
More effective content and marketing campaigns will be sent and launched thanks to the data from the use of social login.
Current situation of Social Login Market
What companies are in the market?
There are many companies in this market, some of them provide social features for other websites to use, such as Apple, Facebook, Google +, Live, LinkedIn, PayPal, QQ, Taobao, Twitter, WeChat, Vkontakte, etc.
However, you can easily see that around 90% of website social login are with these two big brands, namely Facebook and Google+.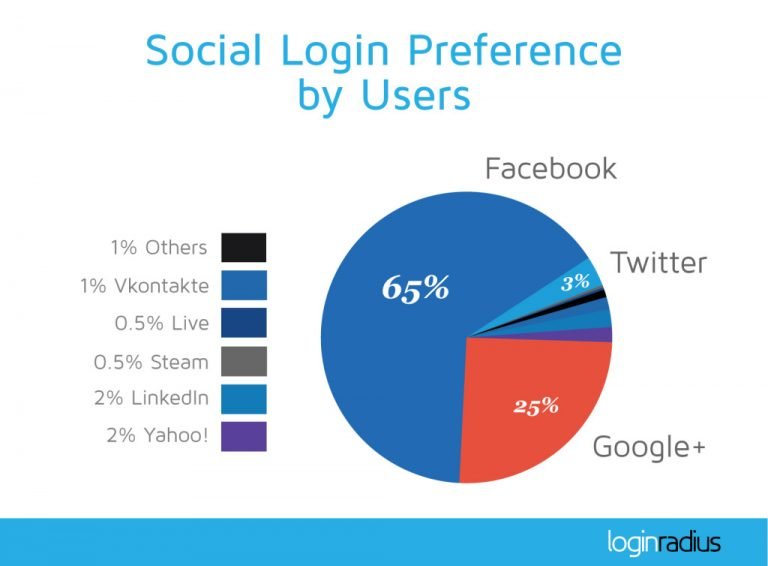 Optimize the registration process with Social Login and Share
Social Login and Share is developed by Magenest. This social login Magento 2 extension is designed mainly to simplify the sign-up process, thus increasing the registration rate of the customers by 30%. Most of the complicated steps while registering will be removed, and customers will only need some click to sign in a new account with their Social Media.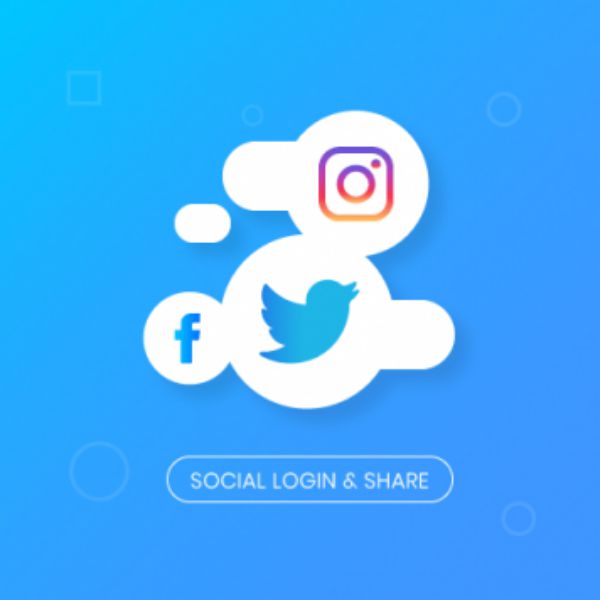 Advantages of Social Login and Share
Social Login and Share provides users various benefits, such as:
This tool can support up to 10 common social networks, including Twitter, Google+, Facebook, Amazon, Instagram, LinkedIn, LINE, Apple ID, Pinterest, Reddit. Therefore, it is an advantage that you can approach your target customers by their virtual lives on those Social Media accounts, this tool helps the users to import their customer data, so there is no need to input additional fields. Those social accounts also support your further research on customer behaviors, thus improving your services, products, and customers' buying experience.
Social networks can be used as an effective marketing tool because you can easily expand your customers with Social Login and Share by sharing links about your business and products to your current customers' social accounts. This helps to improve the exposure of your brand to other potential customers. This tool is designed based on your customer-friendly platforms, so they can easily find the place to share the comments, reviews, or detailed information about your products on their social accounts.
This is a user-friendly tool, so it will not take too much time to learn and use this tool. Everyone can learn to use it in order to push online sales.
No doubt that this tool will boost your sales effectively in the long-term. It can keep your customers stay on your site for a longer period of time because they already have a good and quick start, so they want to explore more and focus more on your product. This leads to their easier decisions on buying products.
Price: With only $50, you can make your online store more professional
Compatibility: CE, EE 2.2.x, 2.3.x, 2.4.x
One special announcement is that Magenest offers the 15% discount bundle for those who buy the three products, including Social Login and Share, Instagram Shop, and Popup. If you are doing online business, you should not miss this combo. Magenest offers 2 Magento Editions with free 6-month support, namely Commerce (Enterprise/Cloud) with the price after discount at $651.95 (Original price: $767) and Open-Source (Community) with the price after discount at $288.15 (Original price: $339).
Instagram Shop will help you boost your sales by displaying your Instagram gallery on your page and widgets with multiple layout options. 
Besides, Popup is really necessary for your business. This tool will help you create attractive popups on your templates so as to call their buying actions. 
Surely, this combo will boost your business to a better version.
Conclusion
Social login is a win-win process for both customers and business owners. Many people agree that social login is a useful and convenient registration solution that makes the online buying process much faster. No doubt that social login brings many benefits. Therefore, this is a must-have tool for any business owner. If you are planning on changing your business better, visit Social Login and Share for a better deal with a 15% discount bundle so as to boost your sales. Do not forget to visit our store for more Magento 2 extensions.