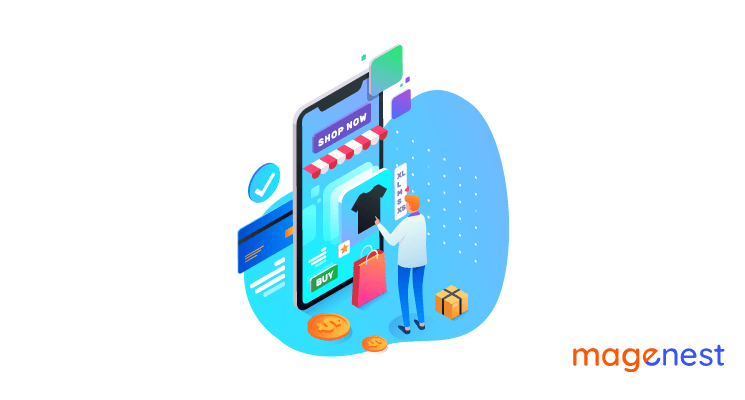 Social media integration with your website can help you generate more traffic, increase your followers and engage your audience.
In recent years, share buttons on websites and articles have become the norm. From live Twitter feeds on a blog sidebar to "follow us on Facebook!" widgets on a company website, digital marketers have incorporated social media integration as a simple but tactful marketing practice.
Here's all you need to grasp about Social Media Integration, and how to incorporate it into your marketing tactics.
What is Social Media Integration?
Social media integration is a marketing mindset where you use social channels as an extension of your current branding and marketing strategies. It helps you raise your brand awareness and improves the visibility of your marketing campaigns by opening up opportunities on multiple social platforms for your customers to link or share articles between your website and social media.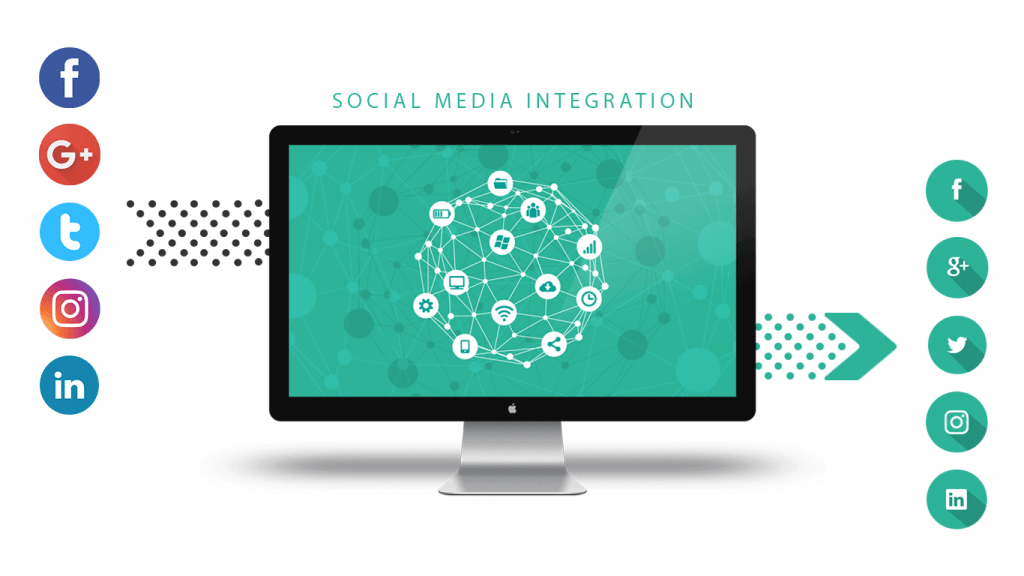 Social media integration can be simply perceived as publicizing your social media accounts on all appropriate communication tools, from newsletters, email, printed ads, business cards, in-store stickers to even merchandise.
Integrating your social media efforts not only to save time but also to reach more customers and develop a consistent, reliable brand. Businesses that don't integrate their websites into their social media accounts or don't utilize specific social platforms are missing out on new prospects and leveraging their online presence.
Read more: What is Social Commerce? 
What are the Benefits of Social Media Integration?
Customers are not checking their emails several times per day, but they are when it comes to checking their Facebook and Twitter accounts. Industry-standard email open rates are about 19.4% while a paid Facebook or Twitter advertisement reaches 100% of followers.
You can only truly make the most of social media if your brand already has a healthy amount of targeted followers. If you haven't started building your online social media presence yet or are still struggling, keep on reading.
There are multiple reasons why you should be utilizing social media integration within all applicable communication channels:
#1 Economical Customer Loyalty Plan
One of the most economical ways to build a strong follower base is to integrate social media buttons. Adding icons on your website to join your Twitter or Facebook requires simple code, while flyers or business cards including your company's social media details aren't going to cost much more.
#2 Leads Generation
Everyone you interact with is either a potential lead, a customer, or a business contact who is interested in what your business has to offer.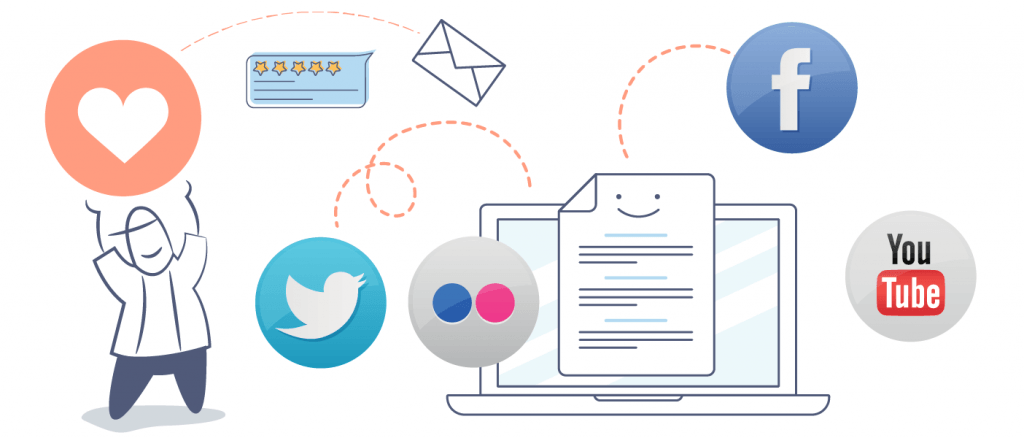 Not only does social media integration empower you to build a highly focused social media following with people who are more likely to share or interact with your content, but it's a great way to bring about free targeted leads.
#3 Shaping a Perfect Funnel
Be it email marketing, business cards, eBooks, car stickers, or even free merchandise - why wouldn't you encourage those customers your brand engages with to follow you on social media? Apparently, you have nothing to lose and everything to win.
Setting a Twitter symbol including a link to your handle on every online content just takes seconds and doesn't even need to be concerned again. It's not intrusive and gives the viewer an option to follow you immediately. This has become the least online marketing trend to place social media icons on various tools strategically.
Why is Social Media Integration Important?
Another glance at a quick explanation: Social media website integration is the practice of using social media accounts as an extension of your marketing tactic, which is typically fulfilled two ways: Directing your social media audience to your website and enabling your social media accounts to be accessed easily on your website.
Consider those social media buttons you see on web pages and blog posts that allow you to share an exciting piece of content without having to copy and paste the URL. That's a perfect example of social media integration in action.
Social media integration helps achieve a few key goals, including improving your brand reach and awareness. It also promotes engagement with your website and helps build a larger audience base on social media.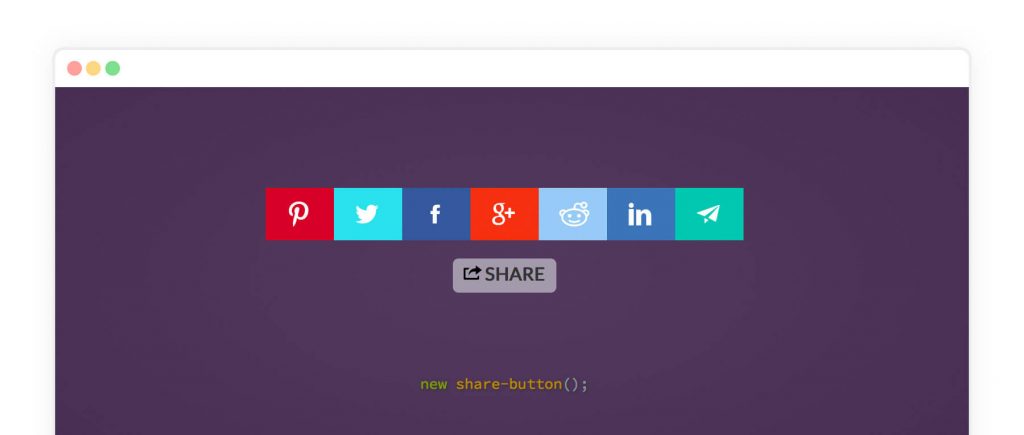 It becomes more critical than ever that businesses and brands give their audiences more channels to interact with them. COVID-19 has transformed the landscape for how people interact with businesses. Due to the global pandemic, More and more people are turning to social media than ever.
In order to better keep your brand awareness afloat (or even improve it), you'll need to integrate social media via every of your communication channels.
3 Ways to Integrate Social Media On your Website
Your website and social media should seamlessly work together. This helps improve your brand while increasing traffic to your social media accounts. Here are three basic tips to integrate social media onto your website:
#1 Social Share and Follow Buttons
The simplest way to start integrating social media on your website is to attach follow buttons to your pages. The website header and footer are where you normally find social links, so start there. If your website incorporates a blog, add social share buttons to its articles so readers can easily repost, retweet, or even pin your content.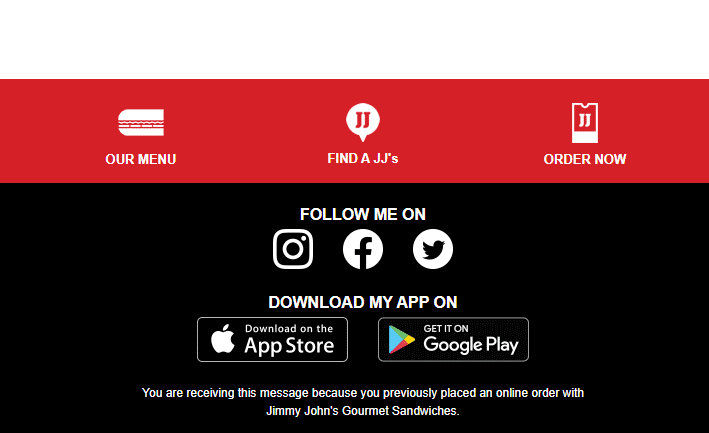 When adding social share buttons, the best advice is to keep it as simple as possible. You don't need to add every single social media platform. Instead, just concentrate on the ones that are somehow connected to your brand.
Don't spam your website with them. either. Just make them focused on the sharable pieces of content like your blog posts or videos.
#2 Social Login
If your website requires users to sign in, you can incorporate social buttons by enabling users to log in through their social media profiles. Providing users this easy, convenient step can benefit your business by enhancing user sign-up rates, as well as collecting social insights that you can utilize to better market your business.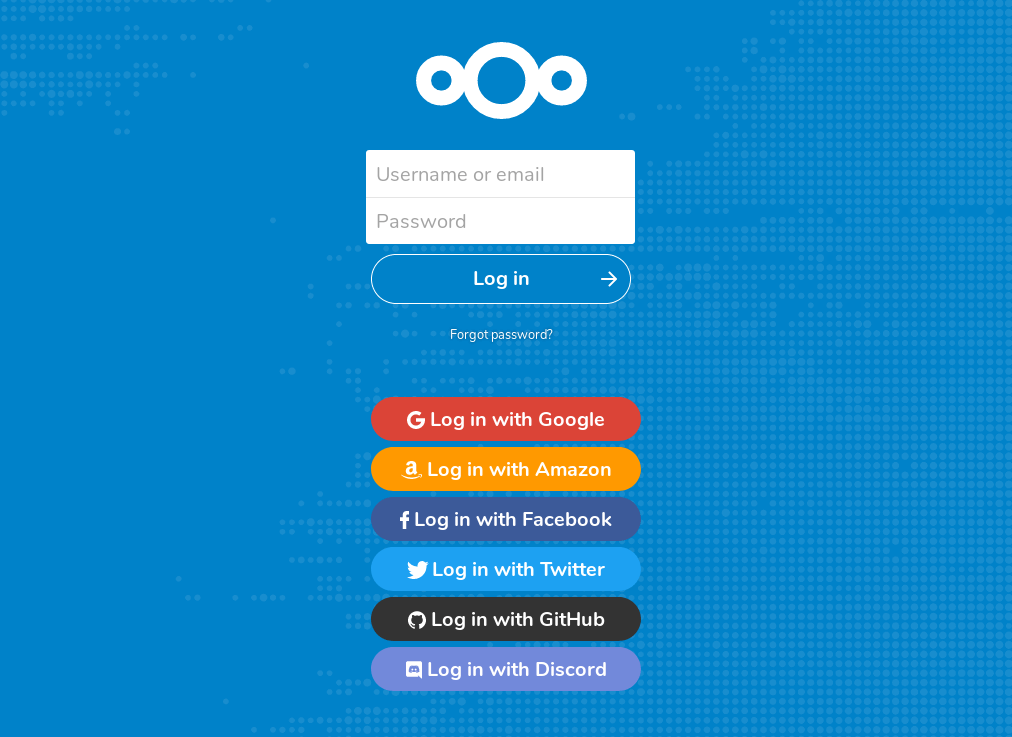 In fact, one research from LoginRadius shows that 73% of users prefer to log in using their social media accounts. That makes sense. After all, it's so much easier to use a social media account to log in than creating a completely new profile from scratch: filling a profile, picking a password, and confirming it through email.
Diving a little deeper, and 70.99% of users surveyed preferred Google to log in using their Google account — by a very large margin, whereas only 20% chose Facebook and 9.3% favored Twitter.
Read more: Social Login - Everything You Should Know About It
#3 Social photos and videos
Showcasing your social photos and videos on your website is another simple step that can directly attract new visitors and increase your follower counts.
Moreover, not every business can afford to consistently produce and publish high-end videos, so adding videos from your social profiles can decrease the bounce rate on your website.
How to Enable Magento Store Social Media Integration
The only way in the current version to connect a Magento store to social networking integration is through Magento extensions.
Magento extensions are installable add-ons that extend the functions of a Magento website. Last year Magento published a free extension for users to connect their Magento web stores to Facebook, called Magento Social. Otherwise, they are simply seen in the Magento Extension Marketplace, or in the product pages of third-party developers.
Magento Social – Magento and Facebook
Designed by their own in-house team, Magento Social allows users to seamlessly connect with Facebook to directly sell products through ads. It also provides everything needed to execute the above-mentioned brand-building and audience-winning social media strategies.
Third-Party Extensions – Magento and Everything Else (Including Facebook)
Most of the extensions allowing Magento website social media integration now came from third-party developers.
While it's awesome that Magento has released a Facebook integration extension, Facebook is only one of several crucial social media channels.
To connect your Magento store to LinkedIn, Twitter, and the rest, you will need to look for third-party extensions. Not to mention, there are numerous third-party Facebook extensions different from Magento Social that provide further social media management abilities.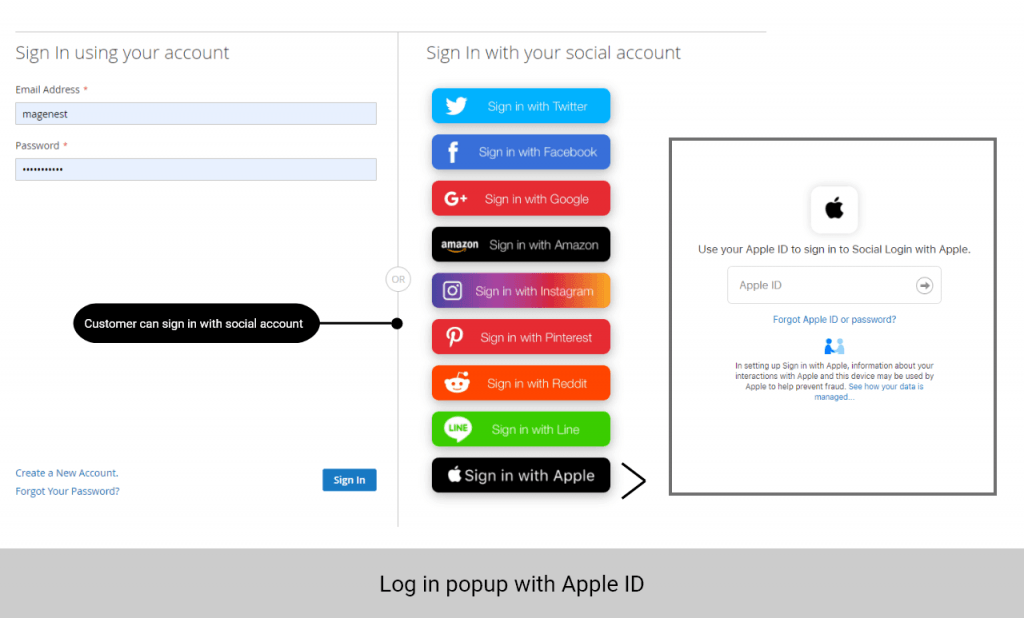 For example: Here's a Youtube Integration extension we developed that also allows you to directly display any Youtube channel and playlist on your store and it goes beyond the capabilities of a free Magento Social installation
So ultimately, if you want to enable Magento social media integration with other websites, you'll have to search around for some suitable third-party developer's extensions. Among those, Magenest Social Networking Integration will help you to attract an enormous number of active users, opening up a great opportunity to boost your sales!
Conclusion
Social media integration provides your audience with more ways to engage and interact with your brand. And you are the one who creates opportunities to share your content and recommend your products/services. The most enjoyable part is t's very simple to do.
In fact, with the right tools, you'll be able to integrate social media with your email, website, and other channels today. Regarding Magento store owners, your own web store practices and objectives will determine what extensions you will need, and deciding your best marketing channels will require some research.