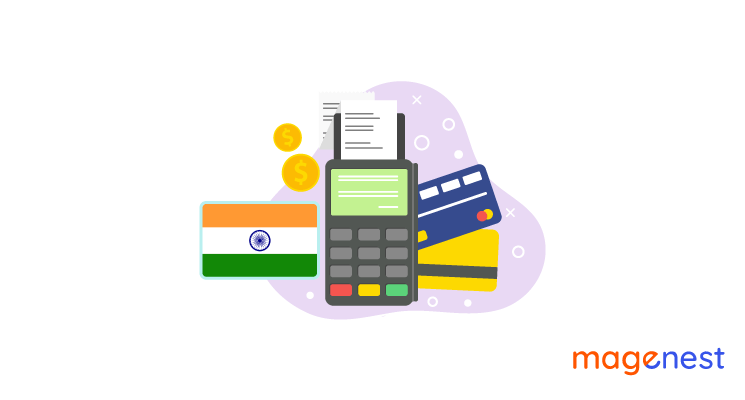 Are you looking for the best payment gateway in India with a secure and easy integration option with your Magento 2 stores to enhance customers' shopping experience?
If that's the case it may be tricky for you because there are so many options available to choose from. You may need to choose a complete guide to help you find the best payment gateway for businesses in general, and in India in particular.
We all know that due to the pandemic, the growth of online payment has been more considerable than ever. With a population of more than 1.3 billion people to serve, there will be tremendous opportunities for you to thrive your business with an online payment system.
According to Statista, Indian online payments are estimated to see a growth of more than 20% CAGR between 2019 and 2023. It is expected to reach 660 million online payment users by the end of 2023.
Today in this article, we will compile the list of the best payment gateway in India that can help your eCommerce business become more successful in 2022.
Read more: Top 5 Best Payment Gateway For Small Business
Top 8 the Best Payment Gateway in India of 2022
1. Razorpay
Razorpay is the first powerful payment gateway for Indian eCommerce businesses we want to introduce to you. The company was established in 2014 and currently, it has more than 800 million active users all over the world.
In October 2020, the company was known as an Indian unicorn startup with valuations of over 1 billion dollars. Razorpay users benefit from its instant activation and easy integration. This payment gateway allows you to get a Dashboard where you can see the purchasing data in real-time. Since Razorpay is extremely simple to use and also very secure, it has been loved by companies of all sizes, even freelancers and the self-employed.
This payment gateway accepts payment through multiple types of methods such as credit card and debit card, UPI, net banking, and wallets. Razorpay can be used on different websites such as WooCommerce, Magento 2, OpenCart, and so on. Some big companies such as UrbanClap, Unacademy, Zoomcar, and Groffers have been choosing Razor as their payment gateways.

-Easy integration
-Invoice payments
-24/7 support available
-More than 100 payment modes
-Dashboard facility for checking data in real-time
-API driven automation
-Easy integration with website
-Accept all major international cards
-No setup cost
-Real-time currency conversion
-Fast and secure payment
-The high rate of international transactions.
-2% on Indian credit card/debit card, net-banking, UPI
-3% on International cards, Diners and Amex Cards, EMI
2. Cashfree
Being the cheapest payment gateway in India with fast payment service and instant refund facility, Cashfree has been growing in popularity.
The Cashfree company was founded in 2015 and now it has served more than 15000 businesses worldwide.
Cashfree can support credit and debit cards, UPI, and net banking along with other international payment methods. This gateway provider also has a solution called "Cashgram" that allows businesses to create a web link and send it to users and collect money paid by customers.
Cashfree can be also considered one popular name among the best payment gateway in India and they have worked with some big names on the market such as Xiaomi, BigBasket, Dunzo, HDFC ERGO, and many others.

-Free setup cost
-High security
-Easy to configure
-Website integration
-Low transaction fees
-Instant refund
-Payments collected automatically
-Invoice generation
-Cashfree prefers working with businesses that registered with the government
-1.75% per transaction from Net-banking, Credit, and Debit card with more than 70 banks.
-2.5 % per transaction from Pay Later and Cardless EMI
-3.5% + 7 INR per transaction from International cards
3. Paytm
Another name you may have already heard of is Paytm payment gateway.
Paytm payment gateway is very excellent and extremely simple for merchants to use and it also enables merchants to support all the domestic credit and debit cards that are linked with over 50 different banks. What's great about Paytm is that it's a very user-friendly payment gateway as it's designed in a way that no one would find it difficult to use and make payments.
Paytm has worked with some popular companies such as Uber, Adani, Zomato, Swiggy and apart from these names, there are thousands of other companies also using Paytm in their payment service.

-Easy mobile payments
-Payment invoices
-Cards can be saved
-Website payment
-Facility for Recurring billing
-Point of Sale transaction
-Support multiple currencies
-All domestic credit and debit cards are supported
-Fast transaction
-Good user-interface
-Easy to use
-Invoice generation
-Website payment
-Debit card: 0.4% + GST for amount < 2000 and 0.9% + GST for amount > 2000
-Credit card: 1,99% + GST
-Paytm wallet: 1.99% + GST
-Paytm Payments Bank: 1.99% + GST
-UPI: 0%
-Net banking: 1.99% + GST
Read more: Overview of 6 Best Magento 2 Payment Gateway Providers Worldwide
4. PayPal
PayPal is a familiar name for business worldwide and for its good reputation, it's a good choice for merchants of all fields. This payment software company now has offices in more than 200 countries and has reached more than 325 million active users.
When it comes to making online transactions, PayPal has world-class security with great support for every international credit and debit card. Plus, it supports payments in 100 currencies, and merchants using this payment gateway can easily withdraw their money in 56 currencies. This payment gateway can be considered a very good choice for businesses that often have to deal with a large number of international payments.
Another great thing about PayPal is that the company can provide people with a seamless shopping experience with a better checkout conversion of more than 82% compared to other payment methods.
Besides, PayPal payment gateway can monitor transactions 24/7 to help protect customers from fraud and being stolen personal information.
Being one of the best payment gateway in India, PayPal has cooperated with big companies such as Udemy, ALT Balaji, MakeMyTrip, and many businesses have used PayPal as their core payment solution.

-Easy website integration
-Electronic invoice
-Mobile payments
-International transaction
-A secure and fast payment gateway
-24/7 customer support
-Payments can be made using QR codes
-Easy recurring payments
-Fraud protection facility
-Accept multiple currencies
-Not suitable for smaller transactions because of the high charges.
-5% + 3 INR per transaction
5. CCAvenue
Next, the best payment gateway in India we want to suggest to you is CCAvenue. Being one of the most popular payment gateways in South Asia especially India, it has an easy-to-use, fast and secure system.
CCAvenue offers global merchants 200 different payment options including 6 main credit cards, 97+ debit cards, 58+ net banking, and 14 Bank EMI. The gateway allows easy website integration and application integration along with a fully responsive transaction page that can greatly contribute to a quick and simple checkout shopping experience.
Aiming at enhancing security, the company has built a system called FRISH (Fraud and Risk Identification System and Knowledge) to create a safe and secure environment where payments are made. More than that, there will be no fee applied for withdrawal transactions, which is definitely a plus point of this payment gateway.
Magento 2 merchants can enjoy all the great features of CCAvenue by just integrating the extension with the existing system. CCAvenue has been a reliable partner with Air Asia, Myntra, Lakme India, and so on.

-Mobile payments
-Invoice generation
-Recurring payments
-International transaction
-Website integration
-Fraud detection system
-Fast account activation within an hour
-24/7 support available
-Support 200+ payment methods
-Easy integration
-No setup fee
-Sometimes the security is not good
-Charge 2% for all types of domestic transaction
-International transaction: 3%
-American Express and Amex Diners Club: 4%
-Credit card EMI option: 2%
- Multi-currency options: 4.99%
-Rupay Debit card: no charge
6. PayU
PayU is a fin-tech company based in the Netherlands offering online payment technology solutions to merchants all over the world. The company now operates in 17 different nations with more than 100 payment methods including cards, wallets, EMI, UPI, net banking and buy now pay later. With PayU, merchants can accept payment from many other countries since it supports 100+ foreign currencies.
What's great about PayI is that it allows customers to customize the checkout page if they wish to do so and it also can present all the transactions in real-time on the dashboard.
Like other well-known payment gateways, this payment also has an easy and beautiful user interface for merchants to use as well as a simple process of integrating with a website and mobile app.
PayU has been working with Netflix, Airbnb, and Ola to accept online payments in various ways.

-International payments
-Accept multiple currencies
-Invoice generation
-Website and mobile integration
-Recurring billing
-24/7 customer support
-No setup cost
-Fast payment
-Customize the checkout page
-Sometimes customers may have to experience delays in their payment process.
2% + GST per transaction
7. Instamojo
Instamojo has been another effective payment gateway company from India with more than 1 million active users.
Thanks to the extremely simple user interface and the support for more than 100+ payment modes, Instamojo has gained so much popularity. The recurring billing facility that Instamojo provides allows merchants to collect their payments on a monthly basis.
Moreover, one best thing about Instamojo is that it doesn't charge for NEFT/RTGS and bank transfers.
Zepo, SpringBoard, Adani Realty, and Zepo are some of the top customers working with Instamojo.

-Recurring payment
-Online store
-Support more than payment modes
-Website and application integration
-Electronic invoice payment
-Live chat facility
-Free setup fees
-Simple website and application integration
-Smooth user-interface
-Free digital file hosting
-Payment links can be shared
-Support more than 100 payment modes
-This gateway will not support multi-currency payment
-Livechat features need some improvement
-Debit and Credit cards: 2% + 3INR for each transaction
-NEFT/RTGS/Bank Transfer: no fee
-Digital products and files: 2% + 3 INR for each transaction
-International credit cards (only available if requested)
Read more: Payment Gateway Comparison - Top 5 Providers
8. Mobikwik
MobiKwik is one of the online payment gateway with the fastest growth in India. More than 1.5 million businesses have used this as their primary payment gateway for online transactions.
This payment gateway's aim is to bring its customers a smooth mobile-friendly experience. It also includes a feature that can automatically detect OTP (One Time Password). Mobikwik enables users to see website analytics to plan proper improvements.
Mobikwik can accept credit, debit cards, wallets, UPI, EMIs, and international cards and easily be integrated with websites and applications.
Zomato, Business World, and Uber are some popular clients of MobiKwik.

-Auto read OTP
-Advanced security
-Payment via website and mobile
-Website analytics
-Support international transaction
-Provide multiple options for payment
-Good conversion rate
-User-friendly interface
-Website analytics to check data
-No recurring billing facility
-No Invoice of payment
-No facility to support multi-currency
-1.9% for every transaction from credit card, debit card, net banking, UPI, and Wallets.
-2,9% for every transaction from international credit cards, AMEX, Diners (GST Extra), EMI.
Read more: Top 8 Best Payment Gateway in USA For Magento 2 Merchants
Conclusion
Whether you are a start-up or an established player in the world of eCommerce, it's very important for you to find the best payment gateway in India so that you can receive money from your customers.
We all know that it's not an easy decision to decide who to cooperate with among thousands of payment companies out there. To choose the best payment gateway in India for your eCommerce store, you must consider many different factors such as your business field, targeted market, location, size, and so on. Once you have a list of suitable payment gateway candidates on your hand, try to discuss it in detail with the company representatives before deciding to integrate with them, this way to make sure you won't waste your time with the wrong one.
Above are the top payment providers we recommend to you, hopefully, you will find it useful, and don't hesitate to contact us if you have any questions. Visit our store blogs for other engaging posts to help you run your eCommerce business smoothly.