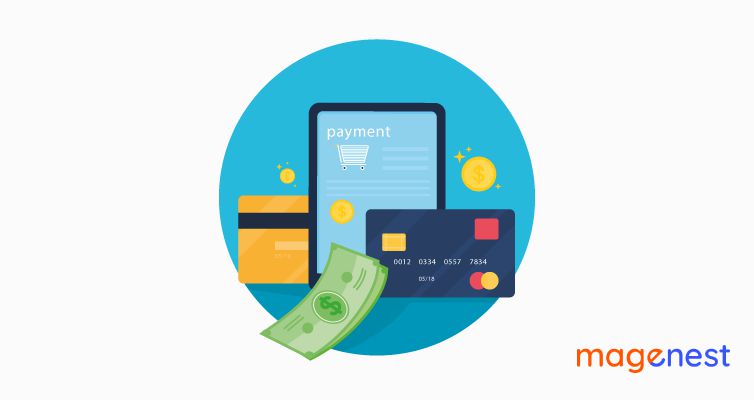 Payment gateways are one of the most technological breakthroughs ever created. Before, there was no secure, reliable, and fast way to transfer online payments globally. Thanks to digital transformation technologies, Magento 2 payment gateway now can facilitate the online transaction process between consumers and merchants with debit and credit cards by integrating their transactions with a selected service provider. This method has replaced almost all conventional payment methods of cash and paper records. Magento 2 payment gateway integration undeniably has made a payment process much simpler and more effective.
Choosing the right payment gateway is very important for a successful Magento store. Here are some practical problems you should consider:
Is the gateway payment convenient and easy to use?
What kinds of payment methods can be applied?
Are there many different options offered?
Which specific features do you need?
Is the cancellation contract easy to make or do you have to commit for a long time?
What are the fees associated with the payment process?
Are your payments securely used?
Does the payment provider have a good reputation?
With dozens of online payment providers to choose from, it's a complicated decision to make. In this article, we will introduce the top 6 payment gateways to your e-commerce stores. Take a closer look at each of them and find out what is the best choice for your business!
Magento 2 Payment Gateway - PayPal
Appeared as a digital wallet in 1999, PayPal was once acquired by eBay in 2002 and quickly has been recognized as one of the most versatile online payment processors. Due to its trusted name and widespread use, PayPal is one of the top-pick solutions for both store owners and their clients in terms of secure payment. Its popularity has been undoubtedly proven with over 218 million users and 17 million merchants and available in 200 nations.
Why should we choose PayPal? There are reasons to consider. PayPal is well-known for its simplicity and can be used on multiple devices. With PayPal, new users can sign up for free to get a new account and of course, it's free to download the PayPal app, too. Your PayPal accounts are directly connected with bank accounts to make online purchases regardless of devices. In the checkout step, PayPal prioritizes the financial security factors as sellers can only receive the PayPal account number, not a credit card number or bank account. There's no worry about currency converting since buyers can also make purchases from various currencies in the PayPal system.
Although this payment gateway has easy card integration, customized invoices, the price for business transactions is quite competitive, at 2.9% per transaction. Nevertheless, PayPal with its high level of name recognition is a truly global option for companies looking for an international payment gateway provider to work with.
Magento 2 Payment Gateway - Stripe
Apart from Paypal, another big name in the Magento payment gateway competition is Stripe. Launched in Australia in 2011, this payment service has supported multi-currency in more than 100 countries.
Stripe's strong focus is on technically innovative solutions that fit companies of all sizes and adapt to their needs. Customers can build and personalize the platform or take advantage of existing e-commerce platforms, including WooCommerce, Squarespace, Shopify, and BigCommerce. All is made easy with Stripe's native integration function.
There are cool features in Stripe that you would love such as unlimited options for plan types, advanced reporting, integration for Android and IOS for in-app payments.
Stripe allows its customers to stay on-site during payment without being directed to other sites, which sometimes is a bother to online users. Especially, no extra fees are charged in Stripe integration, including set-up fees, monthly fees, minimum charges, or card storage fees. Magento store owners are only supposed to pay the associated rates of 2.9 percent + 0.30 USD for this extension.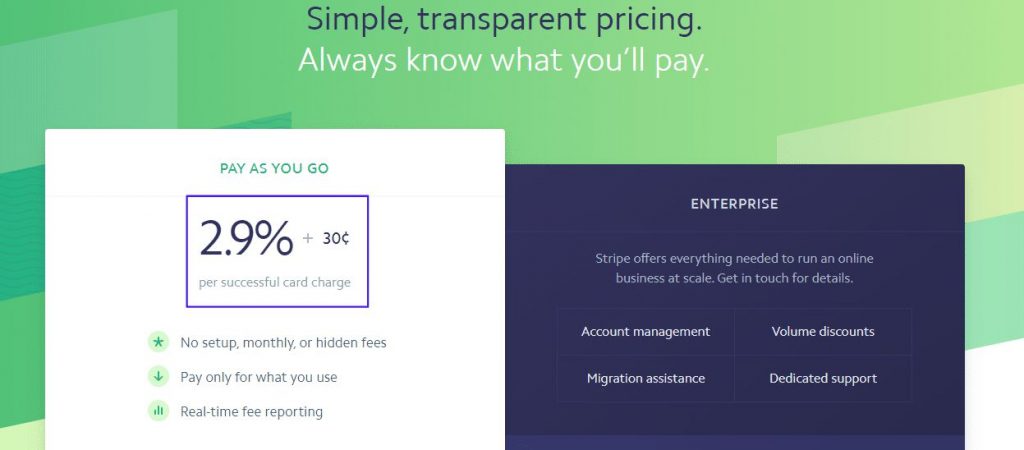 What has brought a new level in payment convenience is that It's an all-in-one integrated platform, from easy subscription payment setup, easy rebill process to smooth checkout experience. With all the outstanding features this gateway has offered, Stripe deserves to be one of the top contenders in the market.
Check more information about Magento 2 Stripe Integration click here!
Magento 2 Payment Gateway - Opayo (Formerly Sage Pay)
The Sage Pay payment gateway service has its strengths for payment security and fraud reduction.
This extension is famous for optimized payment security such as AVS, 3D secure, or CVC. Plus, Sage Pay has possessed the highest level of card security - PCI DSS (Level 1).
Plus, there are 2 tiers of the package: business package and corporate package. Small and medium companies could choose the business package and then upgrade to the corporate package when they grow bigger. Both of the two packages accept the majority of debit and credit cards, including Visa, Mastercard, and PayPal.
With Sage Pay, users are enabled to customize their pages and access transactions through mobile phones. It also provides a reporting tool to help you monitor your transactions.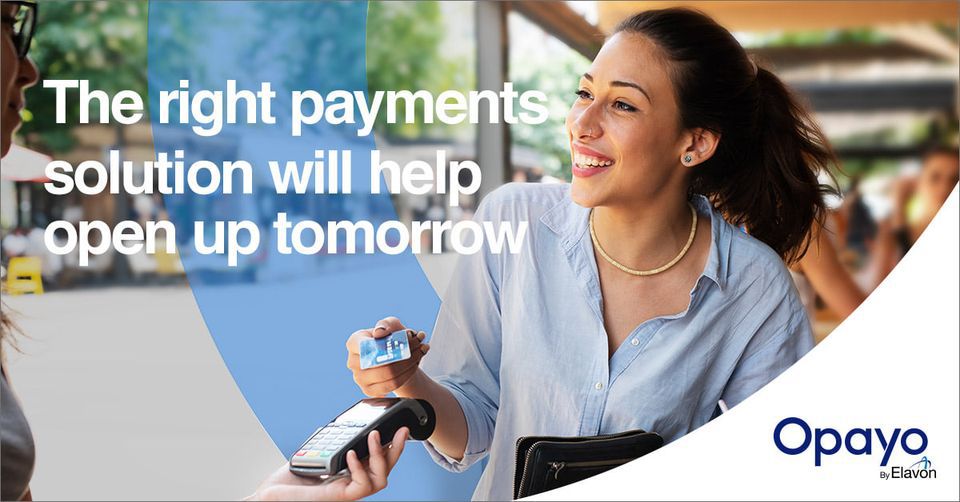 Although there are no costs for setup, Sage Pay monthly fees are £20.90 (for 350 transactions), and £45 (for 500 transactions). If you choose the corporate package, they offer bespoke pricing.
Sage Pay is robust and powerful with customizable ability, this extension undoubtedly is an excellent payment gateway for your Magento site.
Take a look at Opayo Payment Integration (Sage Pay) for Magento here
Magento 2 Payment Gateway - Moneris
Being known as the biggest financial technology in Canada, Moneris specialized in payment processing. This gateway has created approximately 3 billion transactions per year and most commonly been used in the USA and Canada.
Moneris puts great emphasis on security, responsibility, and availability. This payment processor provides a multi-channel solution that is ideal for small companies looking for quick expansion. With the assistance of partners like Sage Accounting, RBC, and BMO, Moneris also offers services such as inventory and sales tracking functions for small enterprises.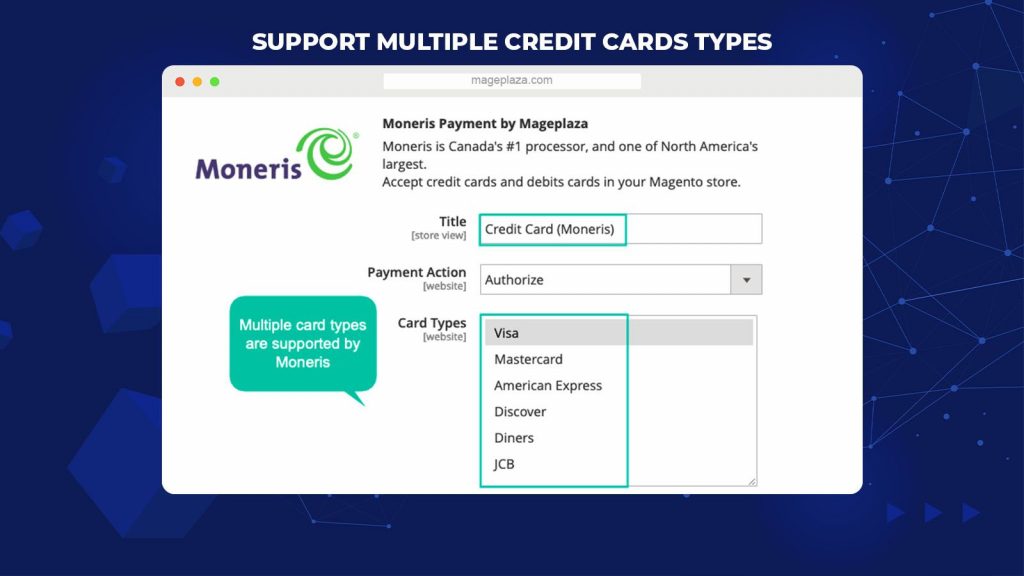 Moneris's pricing model is quote-based which means there is no specific price because each business will get different terms depending on the size, processing volume, industry, etc
One thing to note is that in some cases Moneris may lock its clients with a 3-year contract and there can be some additional or hidden fees such as monthly fees, setup fees, early cancellation fees, etc
Magento 2 Payment Gateway - WorldPay
So far, Worldpay has gained trust from over 400,000 merchants in over 146 different countries. It has been estimated to create about 26 million transactions per day. These figures are expected to get even higher thanks to the amazing features that WorldPay has optimized to offer.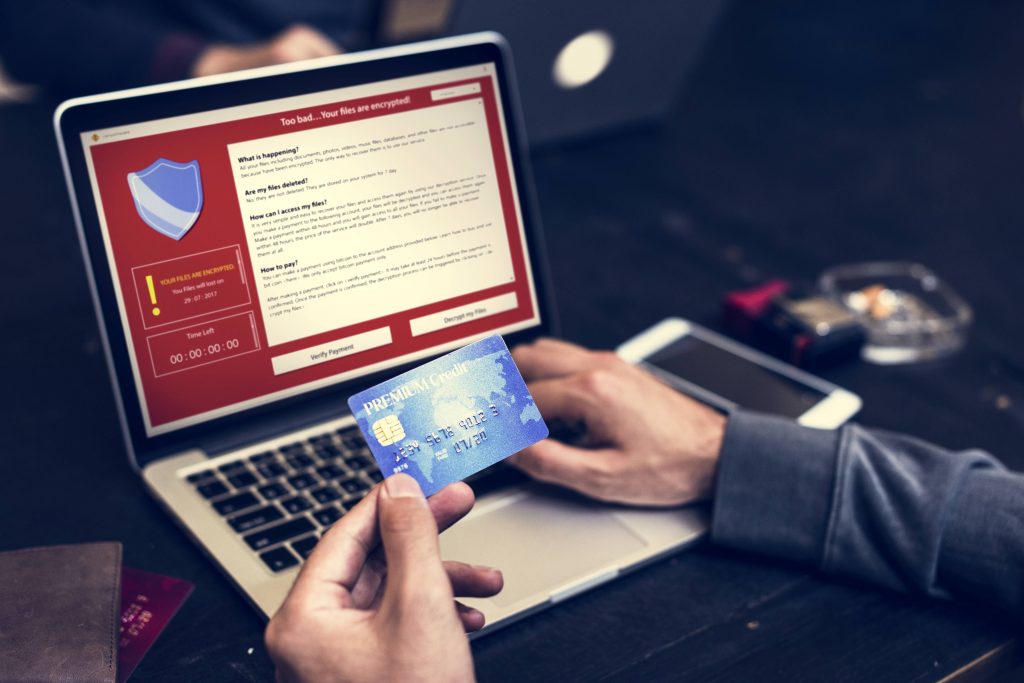 WorldPay has introduced users to more ways at the payment stage. There's no need for customers to leave the site to make a payment. Instead, they can just stay on the WorldPay hosted payment page and add their card details.
For merchants, this payment gateway equips them with optimal manager tools that help keep track of their business transaction information as well as key reports and other insights. Besides, merchants don't need to worry about security as WorldPay's policy is to keep their fraud protection system secure and upgraded.
When integrating a Magento 2 WorldPay payment extension, store owners can enjoy other important features such as WorldPay eWallets payment, WorldPay local card schemes payment, and so on.
One of the biggest advantages of the WorldPay company is that it's a direct processor. And that means WorldPay processes all its transactions in-house without any third party involved.
Magento 2 Payment Gateway - Barclaycard ePDQ
With nearly 50 years in the merchant services and over 87,000 retailers signing up, Barclaycard has built itself a reputation for developing simple payment solutions, a rich diversity of options, and professional service.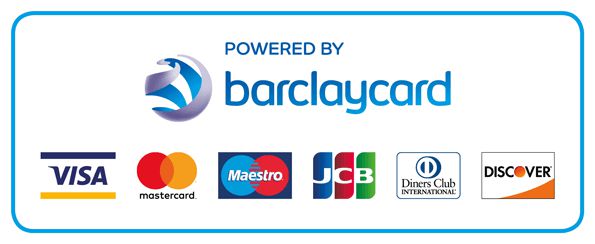 Founded in 1966, for more than 50 years, Barclaycard has been developing a variety of payment solutions in the online payment market. It is a standard payment gateway with excellent security methods for your global transactions (PCI DSS, 3D Secure, and CVC verification). The provider accepts the majority of credit cards (Visa, MasterCard, American Express, Maestro & JCB).
Besides, Barclaycard is well-known for its ePDQ template that enables vendors to have their payment page customized according to the website theme.
Another highlight function of the Barclaycard module is that it offers Magento stores two integration methods: Redirect payment and Direct checkout.
With direct payment, customers can process their payment right at the checkout page. A credit card form is automatically filled in with all other checkout information without landing on other sites. Redirect payment integration is considered safer for online shoppers.
Get Barclaycard ePDQ Payment Gateway here!
Conclusion
Magento 2 payment gateways are must-have tools for any e-commerce store. The payment extension has become indispensable for any online business since it makes online payments secure and simple to manage. As you can see, there are lots of excellent international payment gateways to consider. We hope this article has made it easier for you to weigh up many providers and pick options that suit your business best. If you'd like to learn more about other extensions that help you effectively run your business, visit our store here!