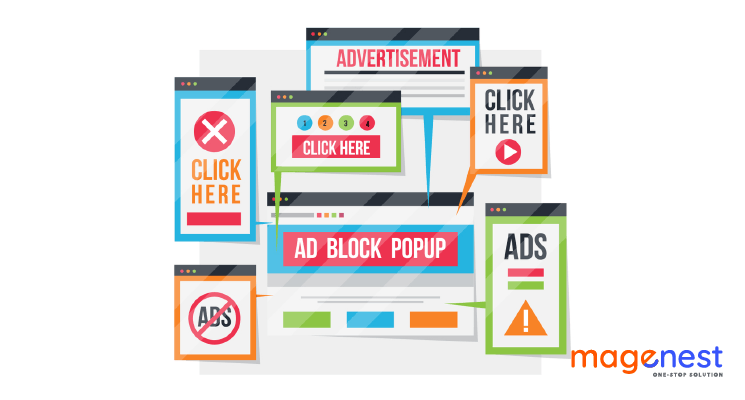 Have you been considering adopting a popup builder and searching for the suitable types of popups for your landing page but aren't sure? You're not alone.
Many people think that popup is "one-size-fits-all". Actually, there are tons of different types of popups you can use depending on your final goal.
Today's article will discuss the main types of popup advertisement approaches you can apply to your websites, regarding the pros and cons of each. Hope it will fully be informed so you can determine when it comes to the selection of the appropriate popup for your website.
Shall we get rolling?
What is Popup?
According to Wikipedia, popup (popup ad) is a form of online advertising on the World Wide Web (WWW).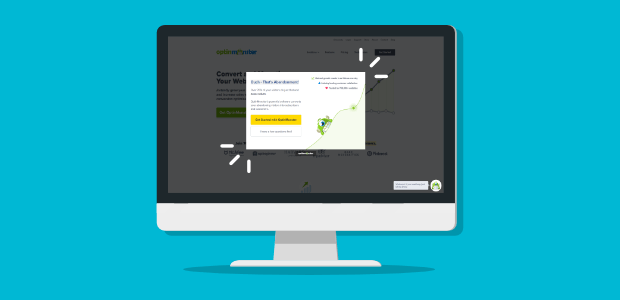 Usually, it's a small window that suddenly appears (pops up) at the forefront of the graphical visual interface (GUI). This popup window carrying an advertisement opens a new browser window under the active window.
When it comes to websites, popup definition is a set of informational or promotional offer that displays on top of your content, intended to attract your users' attention promptly.
Typically, popups contain a call to action (CTA) in an endeavor to encourage your visitors to go do something you desire them to, hence, it varies depending on your marketing goals.
Why Should You Have Popup?
Many marketers fall into the trap of using one kind of popup in every situation. They take a generic popup and apply to every page and wonder why their conversion rates are extremely low. Everything has its reason.
Popups are one of the most commonly adopted strategies for eCommerce conversion optimization. Not to mention that popup technology has developed well over the last few years. Popups can now be displayed to specific people, at specific moments, and in specific locations on your website.
Capture more email subscribers
One of the main reasons why website popups bring thriving business is because every single site visitor will be granted your offer.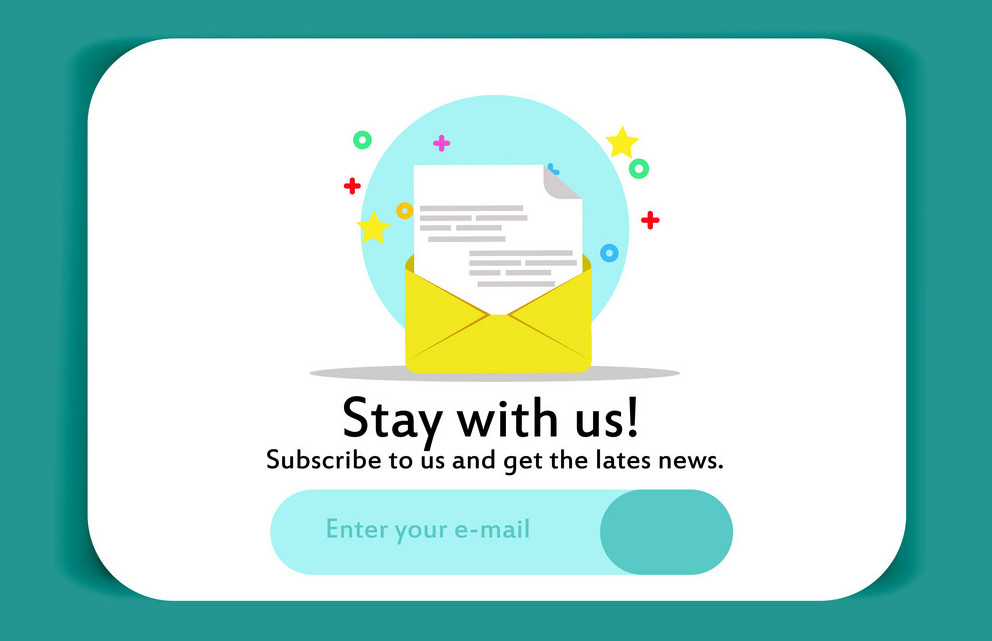 Users have the alternative either to close the popup window or not, but not before they have viewed what you have to offer.
Increase brand awareness
Every business, especially the start-up companies have the burning desire to gain maximum visibility.
The popup ads usually play a vital role in capturing the attention of the browser and definitely, the user would have a glance over the ad and its content before closing the window. Just like the advertisement insertion in the daily newspaper, online types of popups ads are a freestanding ad that the users cannot visually ignore.
Increase conversion
The main objective of any advertisement is to increase sales. A popup advertisement can support you to achieve your sales goal but only if it is located correctly on the website and at the appropriate time. However, if you remember the key to maximize the conversion rate, to induce readers to click on the advertisement, a good call to action needs to be carried.
Direct customers' feedback
Can you imagine how wonderful the popup ads could be if you would like to take immediate feedback from your customers? You can align popup with the advertisement on the website so that it is visible distinctly and vividly for visitors to easily leave a comment or inquire about the product or services you are offering.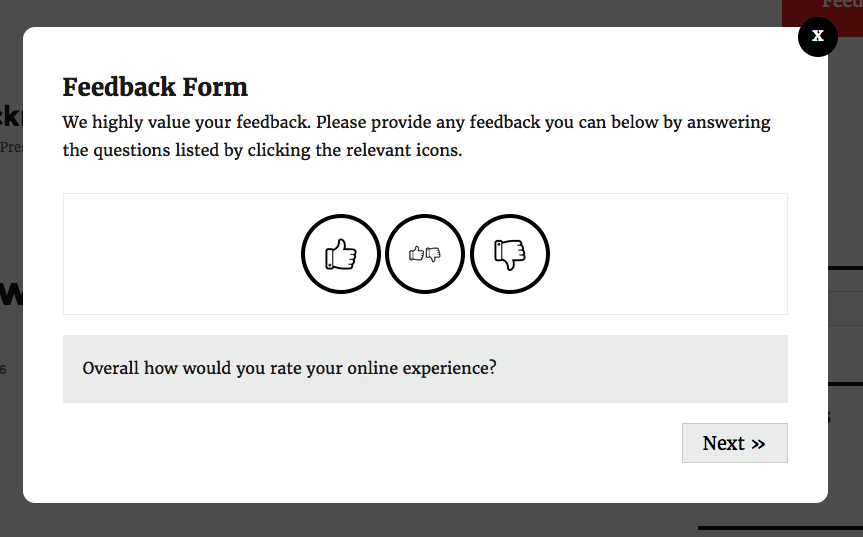 Moreover, these ads help you to understand the customer sentiment towards your products or service and their opinion towards your organization in general.
>>>> Read more: 9 Best Magento 2 Popup Extensions - Free & Paid 2020
5 Types of Popups for Your Website
#1 Lightbox
You've probably seen this type before since Lightbox popups remain the most popular types of popups.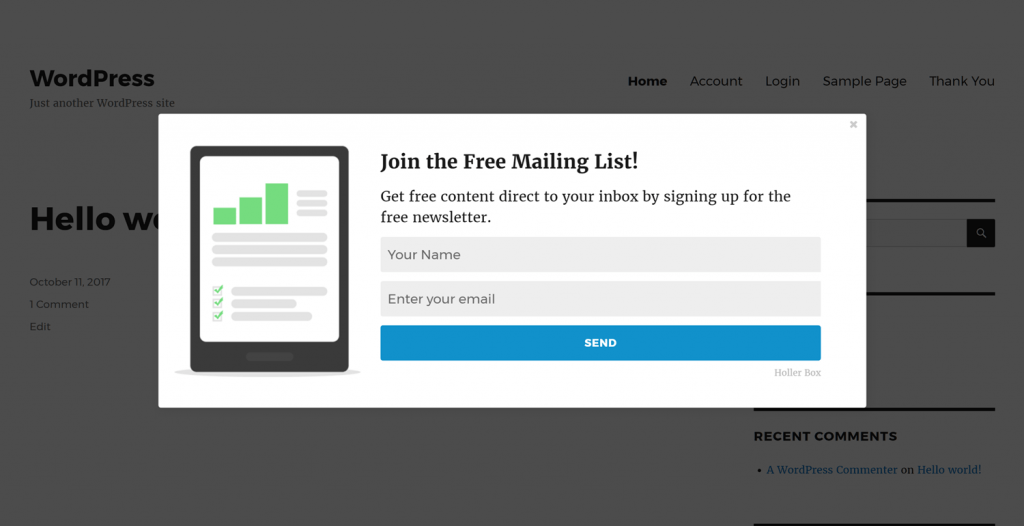 Lightbox shows up in a smaller new window over the web page you're currently browsing. Exactly like its name, when a lightbox popup button appears, it makes the background of your website browser look darker and shadier to grasp your attention.
This popup button can be applied for many goals, most particularly used to grow brands' email lists.
Pros:
Powerful conversion rate.

Demand attention by hijacking the entire screen.

Focus on one message, one call to action (CTA).

Basically costs nothing, the ROI potential is huge.
Cons:
Annoying, especially full-screen intrusions.

Block content and block readers' views.

High bounce rate (users leave your site).

Lose other potential leads by interrupting user sessions.

Damage brand reputation.
#2 Yes/No
A Yes/No popup advertisement is a web application that shows a simplistic "yes or no" question to your visitor.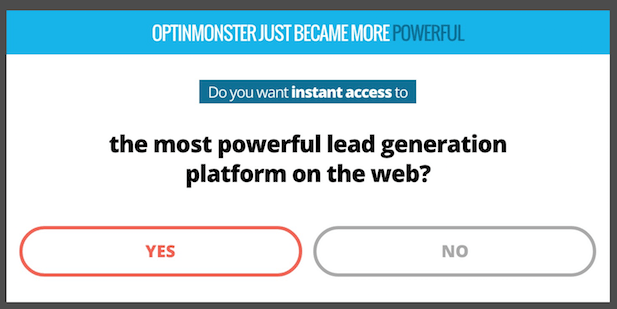 While hundreds of popups asking for a phone and email address right away scare some hesitant visitors away, just asking a simple "yes" or "no" question upfront is more likely to get people to take action after they click "yes."
I know you now have in your head that attaching an extra step to your types of popups would decrease conversion rates. However, the opposite is correct. A psychological phenomenon called the Zeigarnik effect has shown that people are more likely to complete a process once they've begun.
Pros:
Easy for customers to comprehend: the simplest types of questions in the English language and can be understood by almost anyone who has any level of English proficiency, making them as close to universal as possible.

Unambiguous, straightforward.
Cons:
Possibility of confusion.

Oversimplifying. Some questions require a more thorough or detailed answer than yes or no. Oversimplifying makes answers aren't very useful. For example, "What feature do you love the most about Magenest?" provides more information than "Do you like using Magenest?"

Not Applicable to all questions (can't be answered with a yes or no).
#3 Promotion Code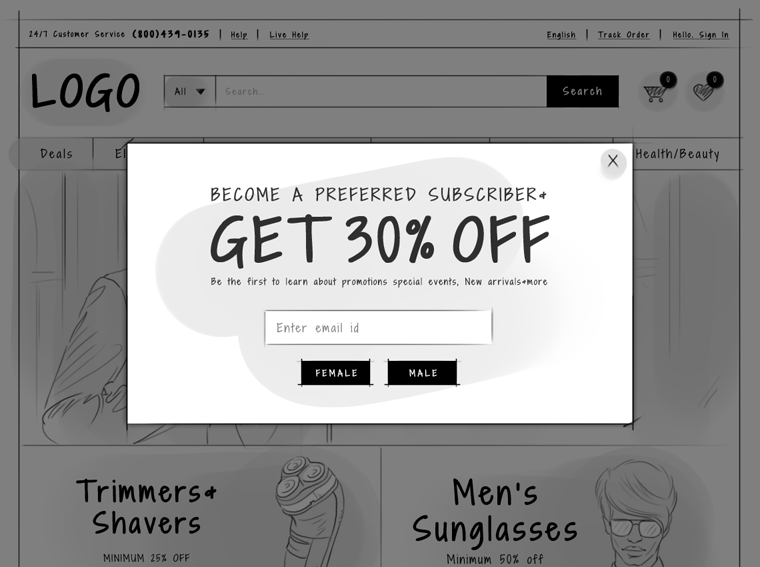 Desire to build your contact list and satisfy your customers at the same time? Show them a promotional popup button and some coupon codes like this:
These types of popups not only let users save money but also gets you worthy contact information.
Make sure to refresh your campaigns as your promotion changes. There's absolutely nothing more irritating than being awarded an expired coupon code.
Pros:
Increase Product Sales: effective in capturing top-funnel leads and help convert prospects who are further down your sales funnel.

increase the ROI of your sales campaigns.

Get customers' information: In order to get to promo code, they have to sign in the web and provide certain contact and information, hence, become prospective customers.
Cons:
Not appropriate to all sites.

Sometimes costly: If we give out promotions, especially free coupons, we are losing some of the profit.
#4 Email Subscriptions
One of the most effective ways to increase the number of collected email contacts is by setting up subscription popups. To attract your website visitors' attention and make the business successful, you can use these popular types of popups.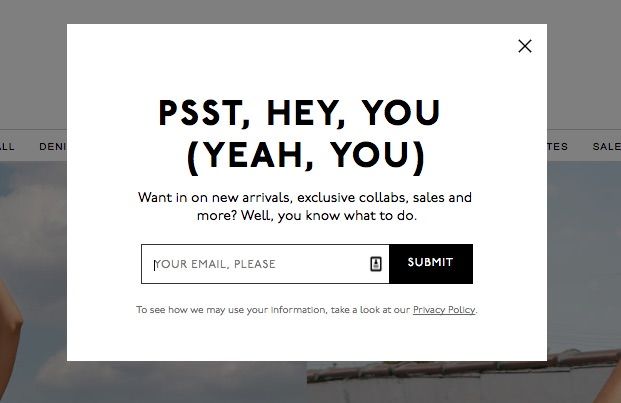 The reason this becomes a unique spot on the list is that these popup sites focus only on getting an email address and sometimes, a name; not age, address, occupation, or any other demographic information that can prevent users from signing up.
Pros:
Budget-friendly: take advantage of email marketing and gain from a cost-effective way to develop your website.

Targeted audiences: personalized emails ensure users receive fit information in accordance with their needs.

Raise brand awareness through consistent emails.

Possibility to share: the click of the Forward button help to strengthen your company reputation by word-of-mouth or viral marketing.
Cons:
Irritating at the best of time: People find email marketing is so annoying that most of them mark it as "spam" and delete right away.

Not preferred by many: Most people are not willing to share their contact with eCommerce brands for security reasons.

Email subscribers via

popup website

have lower engagement: If they don't delete it, maybe they open it then leave without any concern.
#5 Gamified
Gamification types of popups site is the application of game-design components and game principles to non-game exercises. Why is it really effective? They convert your standard popup campaign into a game that people can participate in.
The most common of these is a spin wheel popup: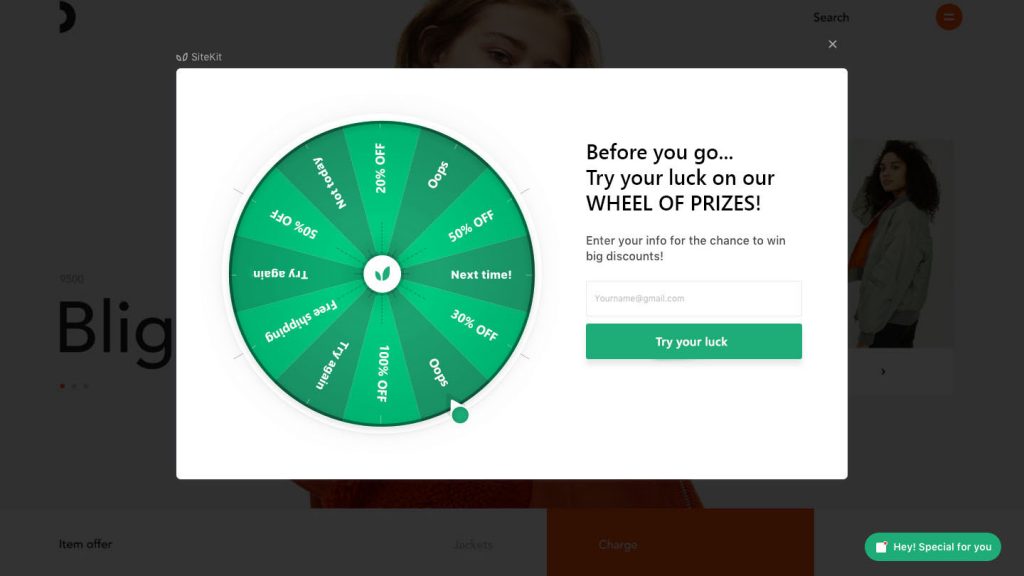 There are reasons why it's been around for a very long time but still as "hot" as ever. The secret of gamification is that it brings fun to users, thus it improves engagement.
Pros
Brings fun to users.

Promote interaction & engagement.

Make visitors feel special if they win certain rewards or discounts.
Cons
Not appropriate to all ages.

Hard and take time to design.

Sometimes costly

.
Want to create a well-designed and interactive, and even unlimited popup? Try Magento 2 Popup!
Magento 2 Popup Extension simplifies your workload by customizing popup based on your resources. This is an effective way to connect with customers and inform them of the hottest trends. Considering they can be featured on any pages you want, shoppers are always updated and reminded with the latest info of the shop. Popups are the key to bring brand recognition to more potential buyers! Therefore, increasing sales is in the palm of your hand!
With our pre-designed templates of 5 popup style: Yes/No button, Social Sharing, Contact Form, Subscribe Form, Static Popup, you can have beautiful popups in the fastest and easiest way.
Final thoughts
At the end of the day, popups are one of the most influential tools in your marketing arsenal. And as we've explained, there is no "one-size-fits-all" offer.
So, the point is certain types of popups styles are suitable for certain offers. And since popup ads are various in types, you need to make sure that the one you choose is appropriate, well-designed, and has a good copy.
I hope you were able to pick up some useful tips from this post. The mentioned popups are the most straightforward way to convert strangers into leads.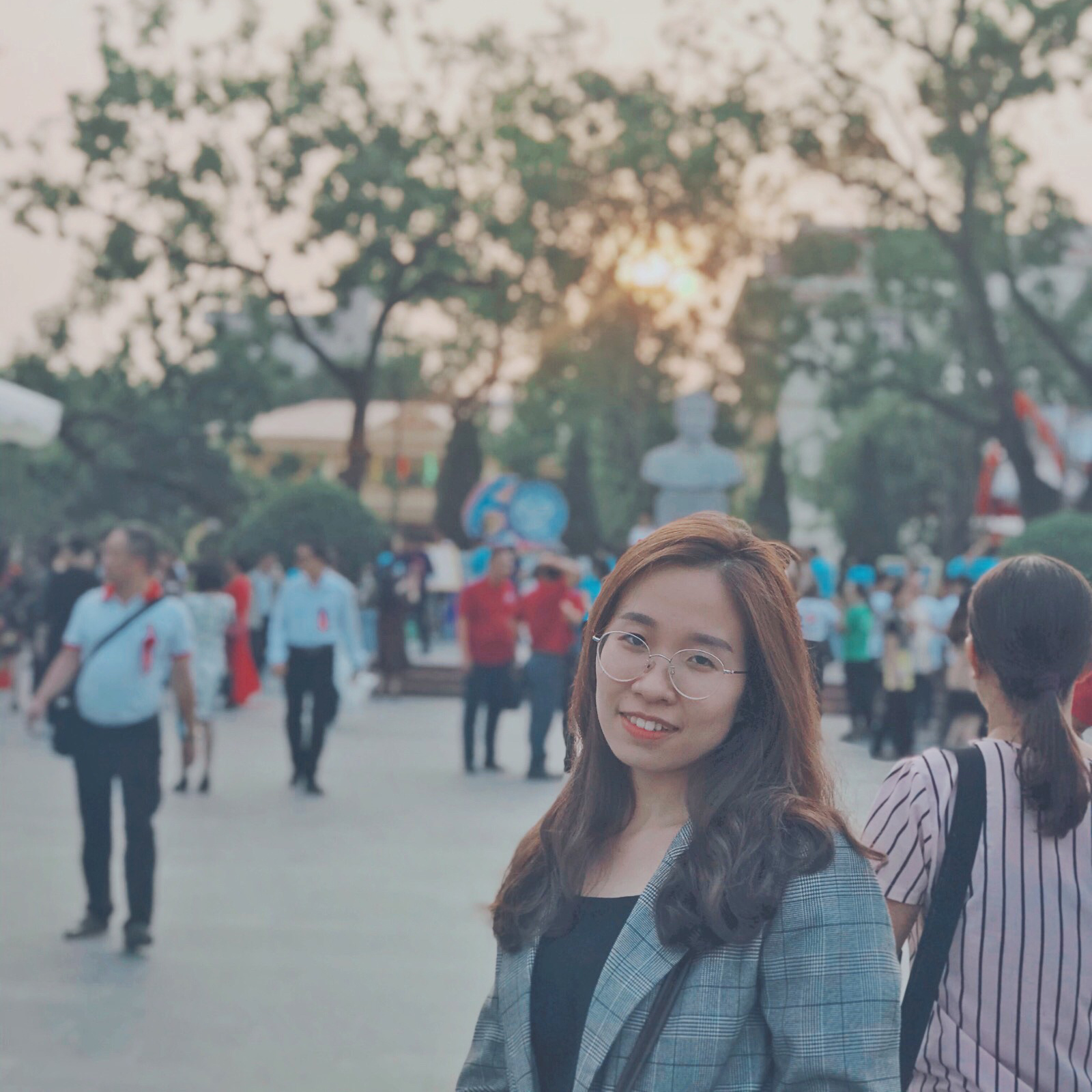 Marketing Executive | Content Manager