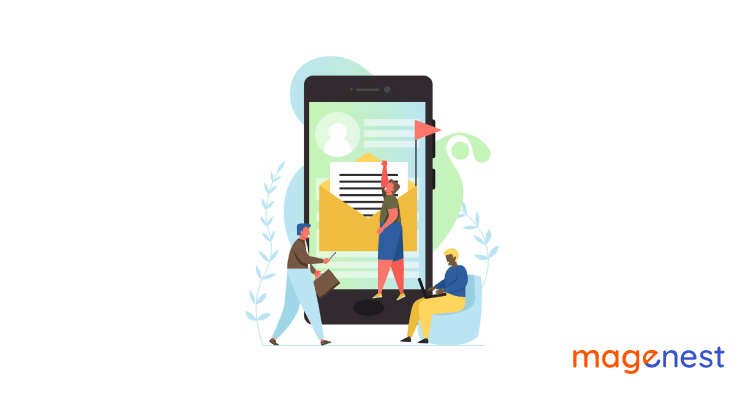 Today email marketing has been one of the most effective channels for many eCommerce campaigns and it's still evolving day by day.
Your company may get used to transactional email and marketing email as critical tools to access operational updates or promotional messages. In this article today, we will walk you through all the key aspects of automated emails and help you understand how they can help add tremendous value and complement your existing campaigns.
What is email automation?
Automated emails or triggered emails are any messages that are automatically sent from an email service provider you chose. These emails are a response to some specific actions that your customers make on your web app or website.
Businesses use automated emails to send real-time, one-to-one messages to boost customer engagement, attention, and loyalty.
Transactional emails bring high value to customers as they give them crucial information like password resets or receipts. These transactional emails will not provide or contain much promotional content according to CAN-SPAM and CASL rules and guidelines.
Traditional marketing emails normally would send announcements regarding promotion or newsletters to a large segment of the customer base but cannot offer one-to-one communication that customers expect to enjoy.
That's when email automation appears. This method is beneficial for both transactional and marketing emails since it has all the highlight features businesses would need for their marketing campaigns. Like transactional email, email automation allows you to automatically follow up with customers and also create robust messaging opportunities as you can get with marketing email.
Email automation can bridge the gap between transactional and marketing email and this is surely a scalable and efficient method for marketers to create really responsive and user-specific messages.

What are the benefits of email automation?
Relevant messages
Messages that are sent to users are very likely relevant to their actions so they tend to open and engage with the email more.
Create engaging content
The content of the automated email is designed to boost user engagement with your app and website in various ways such as teaching customers how to use the product, encouraging them to leave feedback, or giving a lapsed user an incentive to come back to your site. You can also set up an automated "how-to" email for those who have registered your service but haven't started using it yet.
Brand building
Automated email extension serves as a highly personal communication channel of your brand and an opportunity to strengthen the connection between you and your clients. Email automation can drive user engagement so customers are more likely to open, read and react to the automated emails.
Boost customer loyalty
Since customers have been given help through all processes with timely cues to follow and take proper actions, they would feel more successful and likely recommend your brand to their family and friends.
When customers receive customized assistance and real-time support in communication, they would feel more valued and can become loyal and long-term users.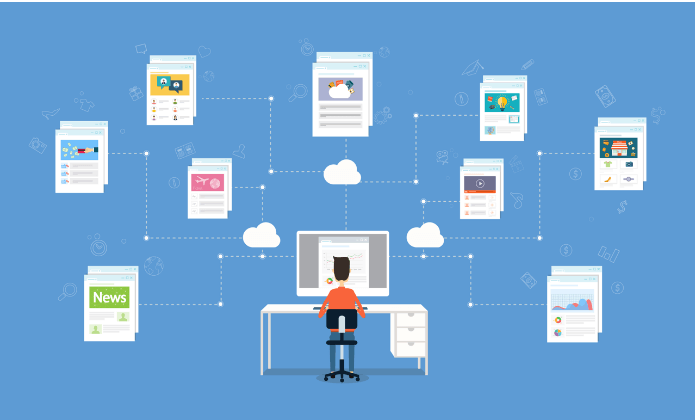 Examples of How to Grow Your Business with Email Automation?
Despite all the value that automated email can bring, many businesses still haven't started to implement it yet. Fortunately, it's easy to build smart and focused marketing with automated email and achieve favorable outcomes, there are ways marketers often send automated emails:
Send a series of emails to welcome customers and help them begin to use your products.
Send a series of nurture emails to guide customers to the following steps in the sales funnel.
Send happy birthday or anniversary emails to make customers feel important, thus increasing their loyalty.
Send verification emails to verify legitimate users.
To give you clearer ideas and help you have a good start, below we have compiled 5 automated emails to help you grow your business, each method is explained in deeper detail.
Build a Welcome Series
A simple welcome series is a good point to start with. This type of series allows you to greet your customers and introduce your offering to them.
In the first email of the welcome series, you should make the mail short and sweet and greet new subscribers with a Start Shopping CTA button.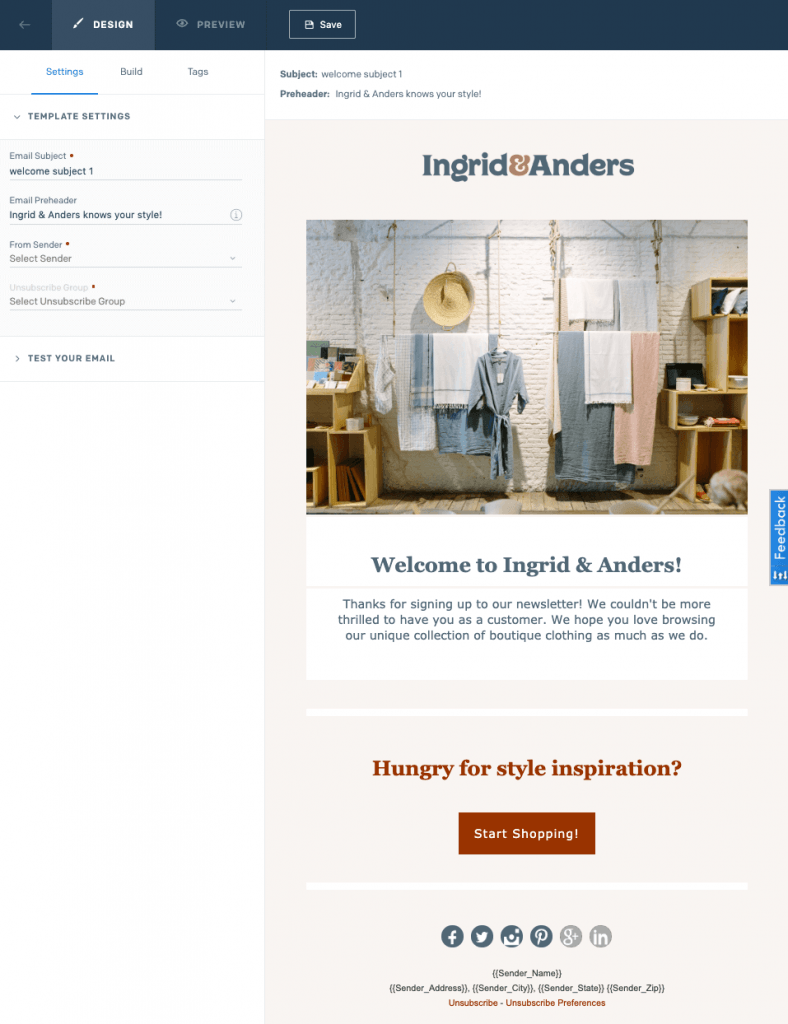 In the second email of the series, it's good that your recipients are aware of how beneficial it is to be a subscriber (to get great deals, for example). If your store doesn't have a deal or sale to promote then you can think of introducing some of your most popular products you feel proud of.
You can add different modules to arrange the layout of the email in the way you want but remember don't contain too much information on them because, in fact, less is more when it comes to the email length.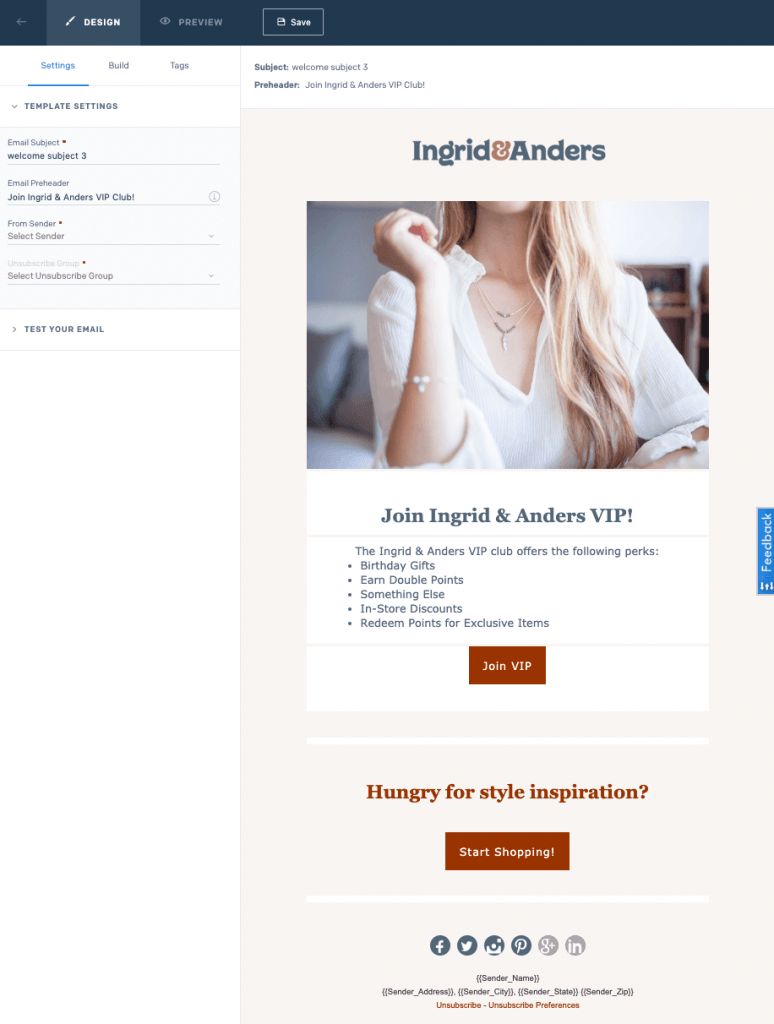 The third email is suitable to introduce the VIP program if you have one. Or else, you can use the third email to give information about a mobile application or a new offering.
Because there are some recipients who don't engage with all the emails at all so you should keep an eye on the engagement. You may want to remove them from your list because they may unintentionally become your subscriber or no longer have interest in your content.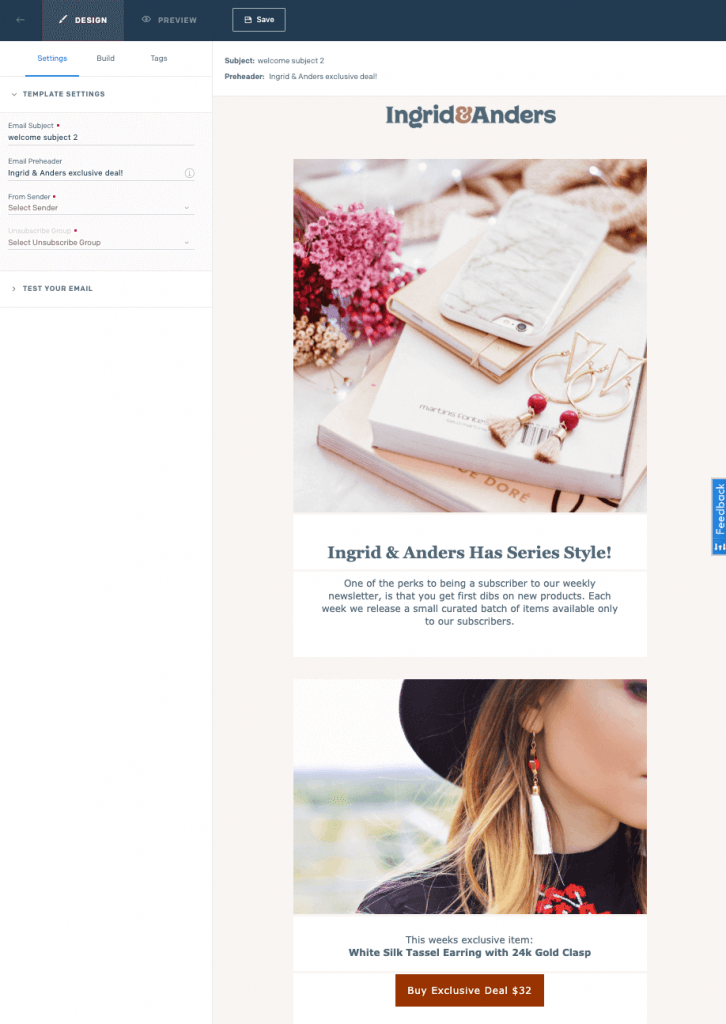 Similarly, automated welcome emails to welcome new subscribers can also be set up within a few minutes as you just have to add a subscribe box to your site which allows you to add new people to a list.
Gather product feedback with email automation software
Creating a product your customers like is hard, if not it's impossible if you don't really understand what they want. To get a thorough understanding of your customers' needs, asking them directly is one of the best ways.
For example, Groove's used this method in their campaigns that is sending automated emails to new users whenever they sign up for a free trial.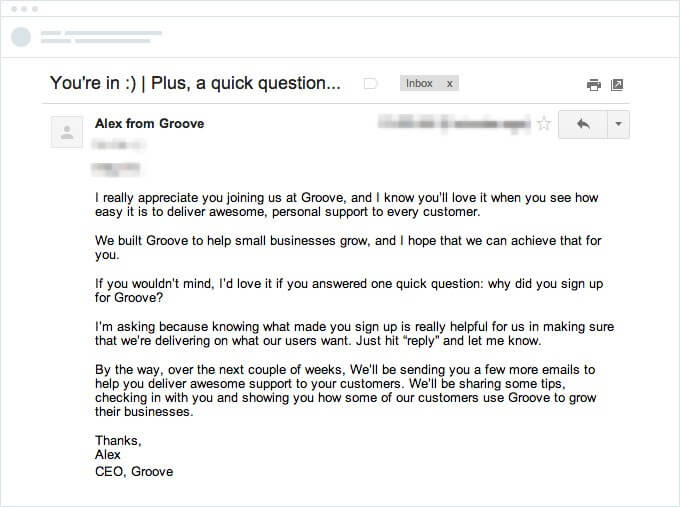 This particular email gets a response rate of 41% and helps Groove collect a massive amount of feedback in an effortless way. The data collected helps the company know what their customers are looking for, why they switched from competitor's products and many others.
This way allows their business to grow in a number of ways as they can prioritize features much better thanks to knowing their customers' preferences and what key messages should be put out there.
The good news is that this type of email is very easy to set up and it can give you quality feedback immediately. You just need to add new customers or trial signups to a particular list and next set up automated welcome emails.
Inform your customers of upcoming expirations
We all know that losing existing customers can cost you a lot of money. In fact, a 5% increase in customer retention can lead to an increase of 75% of the company's profitability (according to Bain & Co).
One of the most effective ways to ensure not losing them is to send them timely notifications, to let them know the status of their subscription, account, or policy.
For example, GoDaddy - a domain name provider has done a great job of this whenever there is a domain that's about to expire. Basically, they would send frequent email campaigns about the expiration date to remind their customers of renewing their domain name. A discount offer or a simple call to action can be provided to encourage users to take some action promptly.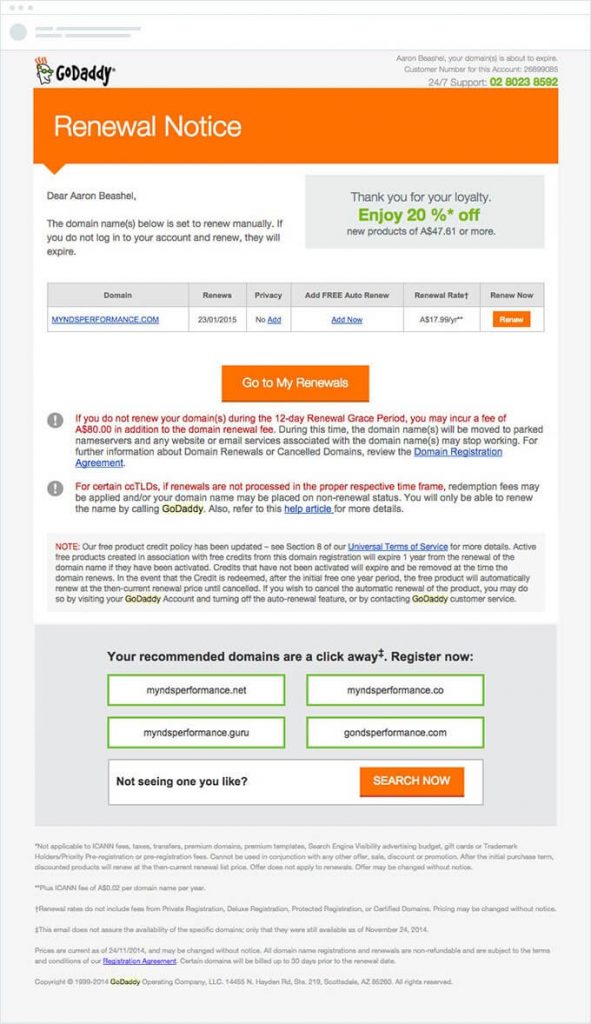 Believe it or not, it's super easy to set up these emails but it's extremely efficient to attract people's attention and get them to renew their accounts.
Offer customers a surprise on their birthdays
Automated birthday emails are very common these days and they can be very effective when done right.
This email from Omaha Steaks can help you know how it's supposed to be done. Emails like this not only can wish the reader a happy birthday and show them your customer care but also provide them with a highly relevant offer on their birthday and encourage them to spend money on that special day.
When you plan this email automation, don't forget to add a beautiful imagery CTA button to help drive conversions.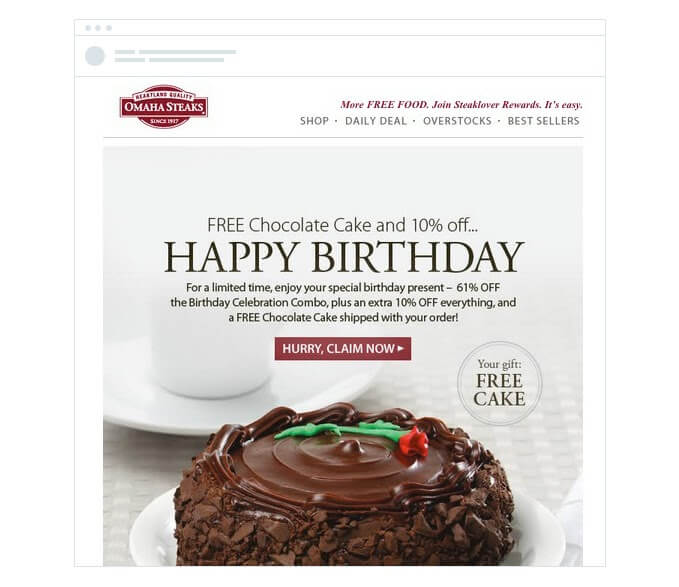 Again, these emails are easy to set up as long as you have your customer's date of birth. Based on the date, you will set up a recurring email and then the email will be sent automatically each time the date is around the corner.
If you plan to send your customers a restaurant voucher or something they might want to use on their birthday for celebration, it's better to send it a few days earlier to let your customers have some plan ahead.
Promote your new blog posts
If your company runs a blog as part of your marketing strategy, then you must know that email is one of the most powerful methods to grow a larger audience.
In fact, email contributes to almost half of the traffic to new blog posts and according to Neil Patel - a popular blogger, email subscribers can help to 3x share your content over social media compared to visitors from other sources.
So next time when you publish a special or important post on your blog, you may try to send your subscribers an email about the new post with valuable content to entice them to click through and read it.
In the picture, HelpScout did a good job with their well-designed email related to blog posts.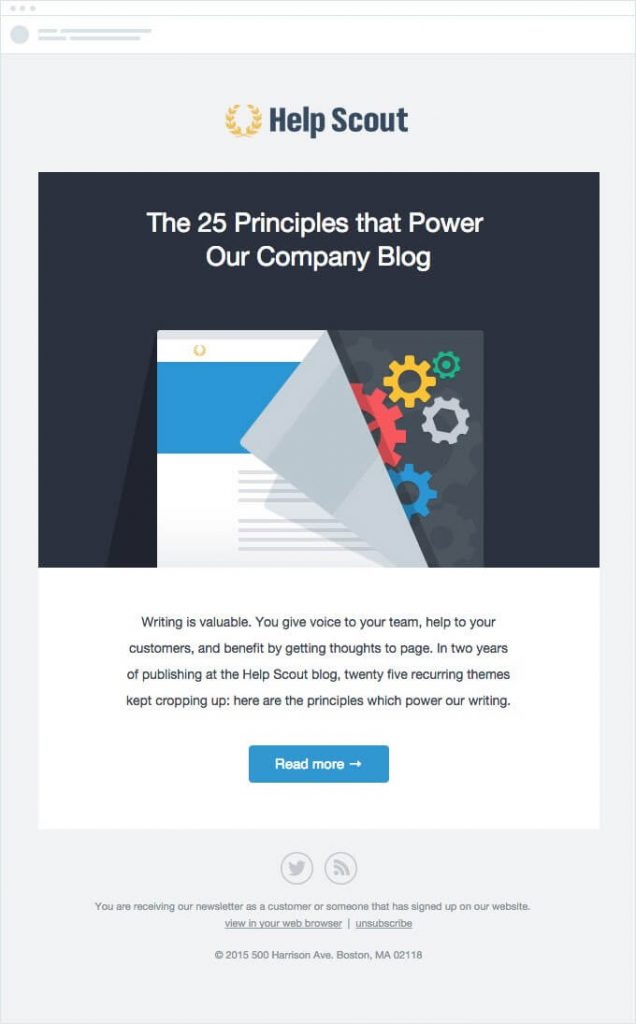 This email includes some compelling preview text as well as an engaging graphic to explain to the reader what the blog post is about. A prominent call to action is also included so that the reader can choose to click and read the full post.
If you want to get more advanced, you can think of sending frequently by simply setting up the email to send either daily, weekly, monthly based on your recipient's preferred contact frequency.
This kind of campaign can grow your business by attracting subscribers to your site and sharing your content. It can also be a great way to keep your business on top of their mind whenever they are ready to purchase.
Top Tips to Pick for Your Email Marketing Automation
Once you are done with setting up your workflows and ready to start using email automation tools, there are a few best practices you may want to know before really sending your customers messages.
Timing
Figure out what is the best time to message your customers based on the content and the triggering event. If a series is what you are sending, then be sure to space them in a manner so that it's not overwhelming for recipients.
Volume
While it's a great feeling to send relevant messages, you won't want to ruin everything including your customer satisfaction because of too many messages at a time. This can turn your customers away so only focus on the opportunities that your customers feel important or may have an interest in.
Testing
When setting your automated email, be sure to test several times to optimize your way of messaging. Some elements you need to run tests would be subject lines, CTAs, content, timing, upgrades, page views, and customer metrics.
Allow opt-outs
You should provide easy unsubscribe options and preference management for users. It's smart to focus on engaged users as well as provide an elegant, user-friendly opt-out experience.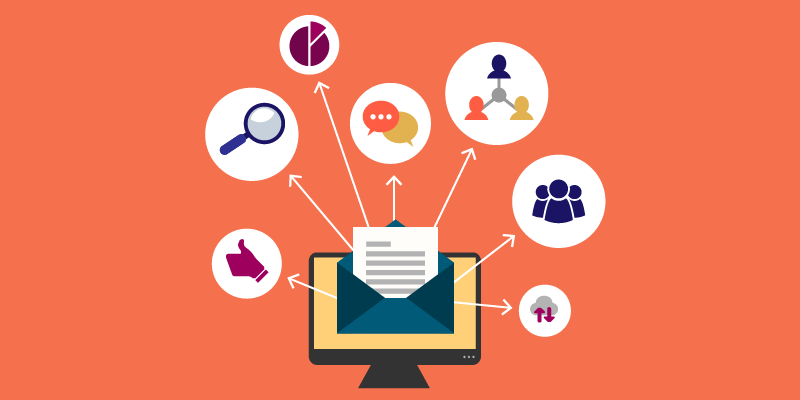 Conclusion
As a marketer, you have to be ready for any competition with your limited time and resources, however, you still can thrive your business with the help of email automation tools. There's no doubt that of all the opportunities available to grow your online store, email marketing still is one of the most impactful ones. Let's take some of the brilliant ideas for email automation presented in this guide today to pave the way for your eCommerce success. For more posts like this, visit our store blog to find out what the other best extensions you need for your online business are.