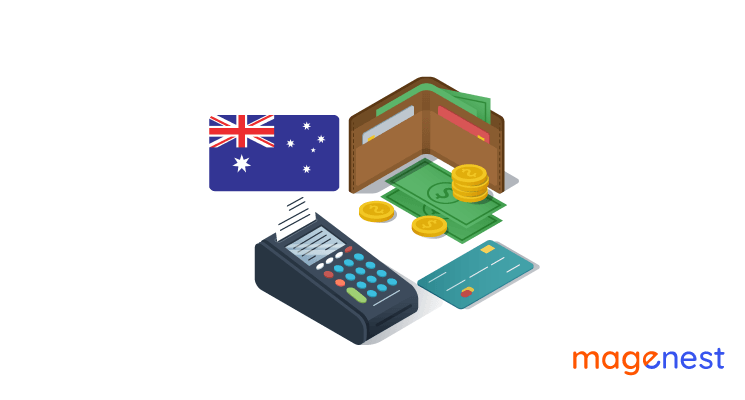 You have a product, and practically a website, but the nitty-gritty of being able to deliver a secure payment platform (that backs up the brand's reputation) will certainly be a minefield. That's where a payment gateway, the functionality that connects the website to a payment network, is supposed to come in.
Interestingly, there are a large number of payment gateways available, both domestics and overseas. We have listed below the best payment gateway in Australia, but first, let's consider the particular payment gateway needs of your business, which is very necessary.
Things to Consider of Best Payment Gateway in Australia
#1 Compatibility
Would your eCommerce platform be compatible with best payment gateway in the world of your choice?
#2 Ease but Security
Is it simple to align the eCommerce website with your chosen payment gateway or it takes multiple steps to integrate them? Is it a fully integrated solution or one that is hosted offsite like PayPal's Express Checkout?
You can put yourself in the customers' shoes to see whether they feel convenient and secure enough.
#3 Reputations, Prices and Contracts
Before committing to a specific payment gateway, analyze that company and its solution to ensure that: they are reputable; their pricing is competitive, and their contracts are flexible enough to meet your projected needs.
It's also wise to understand the current and forecasted transaction volumes, as this would have a huge impact on your ability to discuss monthly payments for most payment gateway providers.
#4 Audience Preferences
What method of payment do your consumers prefer for your products? Be sure you are aware of this long in advance and implement a customized solution to satisfy their needs.
Remember you always can offer PayPal as a secondary (or even tertiary) payment option at checkout because of its sheer popularity, reliability, and security. You'll be amazed at how often this so-called "backup gateway" will be the preferred choice for your customers.
Read more: Top 5 Best Payment Gateway For Small Business in 2021
Top 5 Best Payment Gateway in Australia
#1 eWay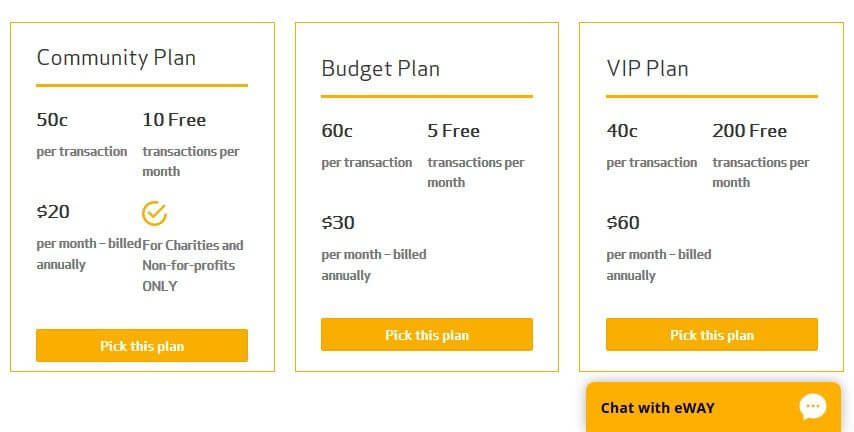 The year of launch: 1998
Supported platforms
Magento

Shopify

WP eCommerce

BigCommerce

WooCommerce
And 250+ shopping cart and other software integrations
Pricing
1.9 percent + 20c per Visa and MasterCard transaction on both international and domestic cards, and eWay also provides retailers using its gateway with three separate plans. They are as follows:
According to Joel S, an eWay sales executive, a merchant can choose between the flat "1.9 percent + 20c" or either of the plans previously shown.
If you already have an AMEX or Diners Club merchant account and decide to integrate it with eWay, eWay will only charge you 20c. The 1.9 percent will be charged by AMEX or Diners Club.
Payout Method and Frequency of Payout
Your subscription or sales revenue will be transferred directly into your bank account. This amount is not available in any digital wallet.
Be aware that eWay will unlock your funds after three days when running advertising campaigns.
Advantages
One of Australia's most widely-known payment gateways

Integrated tool to fraud prevention

Not required a merchant account for authorized merchants.

There is no setup cost

The Beagle tool rates transactions for risk in real-time (a free plan)

Since APIs are secure and robust, eWay can be integrated with almost every website in the world

Excellent customer service

The payment solution is scalable
Disadvantages
Their built-in fraud detection tool must be activated manually from the merchant account.

Only merchants with bank accounts in Australia, Singapore, New Zealand, Malaysia, Hong Kong, and the United Kingdom are eligible to receive payments via eWay.
Accepted Method of Payment
Cards accepted: Visa, MasterCard, JCB, American Express, Discover, Diners Club

Digital wallets: Visa checkout, Apple Pay, MasterPlus
PCI Compliance: Level 1 (the highest level)
Website Integration Method: eWay offers iFrame solutions, which are integrated gateways. The website provides access to eWay API resources.
Chargeback Policy: Chargebacks are refunds that the client receives from his or her bank or other banking entity rather than from you directly.
When it comes to eWay, merchants will be charged $44 for each chargeback transaction.
Payment Processor Availability: Certainly, eWay has its payment processor.
Sign-up time: You must have a government ID and bank account details to sign up. If those documents are accessible, the account should be ready in 2-3 business days, although it can take longer in some situations.
Rating: 4.7/5.0 (based on 847 reviews)
#2 WorldPay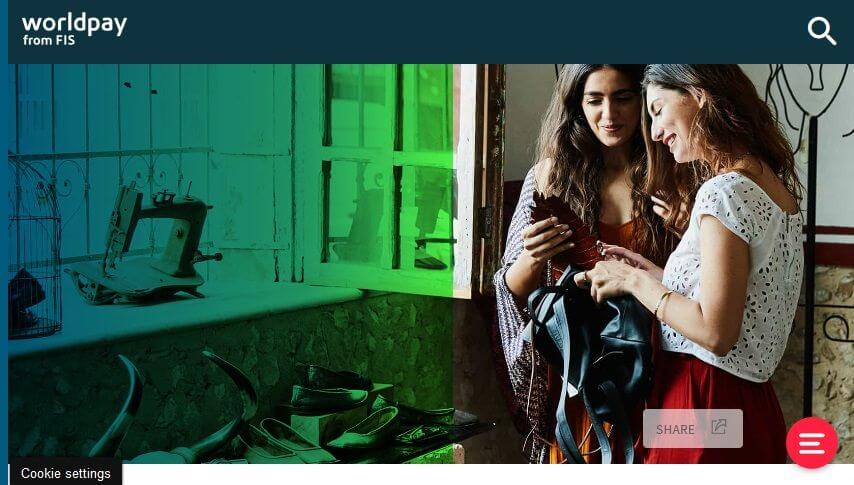 The year of launch: 1997
Supported platforms
Magento

BigCommerce (hosted)

Shopify

WooCommerce

WP Commerce
Pricing
WorldPay has two price options:
Pay when you go (2.75 percent plus A$0.37 for credit and debit cards).

Monthly payment (A$37.35 plus 2.75 percent for credit cards and 0.75 percent for debit cards)
If you process more than 1,000 transactions a month, you can contact WorldPay for volume pricing discounts or pay monthly alternatives.
Payout Method and Frequency of Payout: Twice a week, direct transfer to your bank account.
Advantages
They will assist you in obtaining a PCI DSS compliance certificate (for just A $56.15 every year).

WorldPay is authorized in over 146 nations.

It accepts over 126 different currencies.

There are no additional costs for subscription or billing.

Has fraud detection mechanisms built-in for smoother transactions

Their live dashboard allows you to track the order in real-time.

There is no extra charge to process refunds (does not include bank fees)

There is a virtual terminal available.

Credit card machines are available.

PayPal integration is supported.
Disadvantages
Perhaps there are so many services! You must do your own research before considering their services.

There is NO free trial available.
Accepted Payment Methods: All major cards are accepted
Website Integration Method: A list of APIs for WorldPay can be found on their website.
Chargeback Policy: WorldPay will charge you eCommerce in the event of a chargeback. If the client withdraws the chargeback order, this will be returned to you.
Payment Processor Availability: Yes, WorldPay comes with its own payment processor
Rating: 4.4/5.0 (average value). About 90% of its users will suggest it to a friend or coworker.
List of Prohibited Products
The following items are not available for sale via the WorldPay gateway:
Casinos and gambling devices

Betting on races

Pornography

Replica products

Cigarettes and tobacco

Medicines and firearms

......
The whole list can be found on their support website.
#3 SecurePay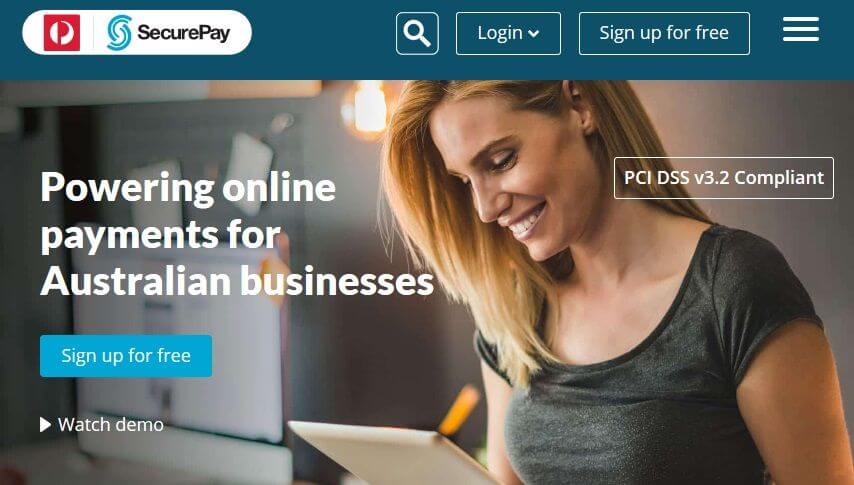 The year of launch: 1999
Supported platforms
WooCommerce

BigCommerce

Shopify

ShopFactory

Adobe Business Catalyst
On their website, you can find a full list of supported platforms.
Pricing
SecurePay provides you with two payment receipt alternatives. They are as follows:
Online Payments with SecurePay

Combines a payment gateway and a merchant account

Domestic transactions are 1.75 percent plus $0.30 per txn (fees inclusive of GST) while 2.90 percent + $0.30 per txn for international transactions (fees inclusive of GST)
There are no setup costs and also no monthly or yearly rates.
All transactions, including refunds, pre-authorization, and card-issuer rejected payments, are subject to transaction fees.
Gateway Solution
This plan is designed for merchants who already have a merchant account with a bank or other financial institution and want to directly deal with it.
You have three choices for this plan:
For anyone just starting, the fee is 45 cents per transaction plus an annual fee of $395.

Those who wish to process a fixed number of transactions each year. There are no annual payments - just $800 for 3,000 transactions (you can process no more than 3,000 transactions with this plan) If you use all 3,000 transactions, it will be topped up automatically.

For those processing more than 5,000 transactions a month
You have the chance of contacting SecurePay and negotiating personalized prices. Tailored packaging, dedicated support, and account administration are available to those with a turnover of above $1 million.
So if you meet these requirements, please contact SecurePay for more details.
Recurring Billing
$1 for each debit

The monthly fee is $75.

There are no annual or setup costs.
Payout Method and Frequency of Payout: Dependent on SecurePay risk assessment policies.
Advantages
Provides detailed reporting

Supports Australian bank

Provides virtual terminal

Offers free trial period

Includes advanced fraud protection

Offers batch payments processing

Provides sandboxing to examine the gateway

Able to customize the payment page
Disadvantages
There ARE hidden fees (service termination fee, PCI certification fee, etc.)

Printing reports is complicated

PoS is not provided
Accepted Payment Methods: All major cards, together with PayPal
PCI compliance: Level 1
Website Integration Method: You can get access to the link to the SecurePay API page on their website.
Payment Processor Availability: Yes, SecurePay has its payment processor and hence does not need to integrate with any other third-party processors.
Chargeback Policy: It will charge you a fee of $25 in the circumstances of a chargeback.
Rating: 4.2/5.0
Read more: Payment Gateway Comparison - Top 5 Providers in 2021
#4 Square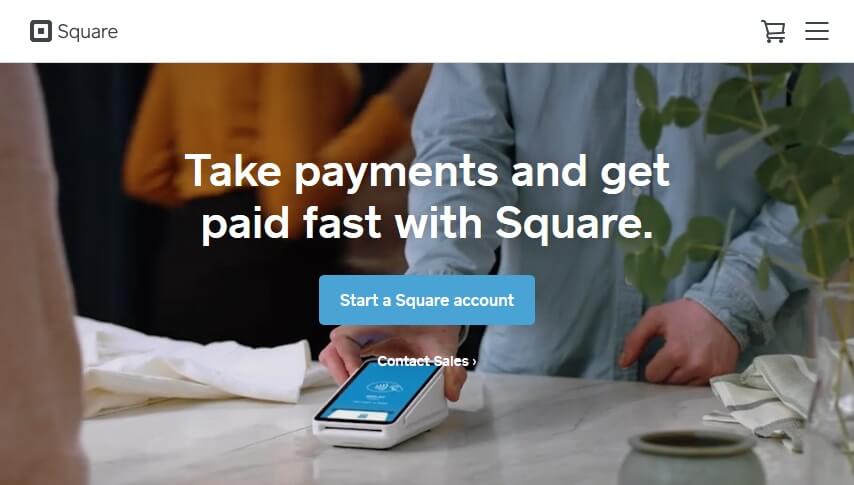 The year of launch: 2009
Supported platforms
Shopify (via a 3rd party application)

Xero

Vend

WooCommerce

Acuity Scheduling

GoDaddy website+marketing
Pricing
The app is free. The square reader costs $59 or three payments of $20.
On each transaction: 1.9 percent per tap or dip for Visa, American Express, MasterCard, EFTPOS, and international credit cards.
Advantages
Available virtual terminal.

Store card on file.

Includes qualified reporting tools.

Provides end-to-end transaction encryption.

Unlike several other gateways, it allows deposits the next business day.

Do not charge any refund fees.

Provides $250 a month as part of its chargeback protection package.

Square provides an instant deposit for a small charge (1 percent of the transfer value).

Exceptional iPad application for brick-and-mortar stores
Disadvantages
Typically, card-not-present transactions are highly scrutinized, resulting in substantial fee deductions.

In most cases, disputes tend to go against the merchant
PCI Compliance: Level 1 (the highest level)
Website Integration Method: They provide both APIs and SDKs, as well as documentation, on their website.
#5 2checkout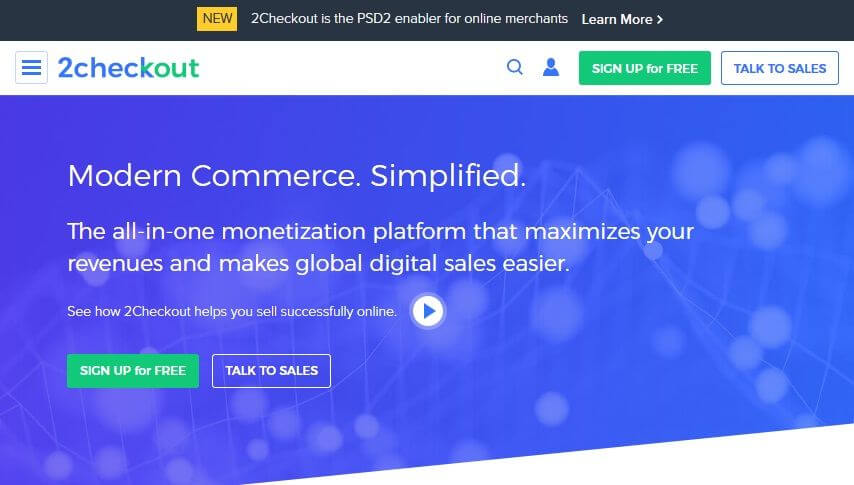 The year of launch: 1999
Supported platforms
100 eCommerce, shopping cart, and invoicing system systems are supported, including
Shopify

Magento

WooCommerce

BigCommerce

Drupal Commerce
Pricing
3.5 percent plus $0.51 on each item transaction (if you sell physical products online)

4.5 percent plus $0.66 on each item transaction (for recurring billing)

6.0 percent plus $0.88 for each item transaction (for digital products such as music or eBooks, etc.)
Payout Method and Frequency of Payout
2CheckOut can pay you via wire, ACH, check, Payoneer or Webmoney. The frequency at which it publishes your earned money is referred to as payout frequency. The funds are released on a weekly basis through 2checkout.
There is a minimum transfer limit when collecting money from 2CO which is $50/€50/£50. (2 Sell and 2 Subscribe) and $100 $100/€100/£100 (2 Monetize)
However, merchants have the ability to discuss payout frequency with 2checkout, and they do reduce the frequency in certain situations.
If your proposal for a shorter payout frequency is accepted, make sure it is in writing.
Advantages
87 currencies and 15 languages are supported.

Fees are set at a flat rate for any country in the world.

Advanced fraud detection and prevention

There are both hosted and inline checkout solutions (hosted checkout directs the user to the payment portal website). Inline keeps them on the website.)

Mobile-friendly

Provides yearly billing

WordPress shopping carts may be integrated.

Supports nations where the laws are unfavorable to small and medium-sized businesses.

Customers may add dishonest vendors to their blacklist.

Tools are included to help mitigate cart abandonment.

Facilitates driving traffic to your website

The checkout page can be customized
Disadvantages
A merchant account is required.

There is no digital wallet available (you cannot save money to buy anything as you can through PayPal).

Merchants do not have access to Live Chat.
Accepted Payment Methods:
MasterCard (debit card & credit card)

Visa (debit card & credit card)

American Express (credit card only)
PCI compliance: Level 1 certified (the highest level)
Website Integration Method: You can find 2checkout's API resource page on their website.
Chargeback Policy
Chargebacks are authorized on purchases made with the following credit/debit cards:
VISA/MasterCard

JCB

HyperCard

UnionPay

Carte Bleue

American Express

Discover

Diners Club

Elecard
Payment Processor Availability: It comes with its own payment processor.
Sign-up Time
Signing up takes between 5-10 minutes if you have any of the required information. If you don't, you should save and pick up where you left off later. You must submit the following documents during the sign-up process:
ID from the government

Valid address evidence

Policies in business (refund, shipping, returning product)
Rating
4.5/5.0 (Joe Warnimont)

4.5/5.0 (Rose Holman from Merchant Maverick)
Tips to Avoid Chargebacks in Best Payment Gateway in Australia
If you've made it this far, you've already got a nagging question in your head. What steps would you take to stop chargebacks?
To be honest, chargebacks are often inevitable, but you can drastically decrease their frequency if you take the following steps:
Declare the explanation that consumers can use on their credit card statements on your website policies page.

Customers will only be charged for the items that are shown on your website. You are the one that would deal with chargebacks if you work as a third party.

Card authentication can be implemented on the website.

If a credit is required, make sure it is made on the same card that was used to make the purchase.

Under a defined time frame, resolve all conflicts in the appropriate manner.

In the case of large transfers, take additional precautions to ensure that the payer is the cardholder.

Often notify the subscriber 4-5 days in advance of recurrent billing.
Read more: Top 8 Best Payment Gateway in USA For Magento 2 Merchants
Conclusion
The longer you search for the best payment gateway in Australia, the more likely you are prone to analysis paralysis. As a business owner, you must stay updated on any part of your company; payment gateways are critical, and we recommend that you keep an eye out for them.
So, which of the five gateways listed above do you believe is best suited to your needs? Check out our payment gateway integrations or drop us a comment below if you still have more questions.