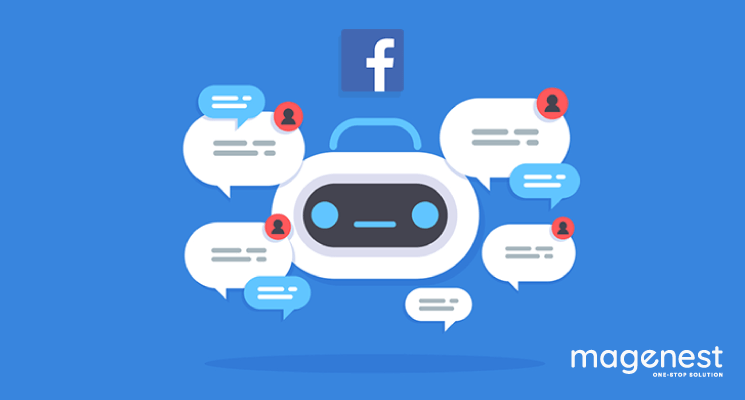 Communication is going more virtual in 2020. Traditional marketing channels still matter. However, if you don't take advantage of the online platforms to market your business, you are bound to be left behind.
If you are one of those who want to go beyond email marketing or live chat, a Facebook chatbot is coming your way to leveraging your customer services.
In case you are in doubt, many companies around the world have been using Facebook messenger bots for business and have gained trust from visitors. We will show you how but before that, let's learn the basics of Facebook chatbot!
What is Facebook Chatbot?
Chatbot is an automated program that uses AI to communicate with people. They are programmed to understand your messages, reply with automated answers, send you links, give your suggestions, help you purchase a product, or call for a real-human if you are not fancy about talking to a machine.
Facebook has integrated chatbot function into Messenger so that a business can interact with their visitors in an automatic manner.
Even though there is a limitation to their replies, FB chatbot is getting smarter and sounds more like a human. You can expect to have human-like conversations with the quickest response possible.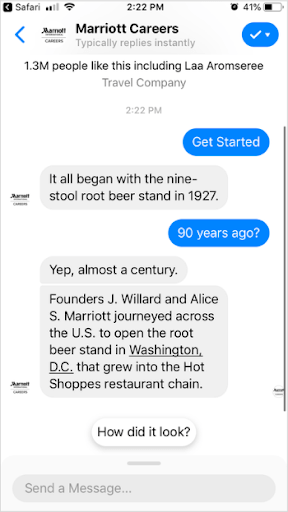 The advantages of using Facebook Chatbot for business
Many companies are now adopting Chatbot to grow their business and reach more people online. The market size of the chatbot is expected to triple from 2019 to 2024 according to Business Insider. There are still rooms to develop in this field, and looks like this can be a new way of interacting with customers.
One worth noting thing is, it's a lot cheaper to invest in a chatbot rather than building an app to communicate with your customers. So it's beneficial on both financial and strategic terms.
With that in mind, let's dive into the details!
Easy to reach people
The truth is messaging apps work better than social media with billions of active users. With 1.3 billion active users by the end of 2019 (and counting), you can see how big the market is.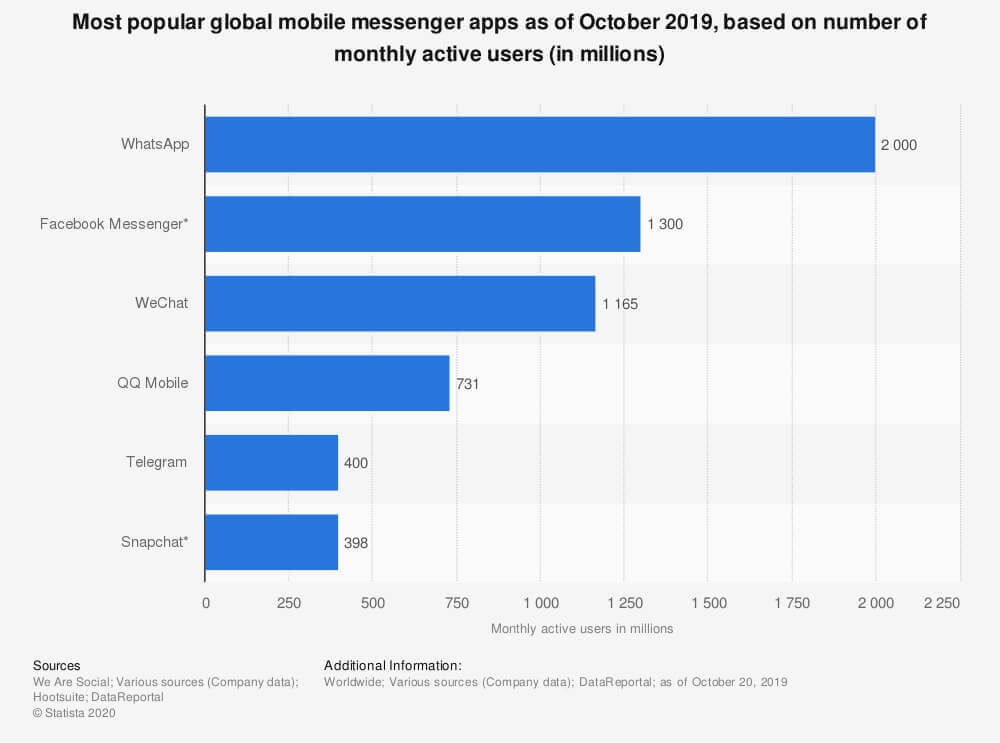 Getting in touch with people is easy but keeping them engaged and respond to you is another puzzle. A chatbot can save you a lot of hassles by asking users to choose CTA buttons instead of typing.
What's more, by understanding your customer needs, you can get in touch with them later with relevant offers. It means whenever you have a customer talking to a chatbot, you already had a new subscriber!
High open rates
In case you are wondering how effective a chatbot can be, the average open rate of the chatbot is 70-80% with a 20% click-through rate compared to email—where the open rate is at 5-10%.
People prefer a conversation rather than a long text that might not be relevant. Also, it's normal just to delete a promotion email before reading rather than a message. Therefore a short and concise message delivered to your inbox is more likely to be opened and read.
Now that the door is open for you to talk to your customers, the next part is to make sure you provide the best customer services to keep them stay. A chatbot can do that too, below is how.
Cut the long waiting
Waiting for a reply can be draining. While the customer interest is high, you need to grab the chance and drive them to the funnel as quickly as possible. Chances are they are in a hurry and would love to buy a product immediately, don't miss this opportunity!
A report by eDigital Research revealed 73% of people love live chat because of the instant reply. With chatbot, you can even provide your customers with real-time response, suggest relevant items, and even upsell for your products.
A scaled-up version of the newsletter
Chatbot works better than email marketing in a way that reduces the chances your messages will go straight to the spam before reaching your customers. With chat blasting, 100% of your messages will land perfectly well in their inbox. More reaches means more connections and potentially higher revenue.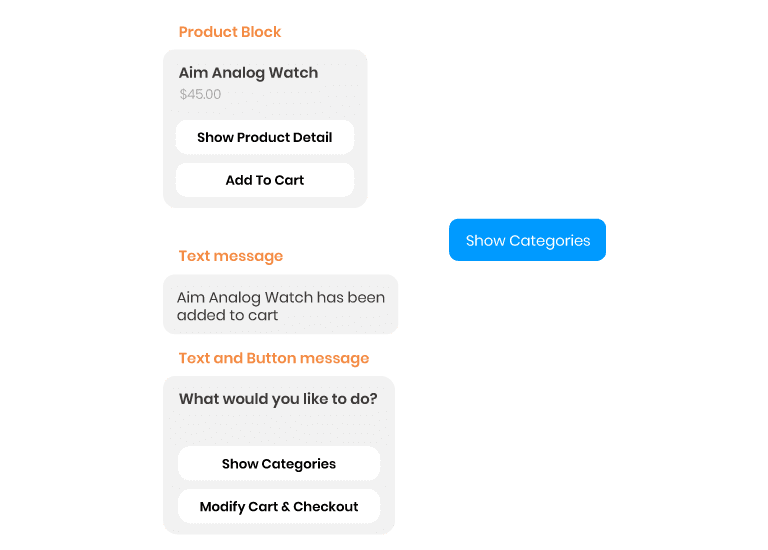 Generate leads and revenue
The one-way conversation can't trigger much information, thus chatbot will be your smart assistant to keep your customers engaged and thrilled. You will learn a lot more about them and categorize them for specific products.
If you re looking to create a conversational chatbot, Facebook Chatbot extension for Magento 2 is here to help. Just a few clicks away, you can produce unlimited conversation scenarios for your business such as Q&A or promo campaign, etc. Check it out!
With chatbox, customers can add items to their cart and place orders immediately right in the messenger box, this will help you to convert better. Here is an example: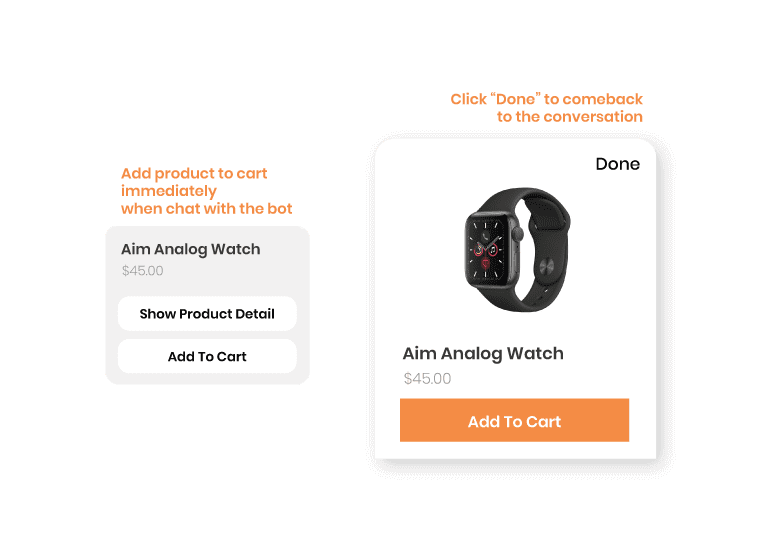 Examples of the best Facebook Messenger bots for business
Many companies have used Facebook chatbot messenger for business and gained positive results. Let's have a look at the best Facebook chatbot examples in use!
KLM Royal Dutch Airlines
If you are that passenger who usually forgets the flight time or misplace tickets/boarding passes, here's to no further problem. KLM Royal Dutch Airlines has integrated Facebook chatbot into their booking system to send you an itinerary, remind you of the flight, inform about the delay or even change your seat via a messenger. All you need to do is sign up for messenger chatbox after completing the booking on the websites and you are set to go!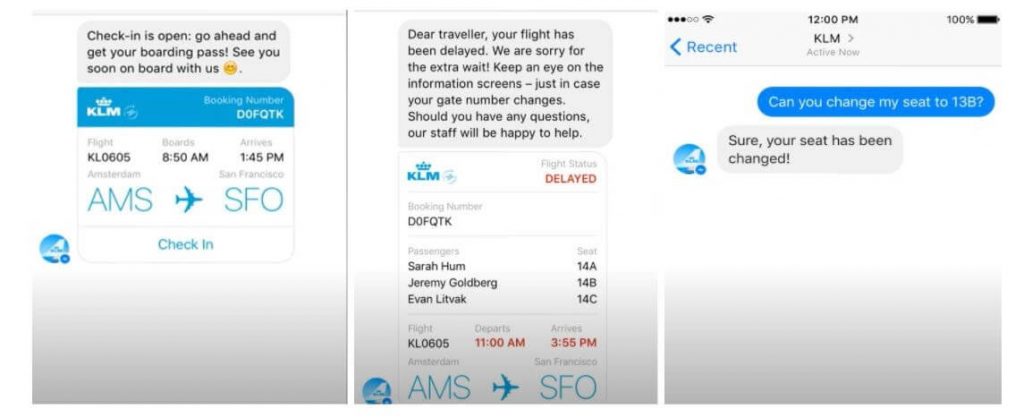 Uniqlo
The leading retailer in Japan - Uniqlo has also used Facebook chatbot to improve customer experience. It's fun to get in touch and you can select your favorite items of choice by using emoji!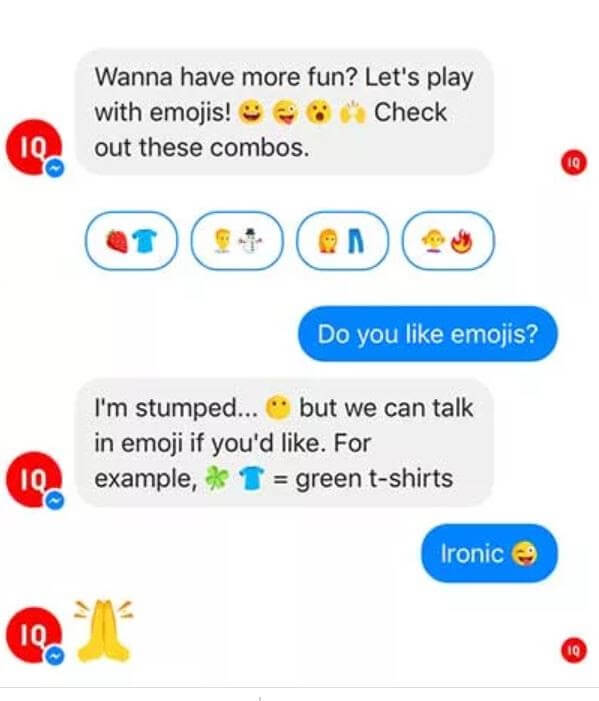 The chatbot from Uniqlo is very responsive to customer needs. It asks questions then suggests available products with price and website links, very informative, isn't it?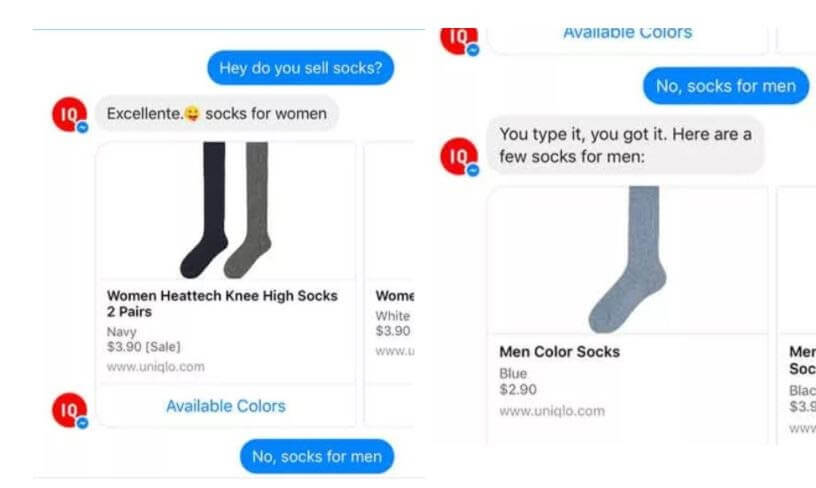 The Wall Street Journal
The Wall Street Journal's chatbot helps you to stay on top with the latest news without having to browse the website. It's just like getting in touch with a friend, asking what's the news today and you'll get them all.
The chatbot will give you some basic syntax to follow, for example, type "market" for the newest updates on the market, or "news ABC" to get updated about ABC company, etc.
eBay
eBay - a giant eCommerce corporate has also adopted Facebook messenger chatbot for business to optimize the buying process. eBay believes having an expert around 24/7 is an excellent way to help customers with everything they need.
The special thing about eBay chatbot is it is equipped with a contextual understanding and predictive model so it can learn from customers' behaviors and suggest relevant items based on purchase history.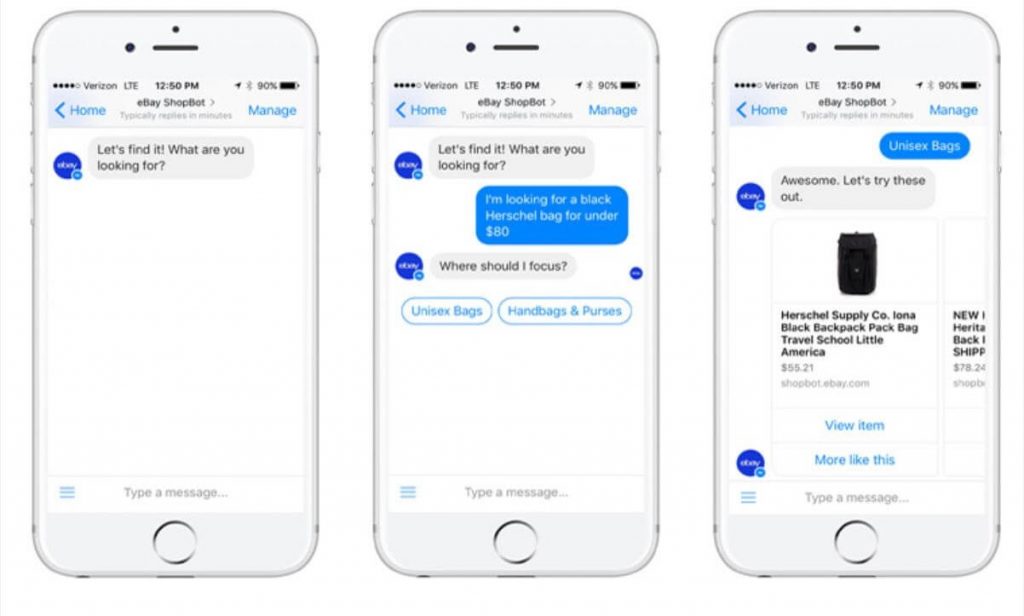 Unicef
Unicef uses Facebook chatbot in a very different way, which is to educate and engage people from all around the world.
The campaign #KidsTakeOver on World Children's Day in 2017 engaged children in 11 countries, calling them to take part in some fun activities, donate, and "make the world a better place!".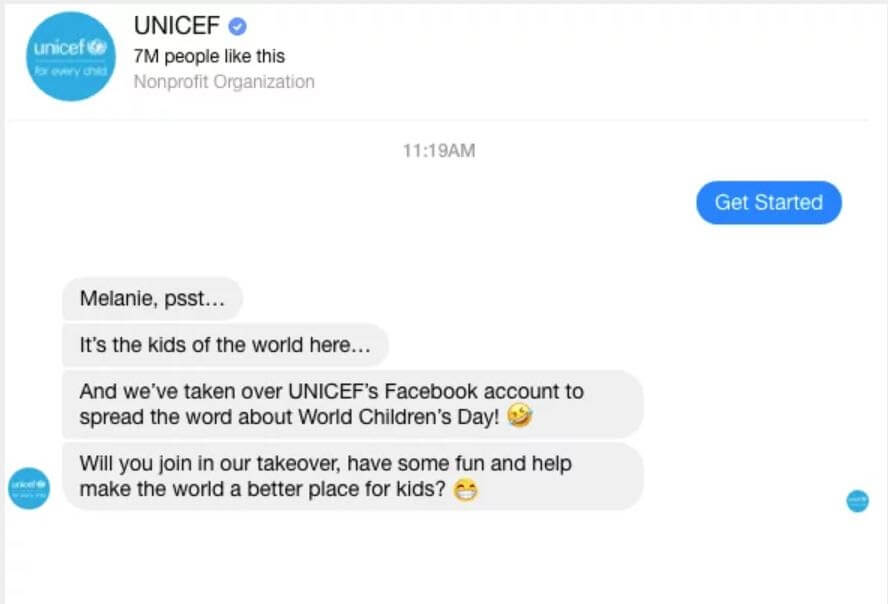 Once children say yes to the messages, they are asked to change their Facebook profile picture with World Children's Day frame, learn about the Children's day, and the messages behind the #Kidstakeover campaign. It's a very unique way to connect children all around the globe and create a strong impact!
We hope you have gained some insights into the Facebook chatbot and how it can benefit your business. You might find it hard to integrate it into your system at first, however, chatbot providers will guide you through the process and help you create one that fits your style. Get in touch to learn more about Facebook chatbot!