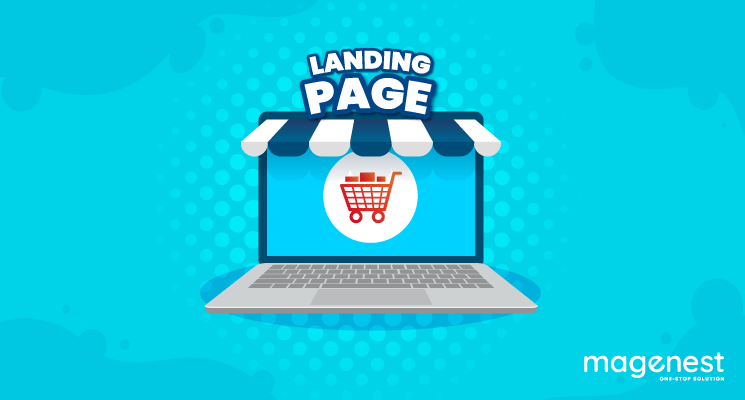 It's not a strange phenomenon for Internet surfers to encounter a landing page when they explore a website.
Different from other pages, a landing page has a unique design and purpose. As the world-leading open-source platform, Magento creates favorable conditions for store owners to build their own Magento landing page at ease.
What is a landing page?
Visitors always say that: The landing page of brand X is really great. But do they actually understand what is a landing page?
In a simple explanation, a landing page is a highlight page that serves a specific purpose or goal of store owners.
Visitors come to this page after clicking on a link on an email; ads and search results from search engines such as Google or Bing; or a button from social networks like Facebook or Instagram. After landing on the page, potential customers are guided to complete a wanted action on the landing page.
A landing page can consist of Call-to-Actions (CTA) to attract the desired actions from visitors or a form to fill out needed information in exchange for some benefit. After completing the form, customers' data will be safely saved and support for your further plans in marketing and sales.
The landing page can serve some of these purposes:
Membership registered form

eBook and white paper

Newsletter subscription

Online course enrollment

Event registration

Free trial request

App download
Why you need a landing page?
Thanks to its function as to fulfil a particular need of merchants, landing pages are used to convert potential leads into real customers. More and more brands are taking the advantages of landing pages since the average landing page conversion rates are 2.35% across industries.
Normal page builders don't design to optimize conversion rate since they focus on introducing your products and gain traffic for your website. Targeting your pages correctly can increase conversion up to 300%.
Besides increasing the conversion rate, utilizing landing pages will lower your cost in acquiring new leads and prepare data for future market research and evaluation.
Examples of effective landing pages
Since landing page helps store owners to convert leads to customers, they are usually placed right when visitors encounter the website. That's why 77% of landing pages are home pages. Let's take a look at some useful landing pages of popular brands right now.
Airbnb
Airbnb is famous for offering arrangements for lodging, primarily homestays, and tourism experiences. Their landing page is straightforward and helpful for potential hosts to decide whether or not to join the Airbnb process.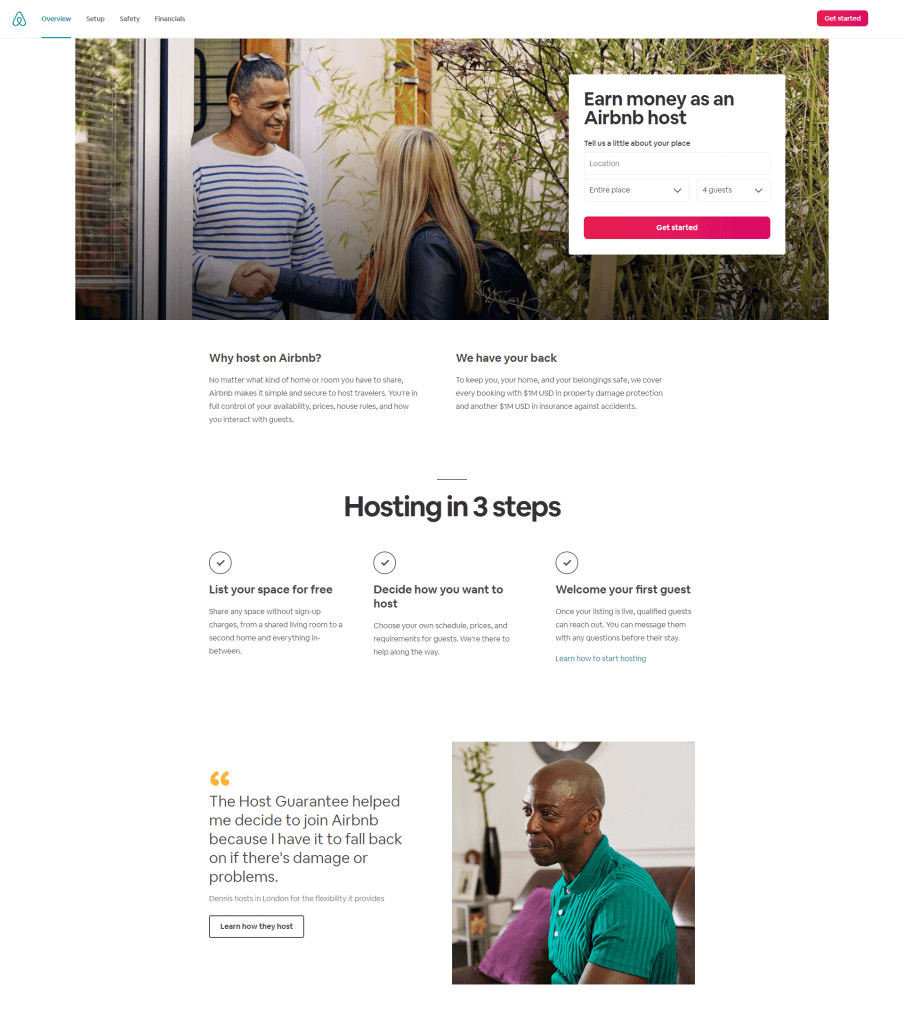 Lyft
Lyft is the second-largest ridesharing company in the United States. It offers car rides, scooters, a bicycle-sharing system, and a food delivery service. Lyft's landing page clearly states their policies and supports for drivers who decide to join their program.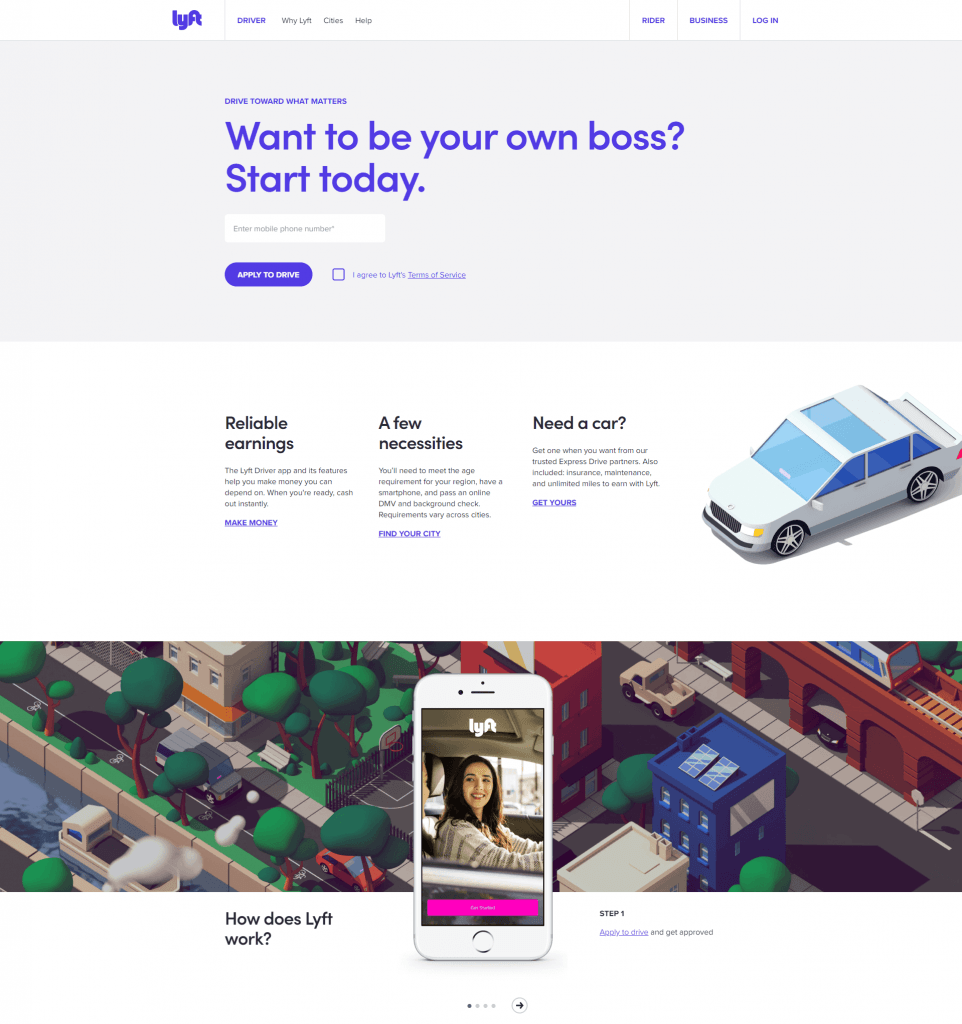 Slack
Slack is the communication software for team members to manage easily the workflow, from that increases the effectiveness and performance of the whole team. This is one of the best communication methods for remoting teams to maintain their productivity.
Slack landing page shows potential users on their benefit when utilizing Slack as well as offers a free trial for those who still have concerns.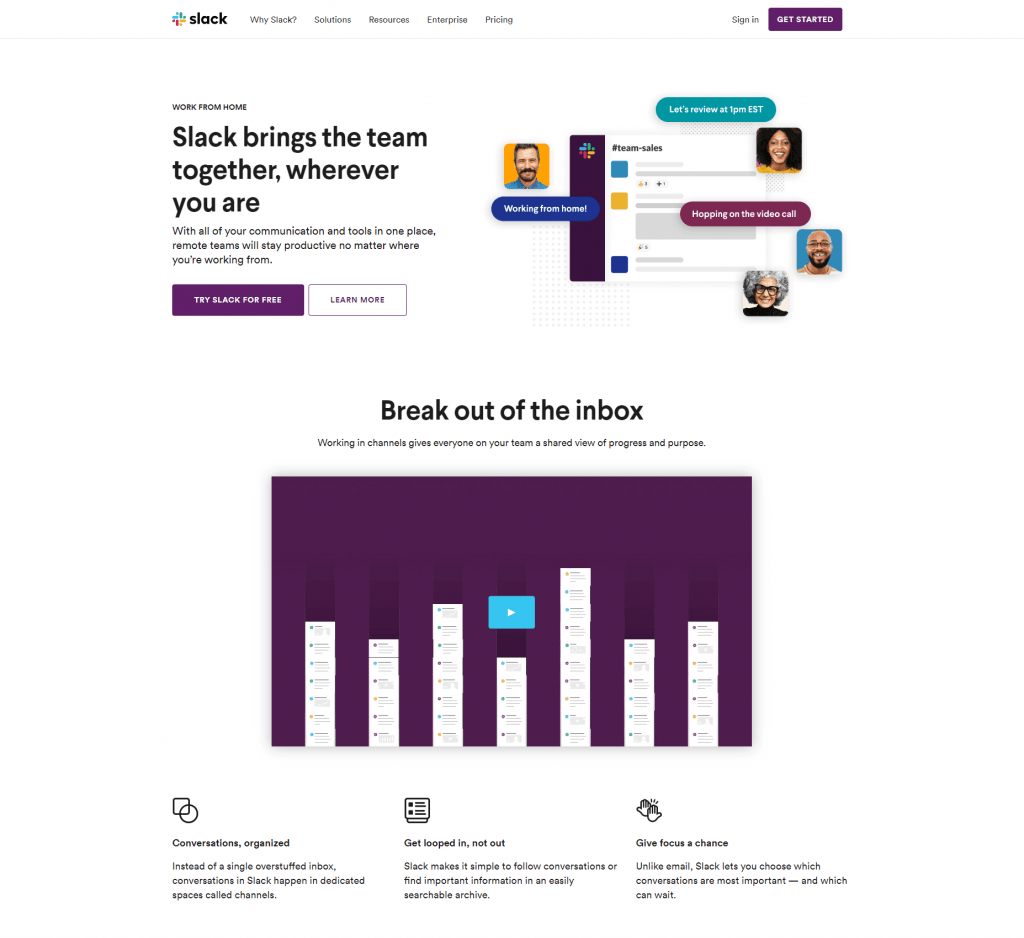 Mailchimp
Mailchimp is not an unfamiliar choice when it comes to email marketing tools. Its landing page offers a free custom domain with lots of information relating to benefits and new key functions of Mailchimp.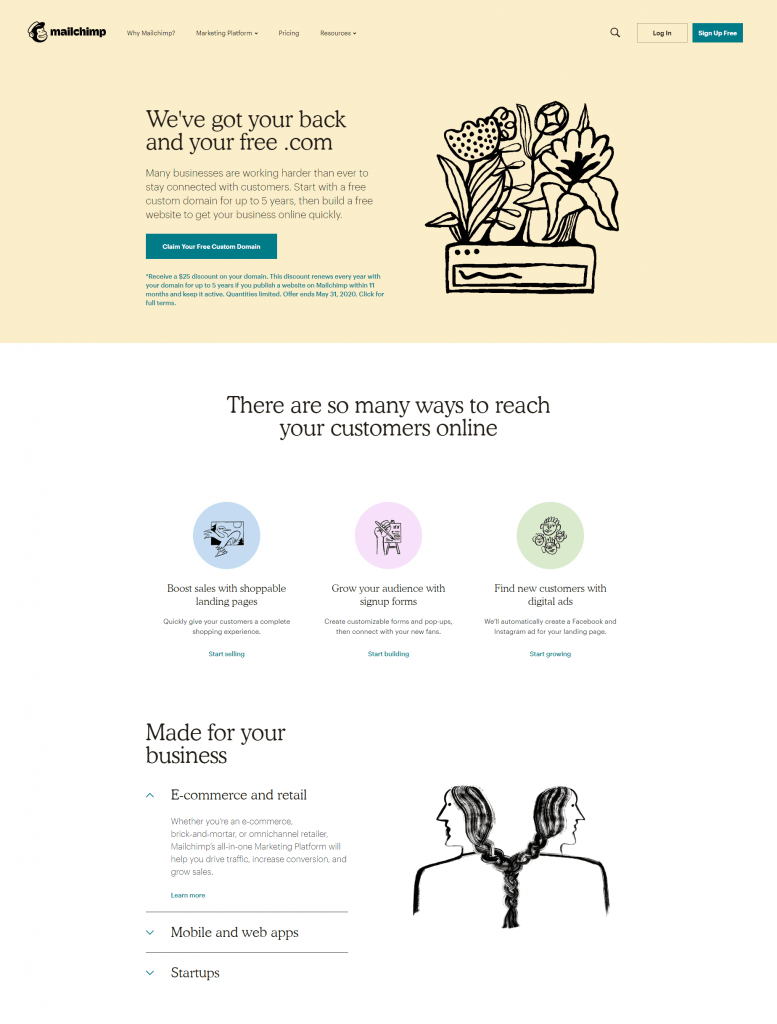 4 must-have elements on a Magento landing page
Some store owners are confused about what to put on the landing page. Adding too much will make the customer journey more complicated while on the other hand, too little won't catch the attention of customers for the desired action. Below are the 4 factors that you should put into consideration when building your landing page.
Highlighting content
Consumers are not carefree; they need to see whether your offer is beneficial or not. It's essential to feature the advantages for customers when using your products or services. Sellers should also introduce your support policies for users when after they enter your program.
The content must be illustrated straight to the point so visitors can quickly make up their minds. Don't be too ambitious by presenting a wall of text right at the beginning of customer's journey, or else you will lose a huge number of precious potential buyers.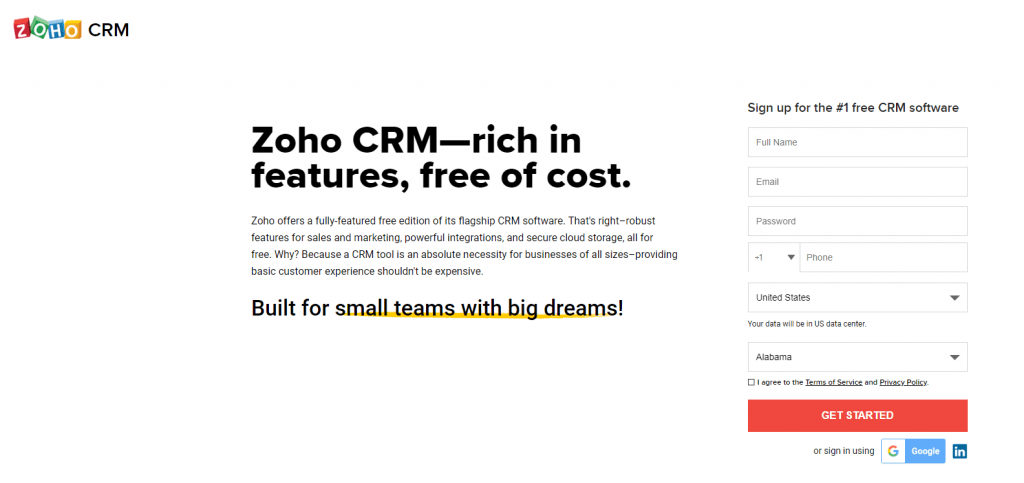 Strong Call-to-Actions
After reading the overall introduction, visitors need a kick to do the actions as merchants want. That's why CTAs are here for the rescue.
CTAs are the key-turning point for visitors to decide whether to DO THE ACTION or not. CTAs often sum up the general idea of the actions, such as Click here for a free trial or Join us now.
CTA buttons are usually designed with contrast color to the background, featured an attractive and short text to capture the attention of customers as well as quickly convey the general idea of the page.
If customers are persuaded enough to click on your CTAs, it means your landing page is performing really well!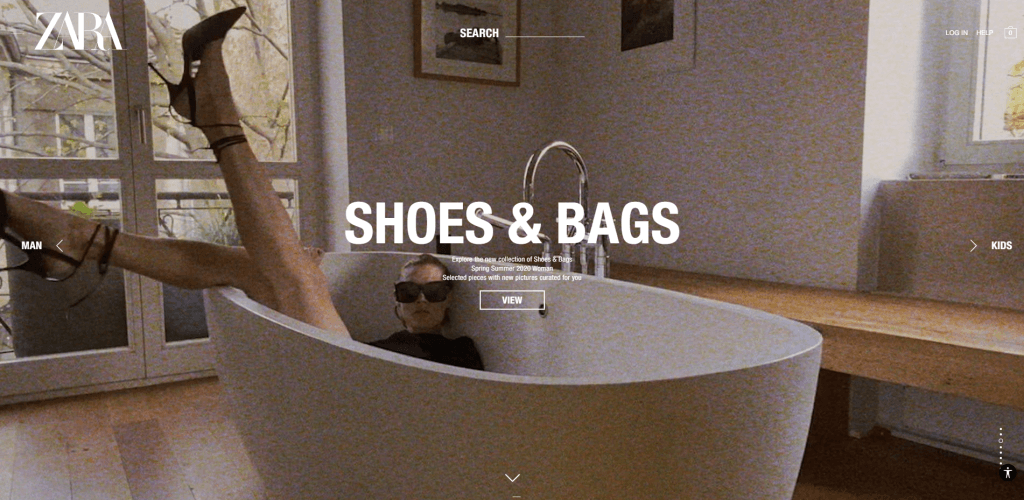 Social network connections
One common desired action on landing pages at the moment is connecting cross-platform, in particular between eCommerce websites and social networks. This is also a great way to make use of your customers by sharing your websites with their personal connections. Facebook or Twitter is a convenient marketing channel for your visitors to spread your brand image to more potential customers.
What is a better way to convert customers than sharing your impressive landing page on social platforms?
To support Magento store owners in making this vision come true, we recommend you try the Magento 2 Social Login and Share - an amazing extension to bring your brand available on social networks. Supporting 9 popular social platforms, the integration helps you cut down complicated steps in connecting your websites with SNS.
Smart searching tool
Sometimes customers still get confused and want to find out more about your products/ services before actually hitting the Yes button. A smart searching tool can help them answer the most curious questions! Most of the landing pages are featured a detailed navigation bar to guide customers with further steps in their journey. You can implement a customized Mega Menu for better website orientation.
Moreover, it'll be a smart move to integrate a search box at your landing page so visitors can explore more about your brand. You can take a look at the Mailchimp searching tool below.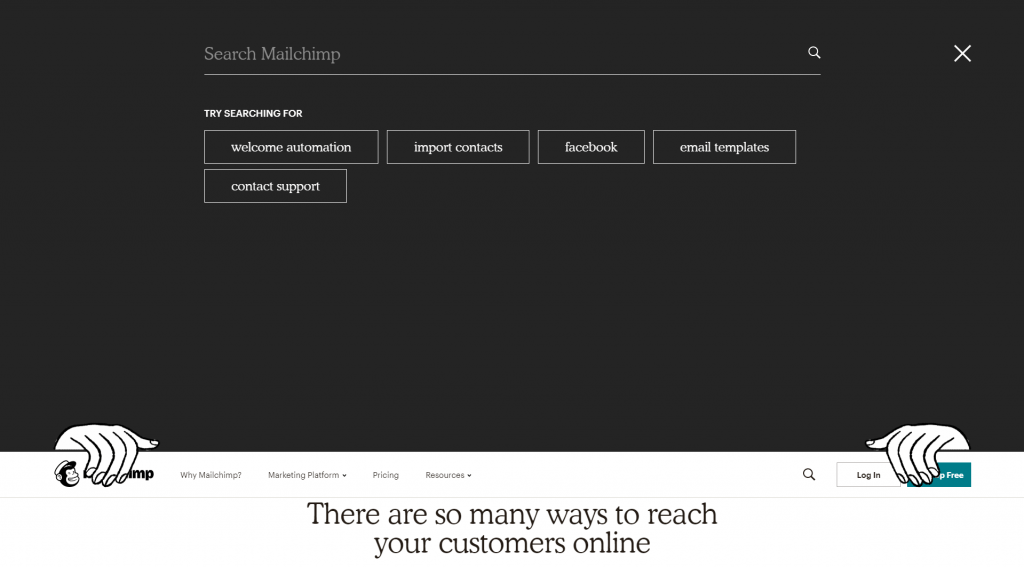 Magento 2 Ajax Search can be your greatest ally in creating a supportive and flawless customer experience. With the upcoming VOICE SEARCH feature, your search box will be more mobile-friendly and engaging with potential customers. Some other outstanding functions are:
Auto-complete search suggestion

Freely customize every detail of the searching box

Navigate customers directly to the chosen products
In conclusion
A landing page is an essential part of the customers' journey. The page helps store owners convey the most impactful information to visitors, which leads to the success of converting potential leads into active customers.
It doesn't require a fancy and complicated design since customers focus more on a simple and straight-to-the-point page. We hope that with our article, you have understood how to create an effective Magento landing page to attract more buyers.
Visit Magenest Store to find out more about tips to success on Magento page builders!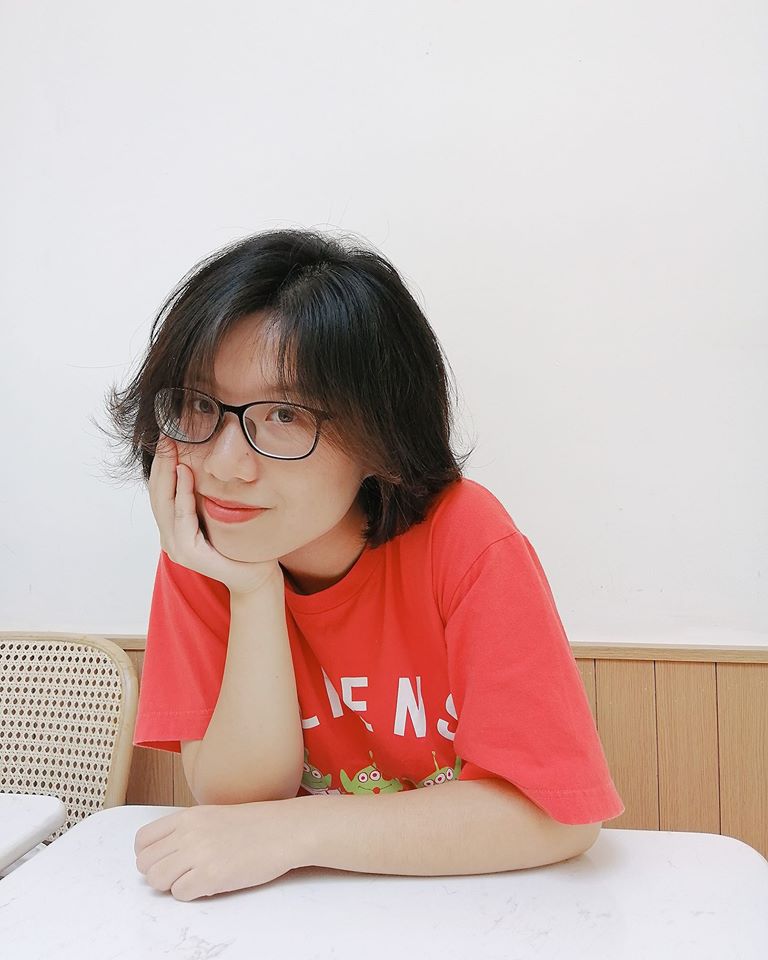 Marketing Executive | Learning new things every day.