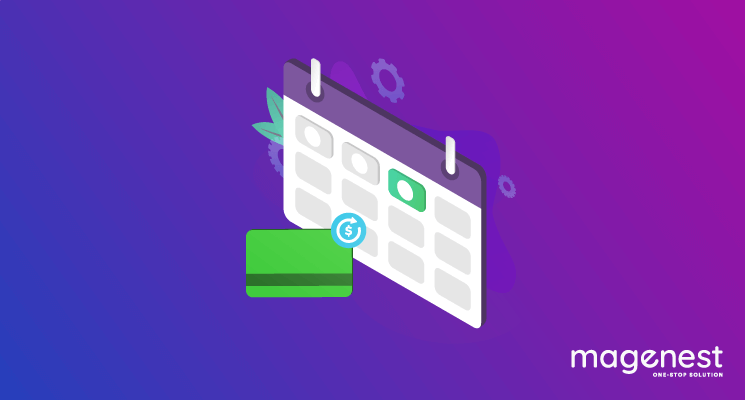 There is a lot to handles when setting out for subscription business: subscription package, define your price and targeted customers, etc. The list keeps ongoing.
The thing keeps you scratching your head the most is probably how to build an effective subscription and recurring payment system.
If you are swamped with hundreds of subscription extensions for your Magento platform and wondering what suits you, don't worry. We have picked the best Magento subscription extensions on the market and narrowed it down to 8 so that you can zoom out and make a decision.
Note that this list or Magento subscription is randomly ordered, so sit back and take your time to explore!
The Magento 2 subscription extension from Magenest is fully compatible with Magento 2 eCommerce and offers customers an excellent experience by letting them choose the start date, suspend, cancel, or renew their subscription on their Dashboard. There are also a lot of features offered to help you easily build and control your Magento subscription model. Here they are.
Key features
Set a flexible Magento subscription plan to adapt to every customer's needs. Customers can choose the subscription plan or pay-per-product

Create multiple subscription plans to choose 

Handle the subscription with ease. You can specify the number of billing cycles, billing frequency, or set up and manage the free trials, initial fee when customers start subscribing

Automatic emails to be sent to customers to notify them of the important updates (make a payment, suspend the subscription, etc...)

Manage customer's profiles from Magento 2 Back-end

Customers can checkout on Paypal so no needs to purchase additional payment gateway 
Compatibility
CE, EE 2.1.x, 2.2.x, 2.3.x
Support
Free lifetime software updates

30-day money-back guarantee

One-time payment without hidden cost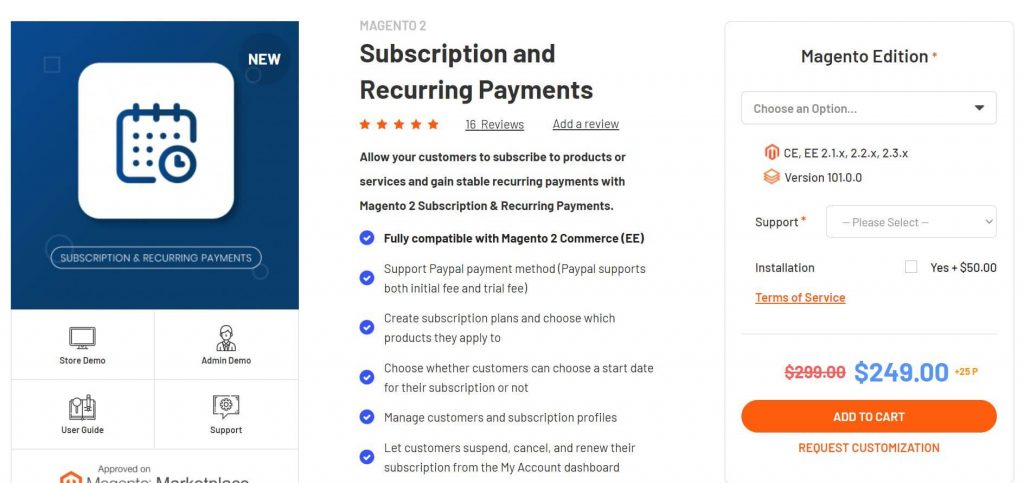 Magento 2 Recurring Payments
|
Milople ($264)
The Magento 2 subscription by Milople supports many subscription products and services, whether it's rental, membership, or recurring. The plans vary and can be customized to best suit your business. Milople offers the subscription extensions on both Magento 1 and 2.
Key features
Users can choose to subscribe to product on the product page and double-check it at cart, and checkout page. They can opt for a usual one-time-payment or a subscription and admin will control if buyers can have this option

Offer discount for subscription: for the first time or the second terms to attract customers to buy

Easy for buyers to control their subscriptions. All information stored under My Account > My Subscriptions

Purchase multiple subscriptions under one order

Purchase both subscription and non-subscription with one single order

Admin can enable subscription for groups, specifically targeted customers

Payment gateway: Stripe, Paypal, Braintree, Authorize.net
Compatibility
Community 2.0.X - 2.X.X

Enterprise

2.0.X - 2.X.X
Support
100% open source code

90-day free support

Lifetime free upgrade

15-day money back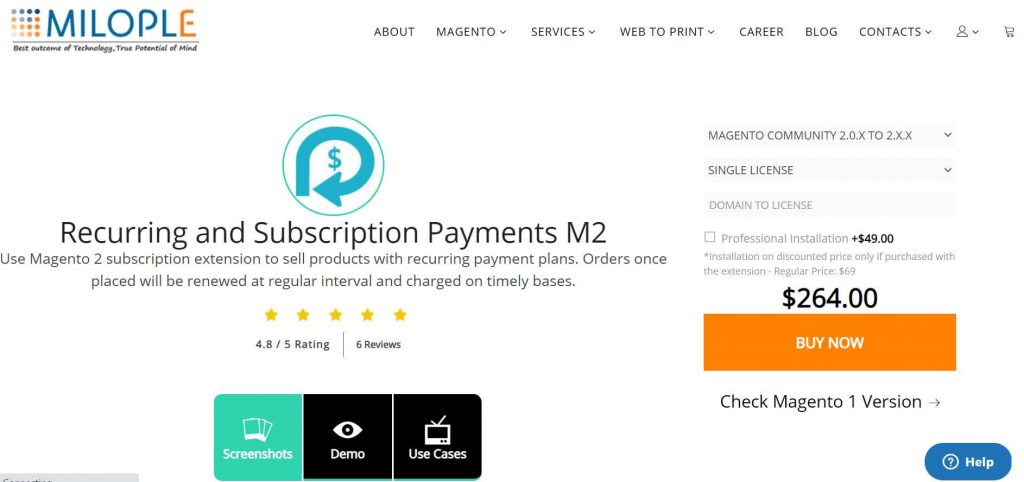 Magento 2 Subscription Module | Magedelight ($649)
Built on the basis of Magento, subscription extension of Magedelight support all type of products (simple, custom or configurable product) and ability to manage it from the backend. Aspiring to build an amazing journey for customers, the Magento subscription extension from Magedelight will help to increase repeat customers.
Key features
Customers can modify their subscription easily from the dashboard whether they want to skip or pause

Accept payment from major providers, giving customers the choice to choose the ones they are most comfortable with

Manage many products easily under one page with a friendly interface

Can use eWallet to make a payment
Compatibility
Community 2.2.X - 2.4.X

Enterprise 2.2.X - 2.4.X
Support
45-day money back

90-day free support

Free lifetime updates
>>>> Read more: Magento subscription extension: Top 5 must-have items for your store
Subscription and recurring payments for Magento 2 | Amasty ($399)
The Magento 2 subscription extensions from Amasty utilize the popular payment gateway to ensure customers are at ease at the end of their purchasing journey. Also, the management dashboard is tailored to help you keep track of all current subscriptions.
Key features
Many transaction methods are available. Make payment via Paypal, Stripe, or even with cash upon product's arrival

Offer one single step checkout to buy subscription products

Suggest the subscription timeline for customers

Unlimited subscription plans tailored for targeted customers

Transaction logs to display details of the purchase on a separate grid

Notify which products are subscription ones to avoid wrong purchasing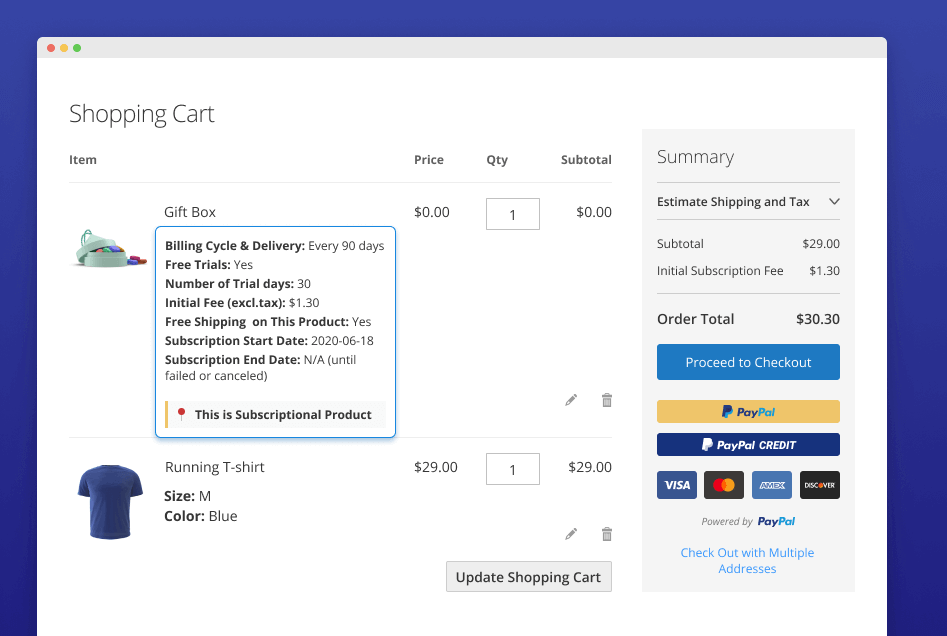 Compatibility
Magento CE & EE 2.2, 2.3, 2.4
Support
60-Day Money-Back Guarantee

Free Lifetime Updates

90-Day Free Support
Advanced Magento 2 subscription extension | Aheadworks ($449 - $749)
Aheadworks provides a comprehensive Magento subscription extension to repeat purchases, show the benefits of each subscription plan, allow customers to shop and manage their budget, and more. Here are the key features
Key features
Customers have full control over their subscription in My Account: remove a product, edit or change payment information, or renew, set a start date, etc. It can be done in just some simple steps

Buy recurring products and one-time payment product at once

Support different types of products: simple, virtual, etc.

Many payment gateways to choose: cash on delivery, Strip, NMP

Receive emails with major updates
Compatibility
CE 2.3.X - 2.4.X

EE 2.3.X - 2.4.X
Support
45-day money back

Free installation

90-day free support

Free lifetime updates
>>> Read more: Subscription-Based eCommerce Model | Top success stories
Adaptive Magento subscription extensions | Paradoxlabs ($699)
Paradoxlabs believes the best customers are the ones who keep coming back and they ensure the Magento recurring payments can help you to keep piling up your long list of loyal customers.
The pricing offered for this Magento subscription is one the highest compared to others, an additional installation fee costs another $279. However, they ensure to deliver the best solution for your online business by building an effective subscription system
Key features
This Magento subscription s

upports all shipping methods and the shipping fee is added up to that payment cycle. In case the chosen shipping is not available, another one will be suggested

Combine many subscription products in one bill

Many payment methods available, from offline to online: Cash on Delivery, Magento Braintree, Magento PayPal Payflow Pro

Gift your customers or give them a discount based on the intervals, the value of their purchase, installment

Can make any product types a subscription

Easy to control and handle subscriptions on both admin and users' side

Adaptive subscription provided to change large parts of the default system

Provide Progressive Web Apps to build interface within your mobiles, PWA, etc
Compatibility
CE 2.2, 2.3, 2.4

EE &

Cloud

2.2, 2.3, 2.4
Support
Refund within 30 days after the purchase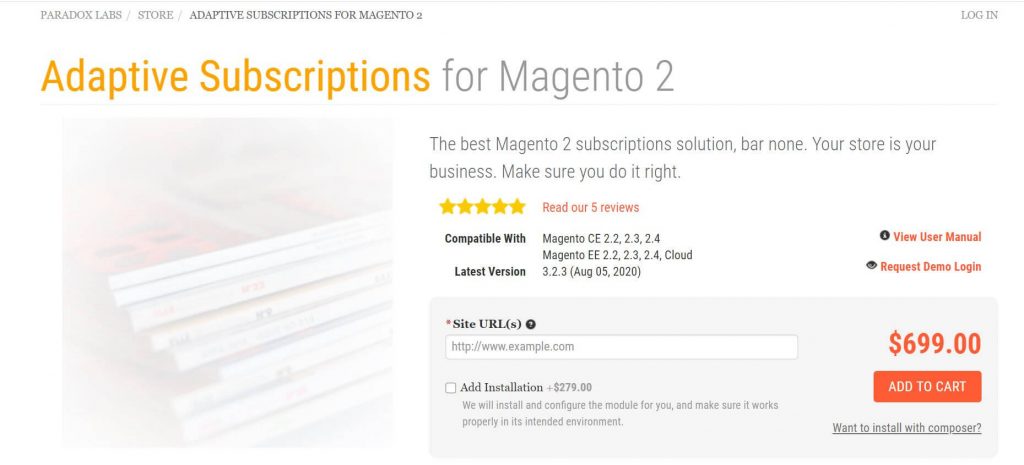 Eway Magento subscription and recurring payments | Magecomp ($299)
The Eway Recurring and Subscription Payment features eWay payment gateway and provide the best experience for both customers and store owners. The Magento subscription is user-friendly with a wide range of functions to keep your business running and your sales going upward.
Key features
Check and validate data before submitting the order

Easy to edit or update information from my Front End account or Admin

Debug request and response from server

Feature to test the transaction before making a real payment

The eWay recurring payment is now only applicable in Australia however, Magecomp is extending to many other countries with eWay available
Compatibility
CE 1.5.x - 1.9.x

EE 1.8.x - 1.14.x
Support
30-day money back

Lifetime free upgrade

90-day free support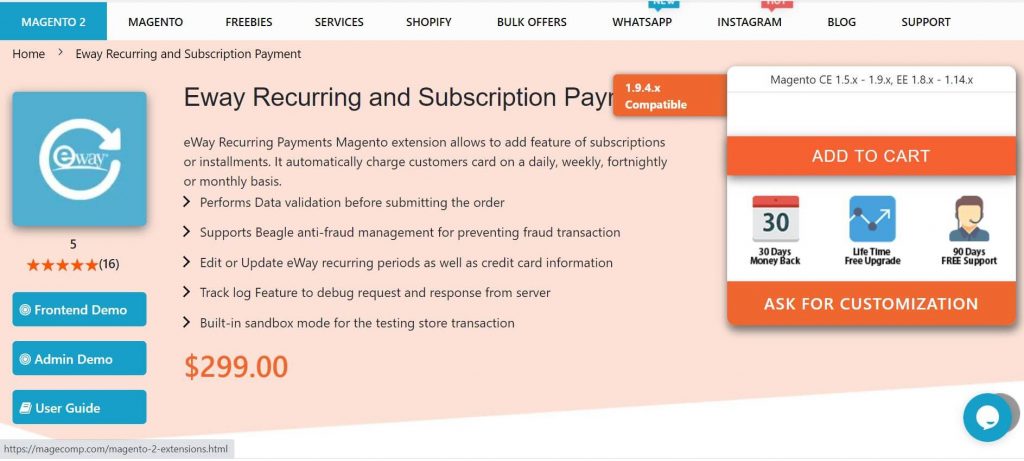 Final words
We hope this has provided some insights into the Magento subscription vendors on the market. Make sure you go through key features and reflect on what's needed for your business before purchasing. Some vendors might offer a discount rate or sometimes discounted bundles that come along with other useful extensions you might need. So make sure to keep an eye on these good deals when browsing Magento subscription extensions.