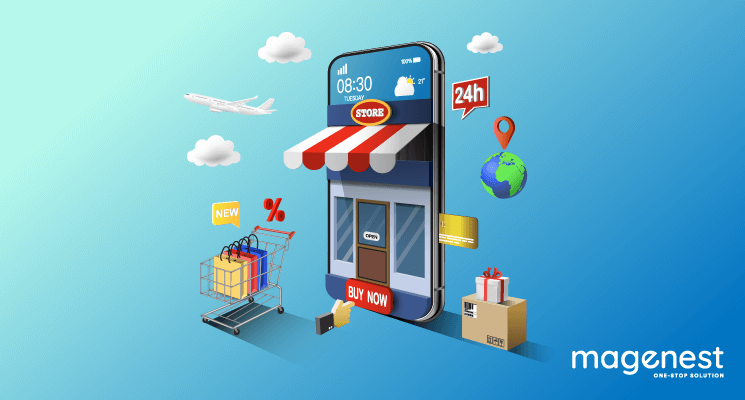 Over the last 7 months, the outbreak of Covid-19 pandemic has made changes to consumers' behavior, especially how they are shopping on mobile devices. So, how is mobile commerce influenced by Covid-19? And what are the most popular mobile commerce trends during this Coronavirus disease? Let's find out in this article!
Impacts of Covid-19 on mobile commerce
Covid-19 pandemic has forced people to stay at home. Hence, there has been a significant rise in online shopping during the lockdown. According to Remote Payments Study of PYMNTS, the share of customers shopping and paying for retail purchase online in 2020 increased by 34.9% in comparison with that in 2019, while the percentage of in-store shoppers witnessed the opposite trend.
Consumers are more likely to use mobile devices to find deals and discounts as well as compare prices while shopping in brick-and-mortar stores with a 53.7% increase compared to last year. Between 2019 and 2020, there was a 7.6% increase in the share of consumers using their mobile phones to look up coupons and discounts, while this figure for those who compared prices on their devices rose by 8%.
In fact, there are differences in how often purchases are paid via mobile between different types of consumer generations. Generation X, seniors and baby boomers are least likely to purchase via mobile, with respectively 54% and 35% of them using mobile devices to complete their most recent purchases. Meanwhile, bridge millennials represent the generation most likely to make mobile purchases.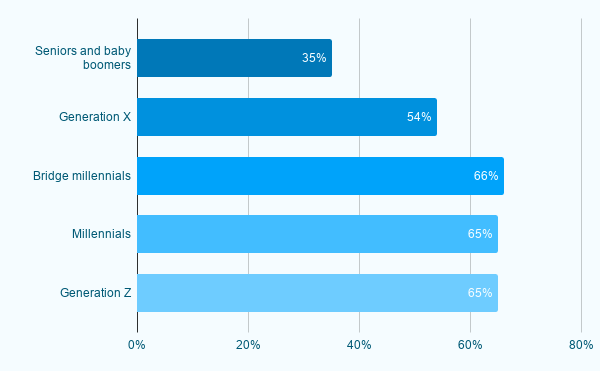 Data of Merchant Savy also indicates that global mobile commerce revenue of only the first two months of 2020 is nearly $600 billion more than the figure for the whole year 2019. The global market for mobile eCommerce is expected to reach a size of $6.6 trillion by 2027 with a compound annual growth rate of 19.8% over the period of 2020-2027.
In general, Covid-19 pandemic has changed consumers' relationships with their connected devices, making them rely more on their mobile phones to remotely make purchases as well as seek out promotions and take advantage of loyalty programs in physical stores.
This underscores consumers' need to reduce their spending when the pandemic adversely affects the economy. It also provides a glimpse into the vital role of mobile eCommerce in consumers' efforts to prevent Coronavirus infection.
Top 5 mobile commerce trends during Covid-19 pandemic
#1 Shopping on mobile apps
In terms of online shopping on mobile devices, using an application can help purchase experience more convenient than shopping on mobile web. According to Button, mobile apps outperform mobile web with 157% higher conversion rates.
Almost all eCommerce websites are now mobile responsive, but this may not be enough when mobile apps are bringing numerous benefits to online shoppers. Due to Covid-19, most of the shopping activities of people take place online. So, it is better to save all the shipping and payment information in the shopping app to place orders faster in the next times.
Moreover, mobile apps could deliver notifications about order status and promotions to customers. This keeps them stay updated about their order and encourages them to make more purchases through attractive discounts and special offers.
To help Magento store owners run your business more efficiently and optimize customer experience with this mobile commerce trend, we have developed Mininest - a free mobile app builder allowing you to turn your whole eCommerce website into a fully native mobile app. With this tool, business owners can not only increase sales but also reduce marketing expenses to overcome this tough period.
Read more: 5 Home-based Business Ideas To Overcome COVID-19
#2 Social Commerce
It can not be denied that social media is becoming an indispensable part of our lives, especially when people have to use it as one of the main communication methods during the Covid-19 quarantine. For businesses, raising brand awareness through social media is no longer something new, but how to convert that social traffic into sales effectively is still a challenge.
It's time to take advantage of Social Commerce to boost revenue via social media. With the appearance of Facebook Shop and Instagram shoppable posts, customers now can buy everything right on social media without being redirected to the product page on the website and starting to place an order from scratch.
Also, the in-app checkout feature on Instagram provides users with a streamlined and 2-tap checkout process within the app. No need to open a new browser, all they have to do is just entering their billing information and shipping address in the first time purchase, then all will be automatically saved for the next time.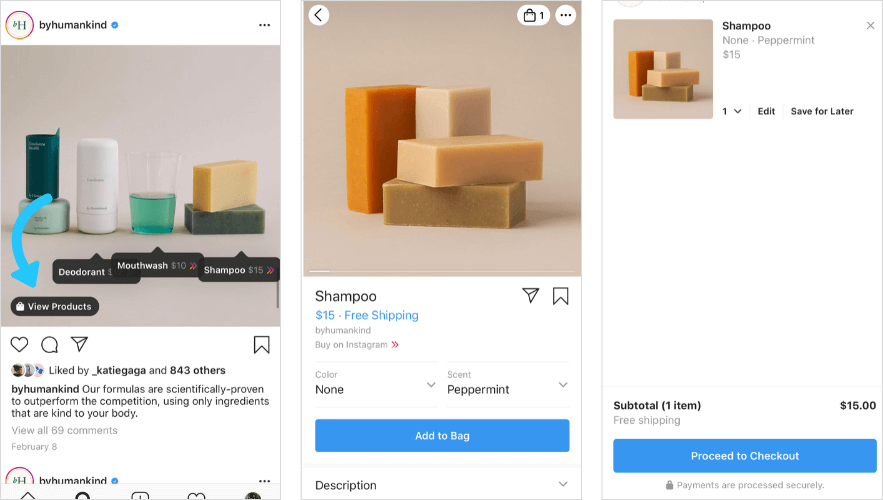 Adapting to this mobile commerce trend can create a seamless social experience for your customers, building their interest in your brand and then turning them into your loyal customers.
#3 Mobile payment
To reduce the infection of Coronavirus, it is necessary to avoid direct contact between people. Therefore, touchless payment methods through mobile devices become one of the most popular mobile commerce trends during this crisis.
Mobile wallets enable consumers to make payments for both online and in-store purchases. When shopping via a mobile app, buyers can choose an appropriate mobile wallet integrated at the checkout step. In brick-and-mortar stores, it is easy to scan QR codes generated by mobile wallets to pay for products without direct contact with store staff.
If you are planning to build a mobile app for your business, you should adapt to this mobile commerce trend by integrating mobile wallets into your app. Allowing customers to choose their preferred payment methods for their purchase will reduce the chance they abandon their shopping cart at the checkout step, hence an increase in your conversion rate.
#4 VR & AR technology
Many online businesses have started to integrate VR (Virtual Reality) and AR (Augmented Reality) technology to enhance customers' mobile shopping experience when they are trapped at home due to Covid-19.
For example, IKEA's Place app allows customers to move around furniture and see whether that item actually fits their own houses before deciding to buy it. Alibaba, Tesco and Adidas have also adopted VR/AR experience for their customers.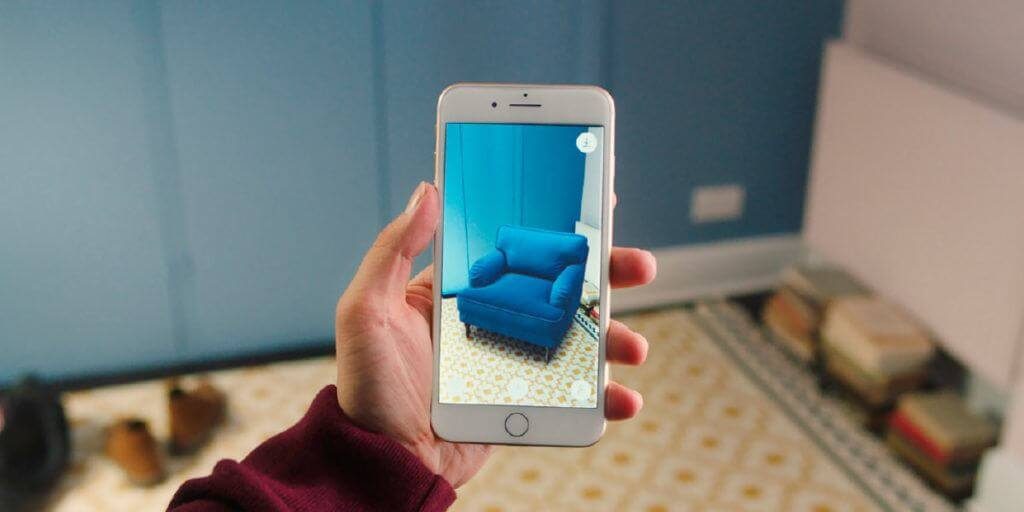 With VR and AR, shoppers now can 'try on' products without having to go to the physical store, avoiding infection of Covid-19. It is really a great idea to take into consideration for your business' mobile app development.
#5 Shopping by voice
At first, people just used the voice search feature to ask some weather-related questions or told their voice assistants such as Siri and Alexa to make a call or play a song.
But now in the year 2020, voice search is becoming a part of mobile shopping. According to data from OC&C Strategy Consultants, spend on voice shopping in the US is expected to reach $40 billion in 2022.
Additionally, more than half of consumers in a survey of Narvar said that they use voice commands to research products, 22% of them make a purchase via voice and 17% reorder items by this feature.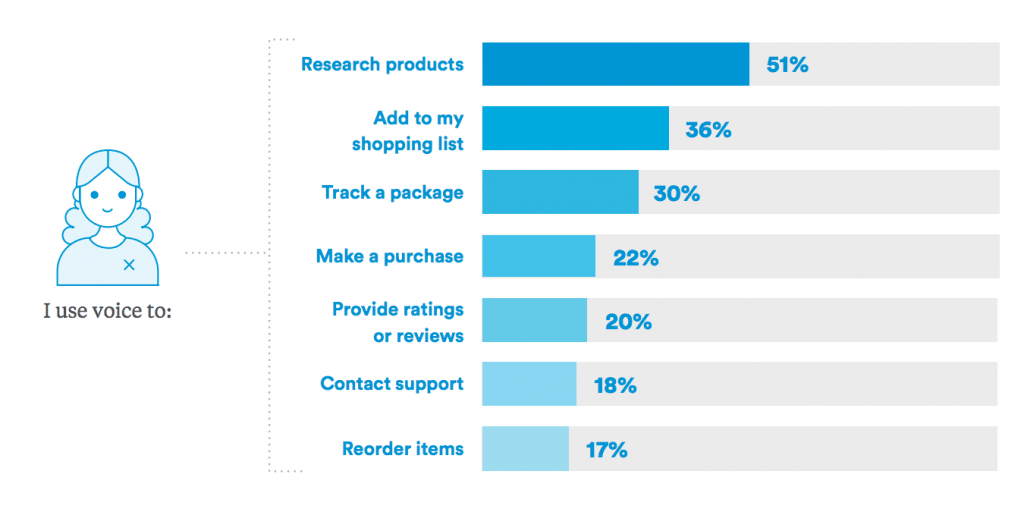 So, merchants should integrate voice search into their eCommerce websites to optimize shopping experience on mobile devices for their customers.
Recently, we have updated the new Voice Search feature for Ajax Search extension, helping store owners simplify users' search experience. With a smart algorithm, our extension will convert the voice into texts and visitors can see the results right after they finish speaking.
Final words
Mobile commerce is expected to develop more rapidly not only during Covid-19 pandemic but also after this crisis is over. To make the most out of mobile commerce trends, it is better to consider which trends will suit your business the best and design a plan accordingly.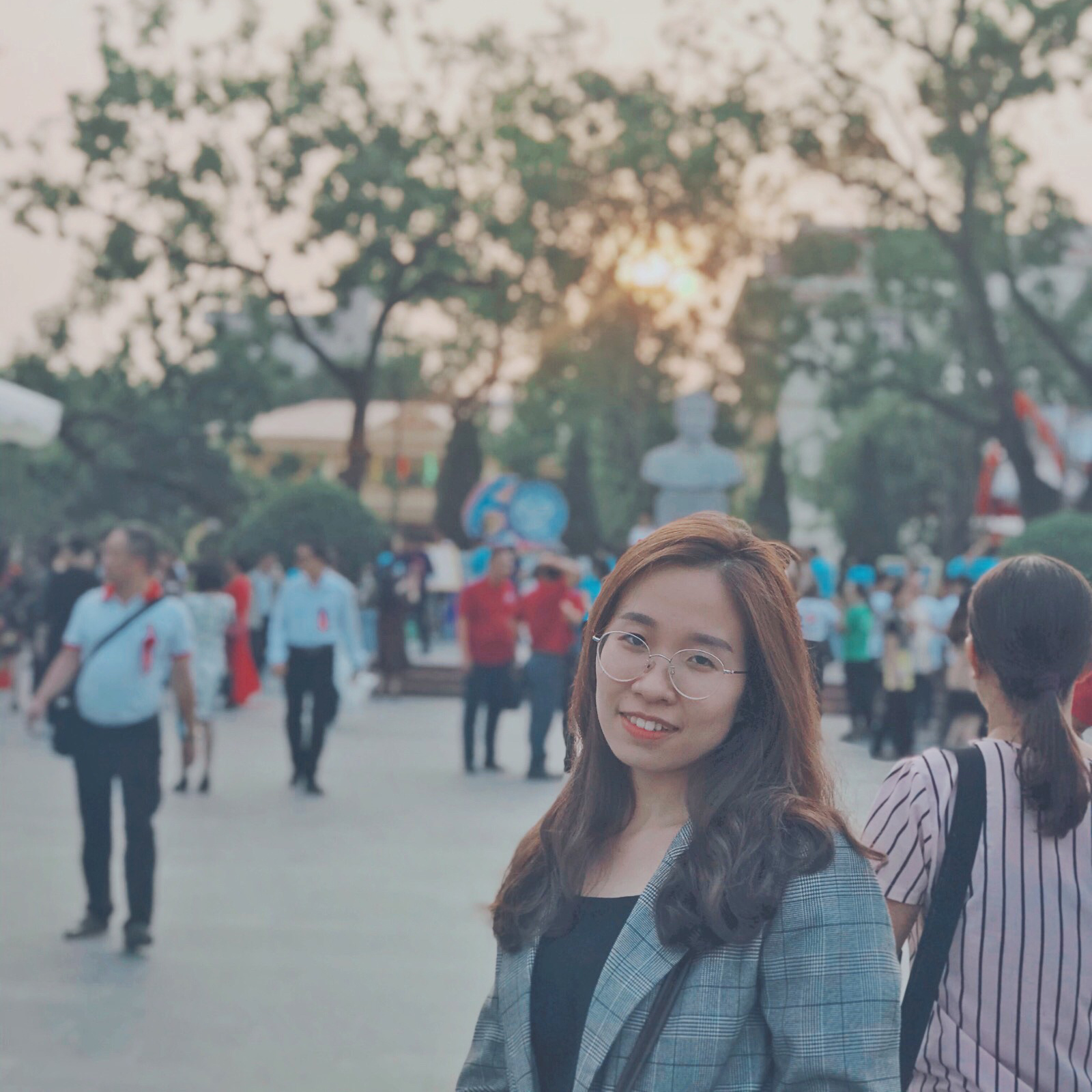 Marketing Executive | Content Manager