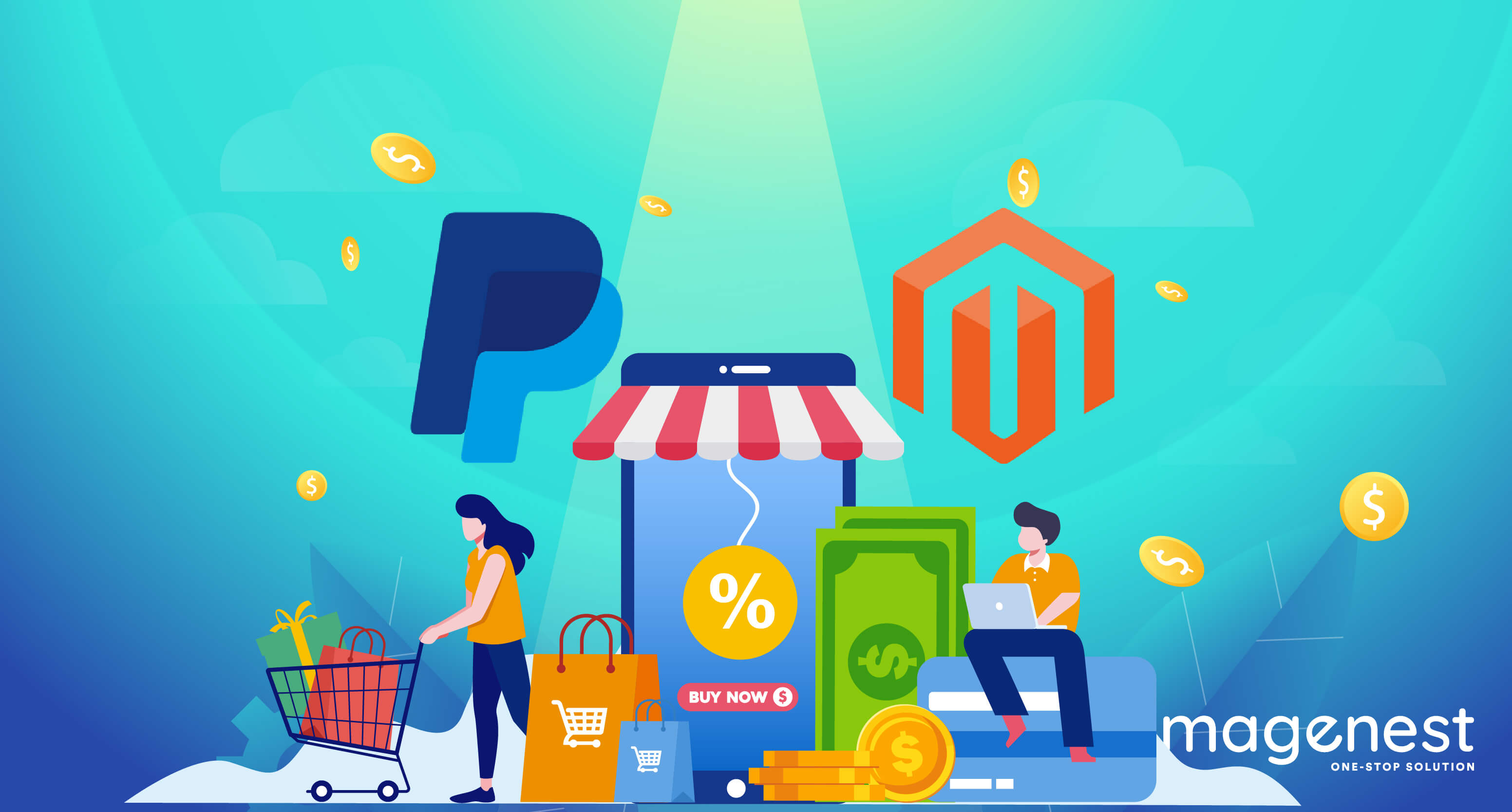 As we all know, payment methods play an important role in an eCommerce website in general. In order to provide a seamless checkout experience, Magento integrates some major payment methods for its users, notably PayPal.
Why is Paypal payment integrated to Magento? Because, at this time, Paypal is extremely famous, easy to use and very convenient for customers who want to pay online quickly and securely all over the world.
The available payment method in Magento is Paypal Express Checkout, which supports customers to use Paypal accounts or credit cards to pay.

This article will help you how to configure PayPal in Magento 2. Before you set up for Paypal payment, please make sure that you have a live or sandbox Paypal merchant account.
1. Start with a new configuration
1. Go to STORES > Configuration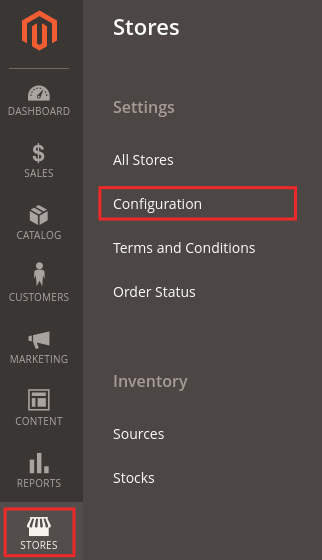 2. Scroll down to the Sales tab, expand it and click on Payment Methods tab.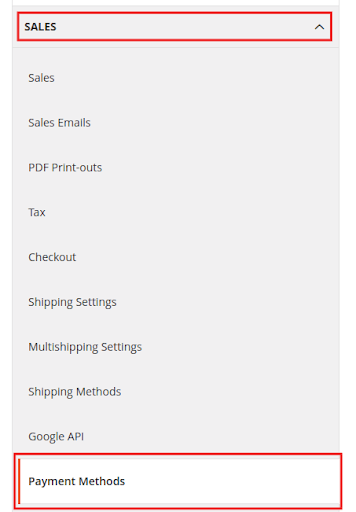 3. As you can see, the Merchant Location is right here. You can select a country for the Paypal payment, or if you don't choose, the payment will use Default Country from General Config.
This setting determines the selection of PayPal Solutions that appear in the configuration.

4. After that, click on Configure button to expand Paypal Express Checkout section.
5. Then, fill out the information in Required Paypal Settings > Express Checkout section.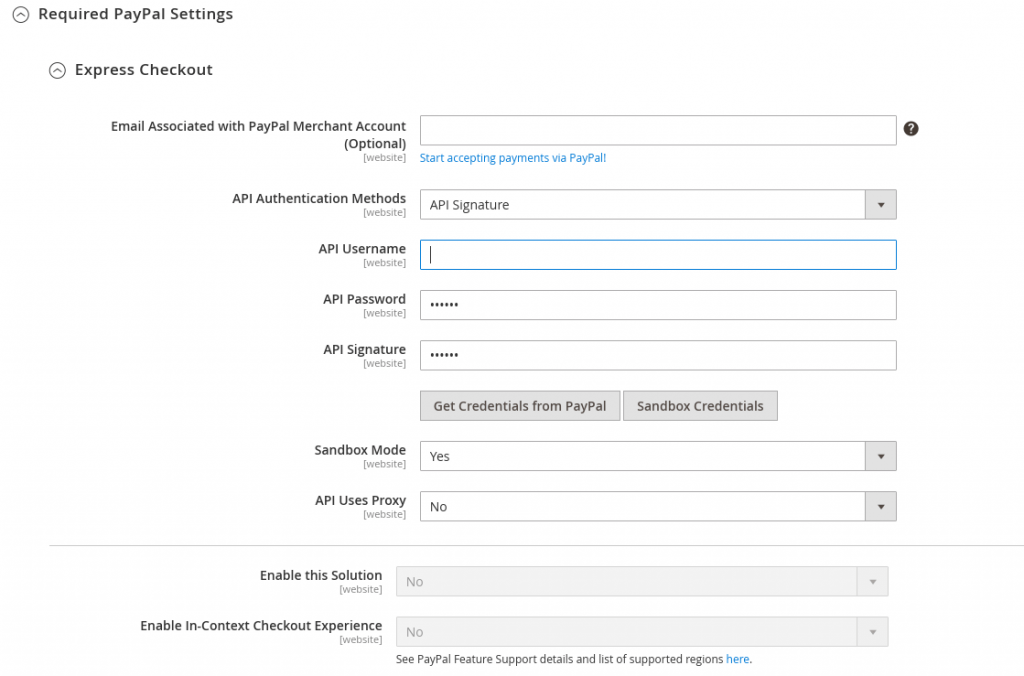 If you leave blank any fields (except the optional field), the Enable this Solution field will be disabled. You can not enable it until all required fields are filled.
Email Associated with PayPal Merchant Account: Email addresses are case sensitive. To receive payment, the email address you enter must match the email address specified in your PayPal merchant account. This field is optional, you can leave it blank.
API Authentication Methods: Here are two types of authentication methods.
API Signature.
API Certificate.
API Username/API Password: Input the username/password which Paypal provides for you.
API Signature/API Certificate: Depend on the authentication method, you have to complete it.
Sandbox Mode: Determine which environment you are working on.
API Uses Proxy: If you use proxy to connect Magento and Paypal, then set this field to Yes, and complete two below fields:

6. When you have done with those fields, you can choose Yes at Enable this Solution field.
7. If you want the customers to pay at the store, enable the Enable In-Context Checkout Experience field and enter the value for Merchant Account ID.

Move to Basic Settings - PayPal Express Checkout section to set some basic information for the payment.
Here, you can specify Title, Sort Order, Payment Action (this field includes Authorize/Sale/Order action).
By the way, if you want the payment is displayed on every Product Page, then set Yes for Display on Product Details Page field.
2. Get API Credentials
You can get the information by clicking on Get Credentials from Paypal/Sandbox Credentials button.
If you want to change from Sandbox to Live mode, you just replace all credentials you have entered by the Live credentials.
1. Log in to your Paypal merchant account.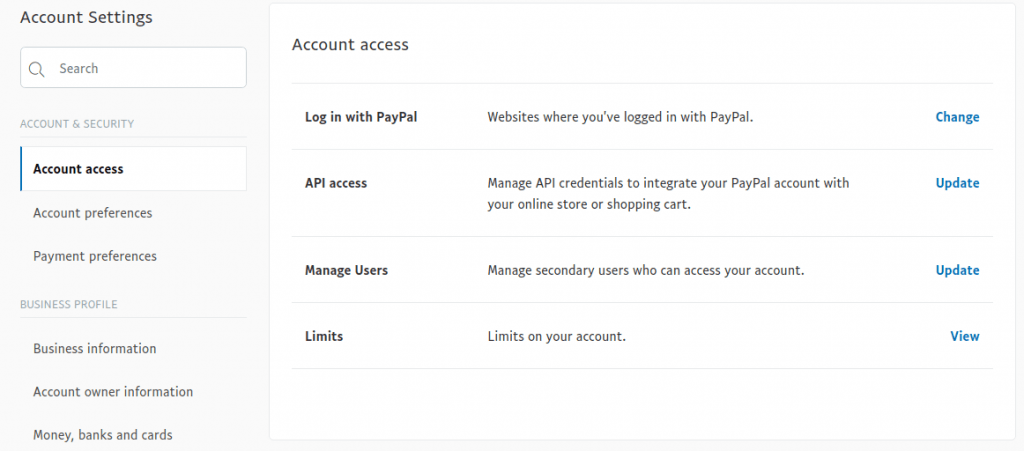 2. Go to Setting > Account Settings
3. Go to Account access > API access > Update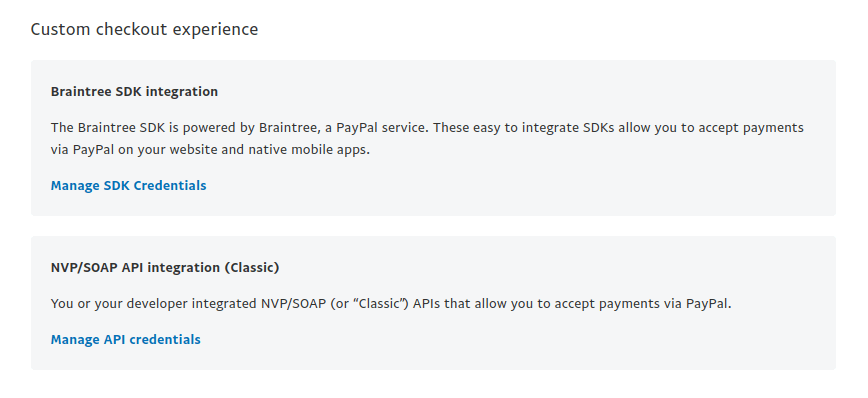 4. Scroll down to Custom checkout experience and click Manage API Credentials.
5. Then, select the Authentication Methods (signature or certificate) and submit your choice.
6. Now, you can get the credentials for the Paypal payment method.

After you have completed all the basic settings of Paypal payment method, go to Store Front and try to buy something.
Now, you will see the Paypal payment appears on the Product Detail, Mini Cart and Check Out page.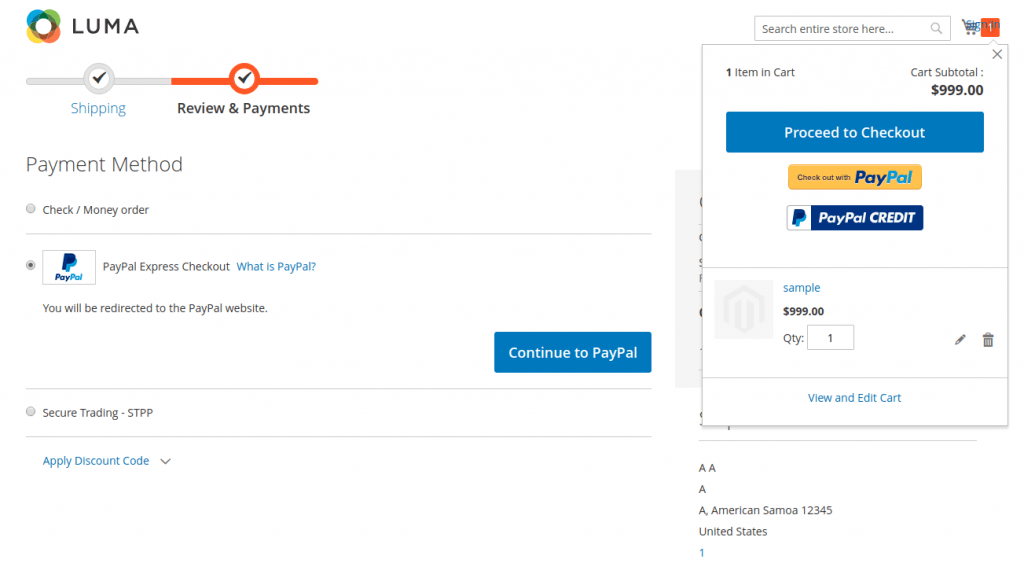 3. Boost Your Sales
Everything hasn't stopped here, Paypal in Magento also provides for you some functionalities which help boost your sales.
It means that Paypal offers the customers can access quickly to financing by using Paypal Credit, so they can buy and pay anytime. You are not charged when the customers choose PayPal Credit and pay only your normal PayPal transaction fee.
All you need to do is that you have to set up for Advertise PayPal Credit section, choose Paypal's free banner ads for your store.
1. Move to Advertise PayPal Credit section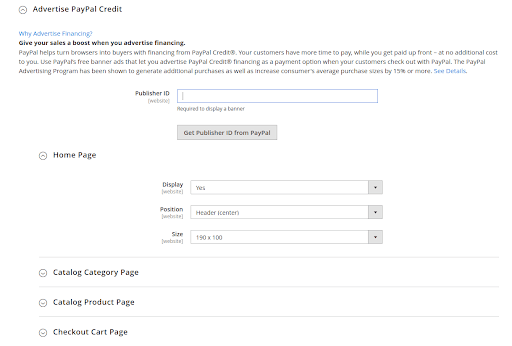 2. Input the value for Publisher ID, if you don't have one, click on Get Publisher ID from Paypal button

3. After that, select and enable where you want to place the banner, such as Home, Catalog Category, Catalog Product or Checkout Cart page.
4. You can configure the Position and Size for each banner.
The Paypal banners will appear on where you have set up. According to Paypal Advertising Program, the banner will help you to increase consumer's average purchase sizes by 15% or more.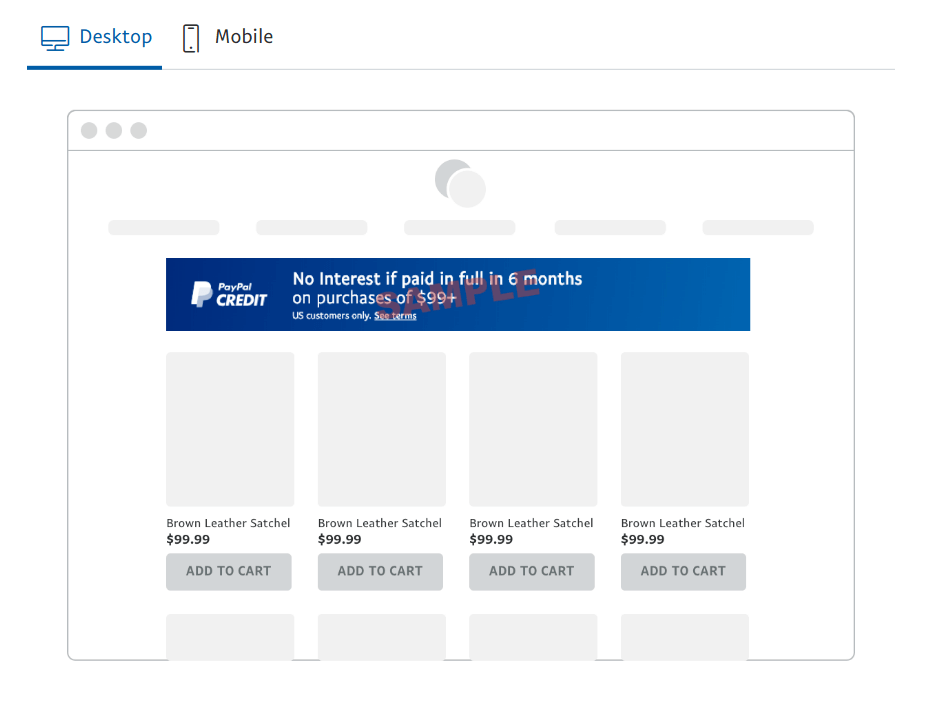 READ MORE. Top 5 Payment Providers in 2019
4. Advanced Settings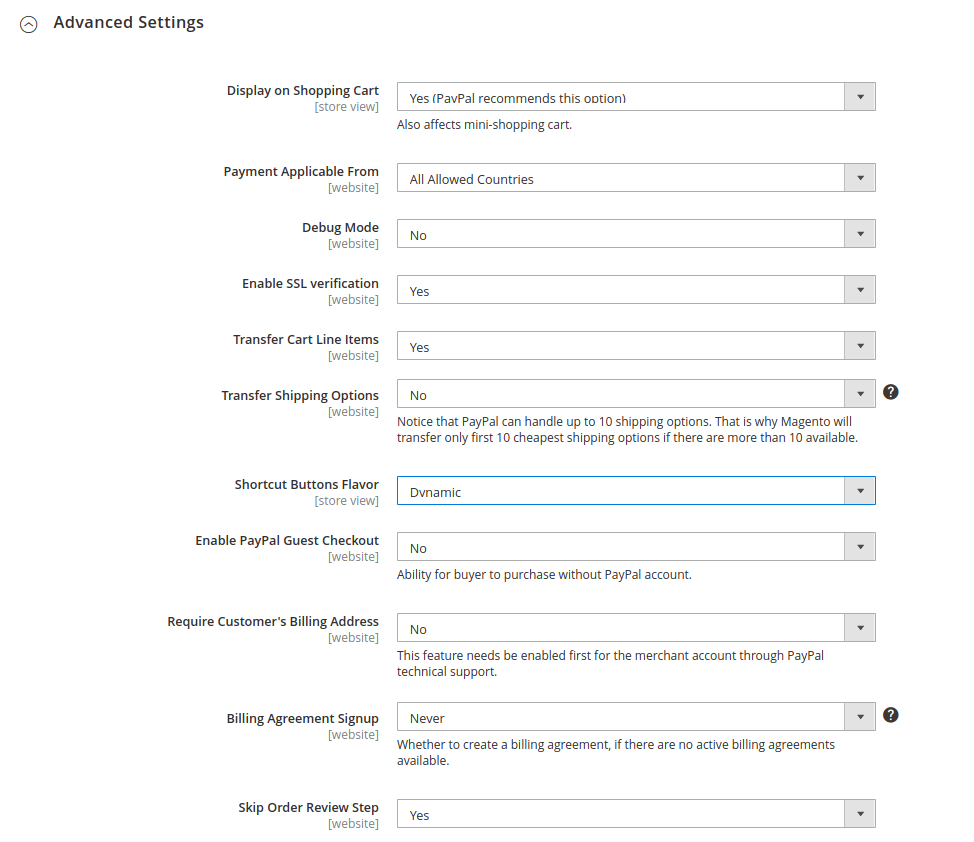 This section helps you to optimize the Paypal payment on your Magento store.
Display on Shopping Cart: Show Paypal method on both Checkout Cart and Mini Cart.
Payment Applicable From: Customers from countries specified in your store configuration can use this payment method. You can choose Allow All Countries or Specific Countries.
Debug Mode: Enable this field and go to _payflow_advanced.log to view all log of the payment.
Enable SSL Verification: Enable host authenticity verification.
Transfer Cart Line Items: Display a full summary of the customer's order by line item from the PayPal site.
Transfer Shipping Options: Include up to 10 shipping options in the summary (This option appears only if Transfer Cart Line Items are set to Yes).
Shortcut Buttons Flavor: Determine the type of image used for the PayPal acceptance button.
Enable PayPal Guest Checkout: Allow customer who doesn't have a PayPal account to make a purchase with this method.
Require Customer's Billing Address: Requires the customer's billing address for all purchases.
Billing Agreement Signup: Specify whether the customer can sign a billing agreement with your store in the PayPal payment system when there are no active billing agreements available in the customer account.
Skip Order Review Step: The customers are not redirected to Magento store after paying successfully.
In Advanced Settings section, you also find out the PayPal Billing Agreement Settings section which allows you to enable and configure a sales agreement between you (merchant) and customer that has been authorized by PayPal for use with multiple orders.
Or you can view report of Paypal payment by enabling Settlement Report Settings. The reports will be scheduled to generate, it depends on your configuration.
Moreover, if you don't like the design of Paypal appearance on your Magento store. You can expand the Frontend Experience Settings section and customize or restyle background, logo or all Paypal smart button.
There are optional fields, you can enable them or not. It's up to your requirements and the customer's behaviors.
READ MORE. Stripe vs PayPal Comparision
Hope this article will help you to increase your sales with Paypal Express Checkout. Happy coding!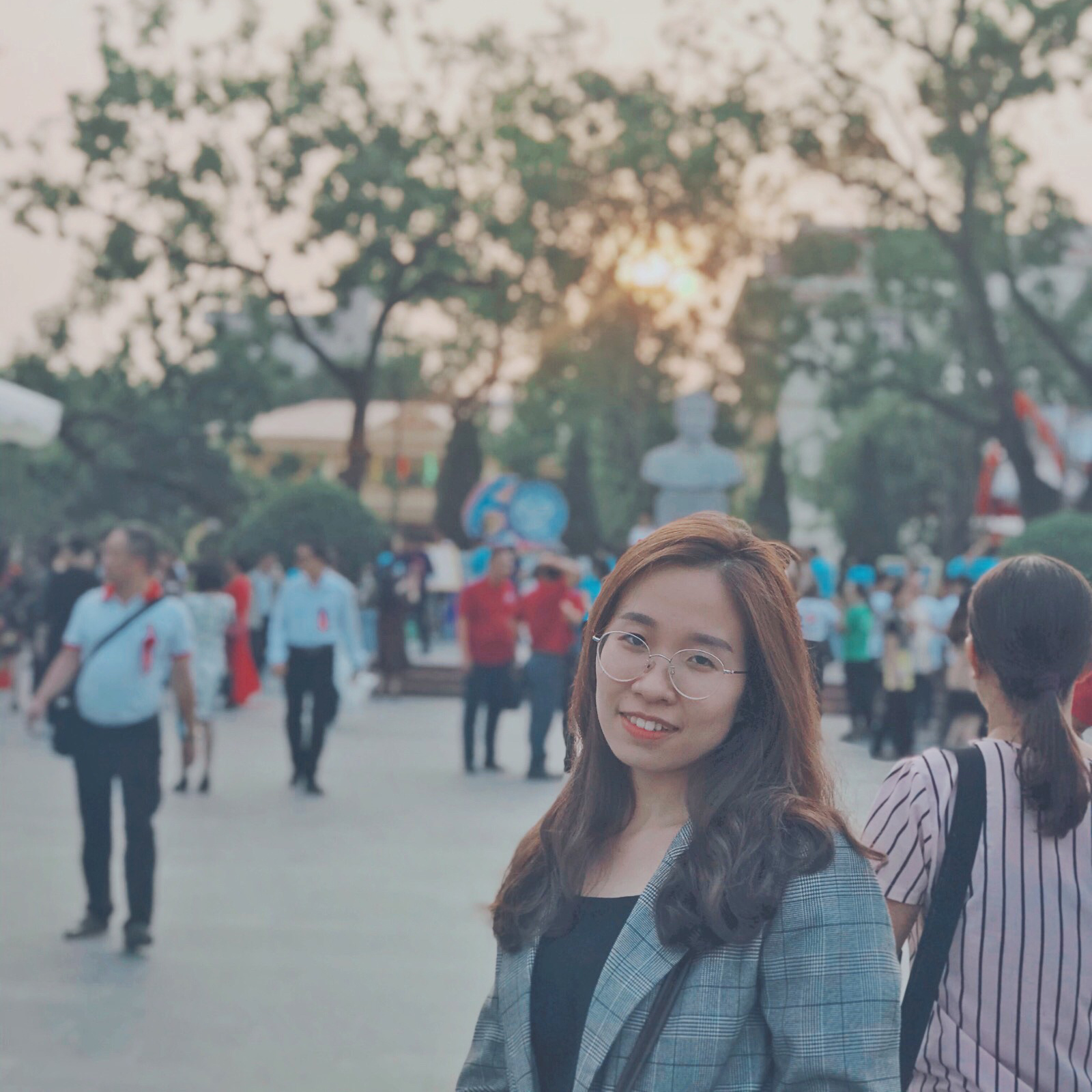 Marketing Executive | Content Manager