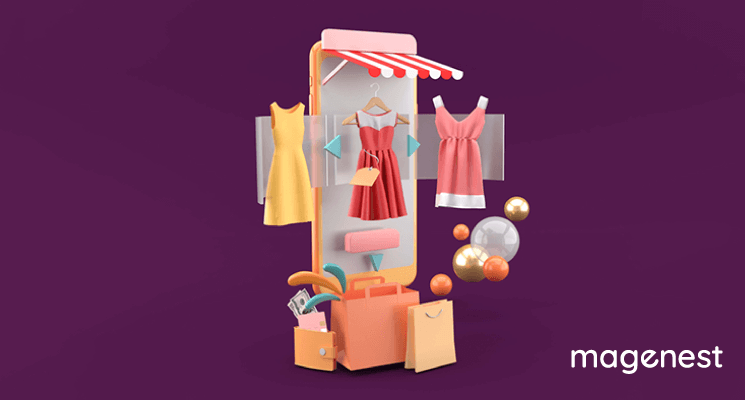 Google Shopping's first appearance in 2012 has brought a new height to digital marketing and customer purchasing experience.
A piece of ad with comprehensive information and a presentable image is what can draw customers in the first place and drive them down to the conversion funnel.
But how can you create one that gets featured on the first page of Google Shopping? The answer lays down at the act of curating an efficient Google Shopping feed.
If this term sounds new to you, read our ultimate guide to learn about Google Shopping feed.
If you have grasped the basics and are looking for something more sophisticated to handle your product on your Magento store, this is probably what you need - a compilation of the best Magento 2 Google Shopping feed vendors to aid you in creating a resourceful feed.
Scroll down to find out!
#1 Magento 2 Google Shopping | Magenest
The first two products we'd like to introduce today are not only aimed to assist newbies of Google Shopping but also tailored for experienced merchants too.
Google Shopping Magento 2 extension by Magenest helps merchants sync their product data to Merchant Center Account effortlessly. As the result, they can upload the information of their products to Google Shopping at ease, saving valuable time and resources for merchants.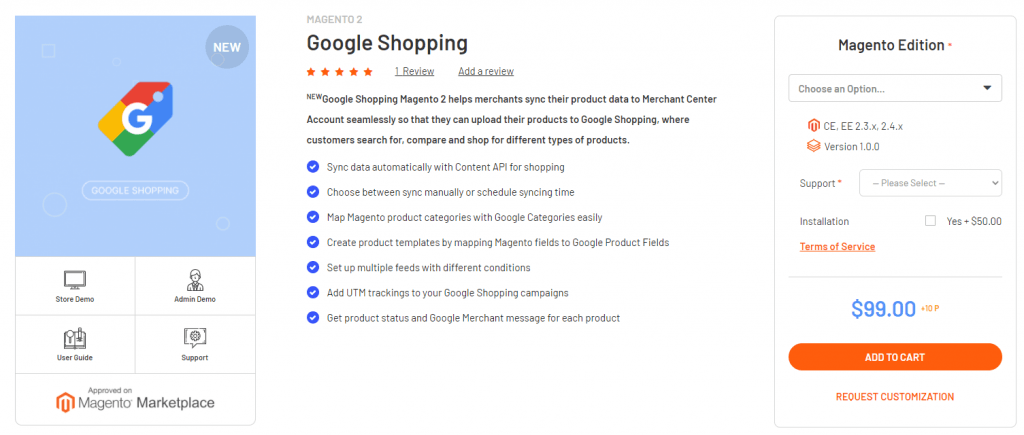 Key features
Automatically synchronizing data with Content API for shopping
Offering 2 options: manual sync or scheduling the syncing time
Easily mapping Magento product categories with Google Categories
Creating product templates by mapping Magento Fields to Google Product Fields
Setting up multiple feeds with different conditions
Adding UTM trackings to your Google Shopping campaigns
Getting product status and Google Merchant message for each product
Price
Community edition $99

Enterprise edition $299
Compatibility
Magento Community - Enterprise: 2.3.x, 2.4.x
#2 Magento 2 Product Feed | Magenest
Magento 2 Product Feed from Magenest offers seamless experiences to retailers to set up their product feed on Google and Facebook. The extension is expected to ease the product data uploading process, especially if you are a first-timer. The setting is all placed in the backend, so feel free to modify and set up your preferences.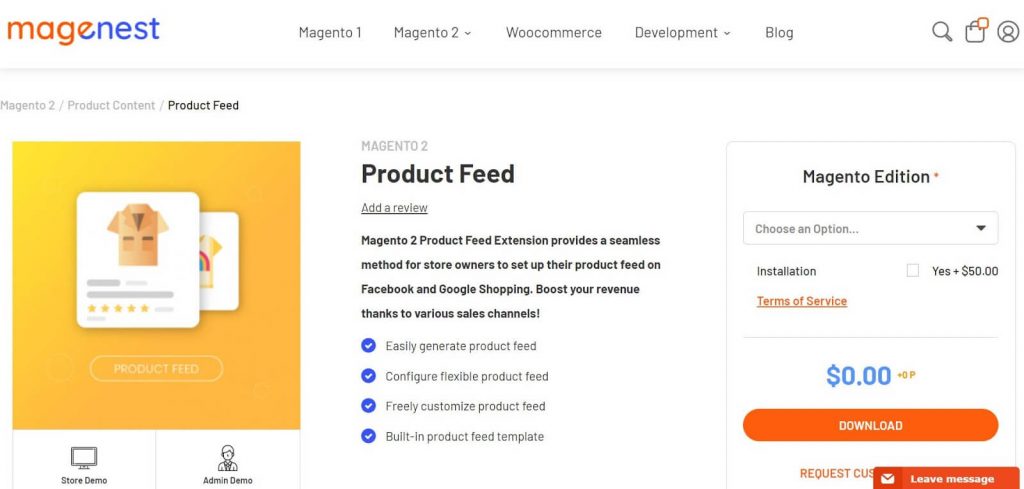 Key features
Simple and easy to add product feed to Google and Facebook instead of manually uploading

Provide various ready-to-use templates to craft beautiful designs for your ads. File formats supported: XML (for Google shopping) and CSV (Facebook shopping).

Keep track of the activities by uploading history and notification emails in the backend.
Price: 0$ - $169
Magenest offers a free of charge extension for the community version and $169 for the enterprise version.
Compatibility
Magento CE and EE 2.2.x, 2.3.x
#3 Product feed Magento | Amasty
Amasty's Magento 2 Product feed allows you to set up and upload your product data on multiple platforms: Google Shopping, Amazon, eBay, Facebook, Bing,... the list goes on. Thanks to the multi sales channels it offers, you can reach more customers across platforms while feeling at ease to create unlimited feeds with your bare hands, no technical skills required.
Key features
Create Google Shopping feed in 7 simple steps. The instruction is clear so just follow it thoroughly via the Google Feed Wizard. The setting will work for both Google and Facebook

Increase your brand presence on multiple search engines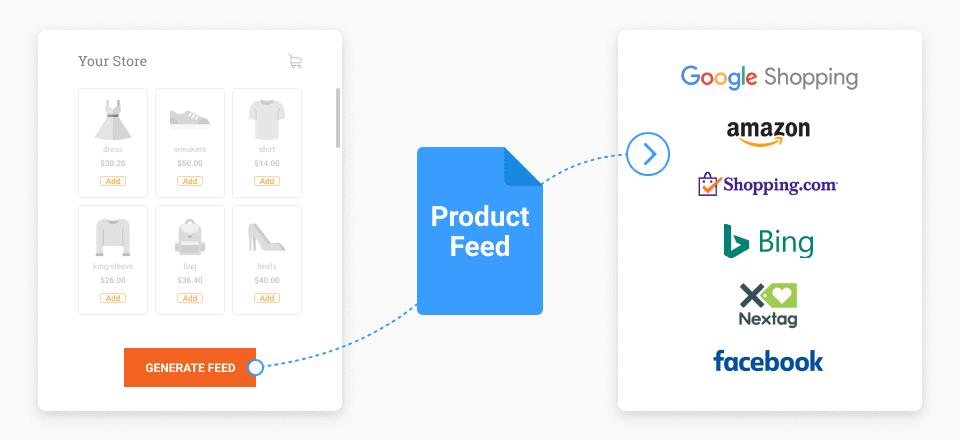 Offer pre-made templates and the ability to modify existing templates to better suit other sales channels

The Magento shopping feed helps you create efficient campaigns as you can adjust your feeds according to the requirements on each platform and modify the product attributes you want to promote

Stay on top of your campaign performance in one handy grid. This is a retailer-friendly interface to manage your data

Create the feed faster with Multi-Process Generation and ZIP/BZ/GZ archives
Price
Community $199

Enterprise $499
Compatibility
Magento 2.2, 2.3, 2.4

#4 Magento 2 Product Feed | Mageplaza
Magento 2 Google product feed by Mageplaza is a one-suits-all extension that is adjustable to all popular sales platforms. The template format is developed into 3 forms TXT, .CSV, and .XML and are said to be easy to insert or modify in the backend.
Key features
Very easy to generate templates that are customizable to many platforms. Admin is granted unlimited access to template generation

Support a library of useful variables for template creators

Automatically add products to the feed by setting the criteria. Based on these rules, the admin can filter products based on sizes, colors, designs, SKUs, categories, etc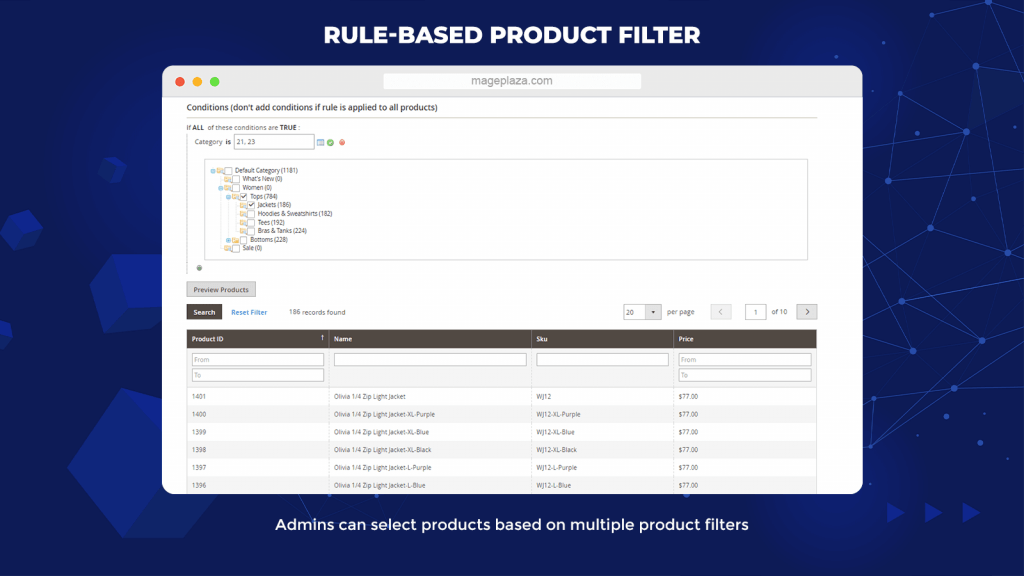 Support all product types: bundle, virtual, downloadable, grouped, configurable, etc

The product feeds are automatically sent to compatible platforms, search engines

URLs are publicized, making it easier for other shopping engines to connect with the feed

Product feeds can be updated on a weekly/monthly basis and admin can choose to do it manually or systematically
Price $149
Compatibility
CE/EE/B2B/Cloud 2.2.x, 2.3.x, 2.4.x
#5 Product Feed Generator For Magento 2 | Magebees
The product feed Magento from Magebees help you improve your customer reach and improving sales performance by auto-generating feeds for various shopping platforms: Google, Bing, Amazon, Shopping.com, etc
Key features
Various templates are made ready to fit the standard requirements from major shopping and search engines

CSV and XML formats supported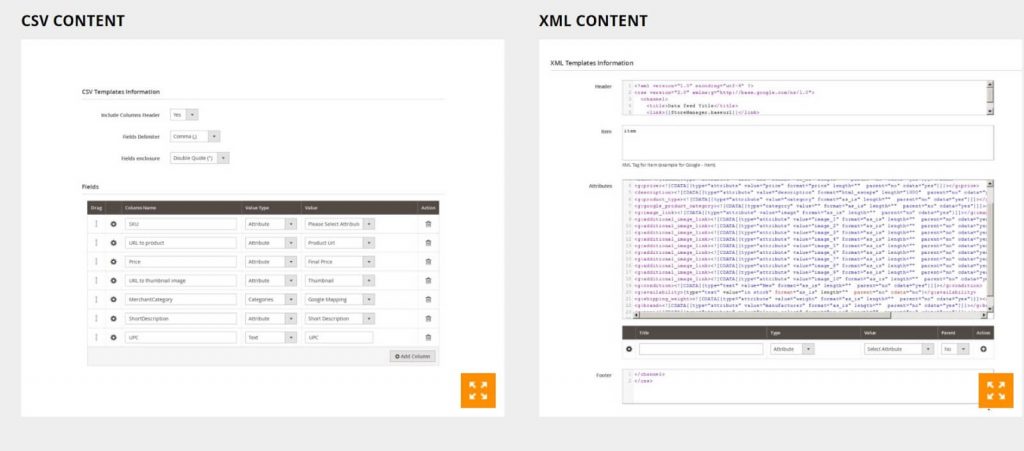 Equipped with many filters, making it easy to set up the feeds

Specify different price, date, and time formats for each feed

Schedule the product feed at a selected time and it will be uploaded automatically

Create feeds faster on FTP/SFTP server. You just need to adjust the setting in the FTP setting sections

Set your own conditions for the attributes or change the export value

Map the categories in Magento 2 Google shopping feed with shopping platforms' categories
Price
Community: $89

Enterprise: $209
Compatibility
Magento CE 2.2.x , 2.3.x, 2.4.x
#6 Advanced Product Feeds for Magento 2 | Mirasvit
Magento 2 Google Shopping feed by Mirasvit enables you to speed up the feed installation and adjust to the requirements of each online marketplace. It integrates perfectly with Google shopping feed and Google Analytics to both boost your brand presence and streamline the management alike.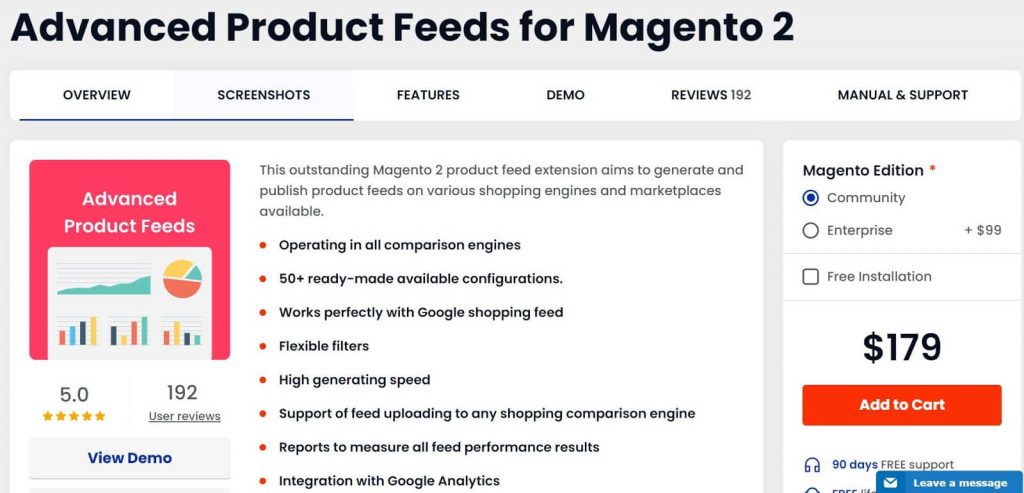 Key features
Easy installation with step-by-step instructions. You just need to check the options you want to include

Export products from any format. It can accommodate 100,000 products from your database

Adaptable to your needs: you can change the product attributes, dynamic attributes, mapping, etc

Product filters and performance filters to configure your product feed and stay updated with the performance

50+ templates are available and highly compliant with the requirements of each sales channel. It's ready to use on many popular sales platforms. You can create your first feed with 2 clicks!

Make use of the available library of patterns to design a sophisticated feed that grabs the attention

Built-in reports and Google Analytics report to help you keep your eyes on the performance, clicks, purchases and help you choose the product attributes that create more sales

Schedule your feed at a stipulated time

Email notification to help you aware of the current feed updates/failure
Price
Community: $179

Enterprise: $278
Compatibility
2.2.X - 2.4.X
#7 Magento 2 product feed | DRC Systems
Magento Google shopping makes it easy to create the feed, upload it to Google shopping, and offer various functions to speed up the process.
Key features
Easy setup and configuration
Various available templates to help you quickly modify according to the requirements

Filtering to make it easy to choose your preferred attributes

STP/SFTP setting to generate your feed faster

Both manual and automatic feeds are available
Price
Regular license: $49

Extended license: $520
Compatibility
Magento 2.0.X, 2.1.0 ~ 2.1.3
#8 Google Shopping Magento 2 | Webkul
Webkul Store delivers a Magento 2 Google Shopping feed that is flexible, automatic, and handy to connect your data to Google Shopping. The categories are mapped out in your store and Google feed, making it easier to handle.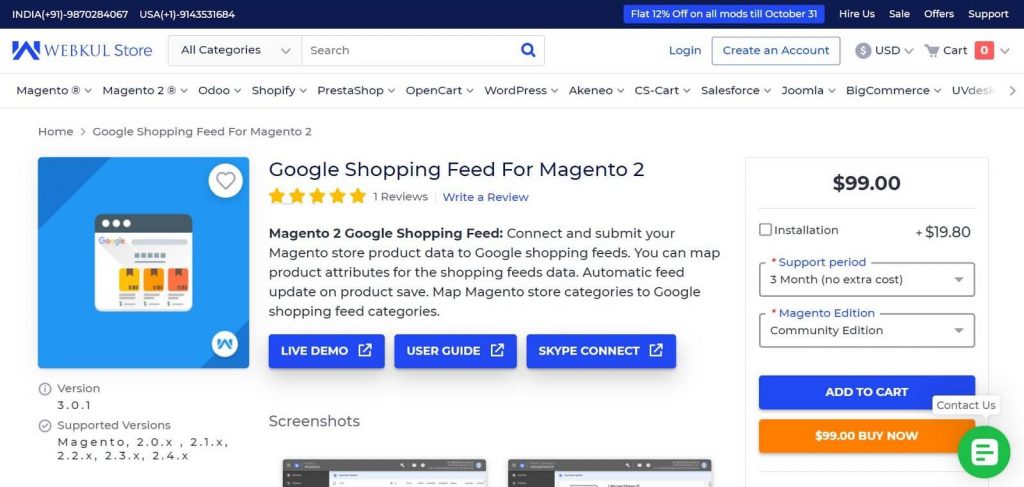 Key features
Authorize your Google Merchant account easier

Configure product feed in module configuration part where you can set targeted audiences, set product condition (new, re-stock, etc)

Easy to map Google merchant account attributes with Magento store attributes. You can reset and modify it after it was saved

Setup category mapping easily

Auto-update product information in Google merchant center account if it's changed in Magento store

Support all product types: downloadable, bundle, configurable
Price
Community $99

Enterprise $178
Compatibility
Magento, 2.0.x , 2.1.x, 2.2.x, 2.3.x, 2.4.x
#9 Magento 2 Google feed | FME Extensions
The Shopping feed from FME is a resourceful extension that is functional on Facebook, eBay, Bing, and Google Shopping. It helps to improve the traffic, extends your brand exposure, and simplifies your work in approaching different platforms.
Key features
Send you product feeds to multiple shopping platforms and search engines: Google, Amazon, eBay, etc
Set up CSV, XML product feed templates in a few simple steps
Easy to update product feed for Shopping campaigns
Monitor your traffic with the help of Google Analytics
Able to set the conditions to filter out product attributes and choose different attribute values for each feed
Price: $149.99 - $499.99
Compatibility
2.1.x, 2.2.x, 2.3.x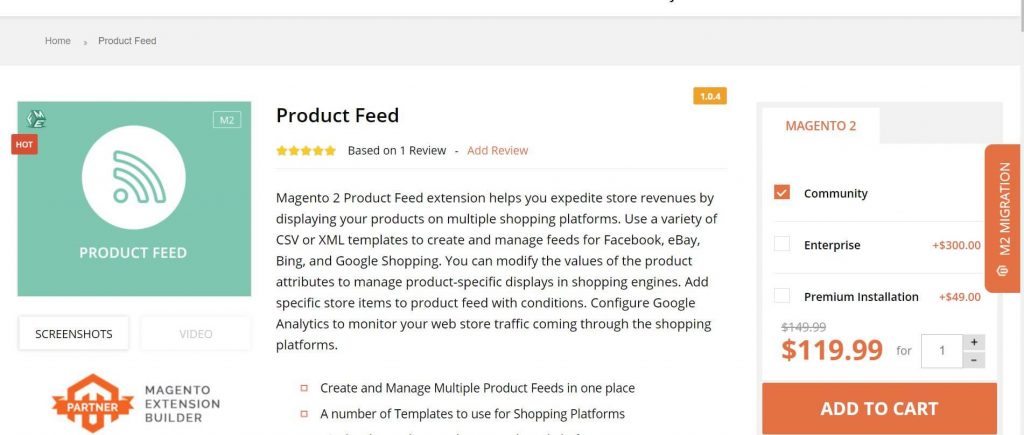 Final words
We hope the list of the best Magento 2 Google shopping feed has given you some insights into the available providers out there. Magento 2 extensions cover basic functions such as product feed templates, selecting preferred attributes, filtering product attributes, etc. and some offer some advanced functions such as rules-based filter, adapt to across platforms...
If you're new and unsure of how Magento Google shopping works, and which one to purchase, you can opt for the Free-of-charge product feed to get familiarized with the basics first. Ready yet? Explore it now!