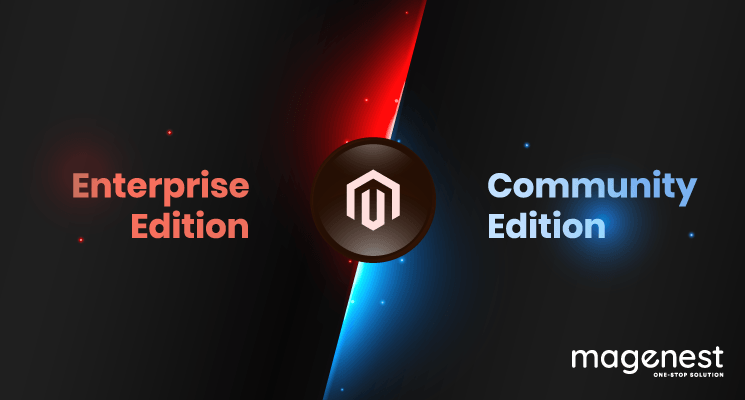 Today is the last day for Magento 1 support. And if you are Magento 1 store owners still considering implementing Magento migration from 1.9 to 2.x, this post is made for you. In this post, we will compare the advantages and disadvantages of two Magento versions, as well as indicate key differences between the two editions (Community and Enterprise) of Magento 2 to help you decide which option suits your eCommerce website the most.
Magento migration from 1.9 to 2.x: Which options to consider?
Before starting Magento migration from 1.9 to 2.x, there are two editions of Magento 2 you should know about to make a wise decision for your store upgrade: Community Edition (CE) and Enterprise Edition (EE).
What is Magento Community Edition (CE)?
Magento Community Edition (is now Magento Open Source) is the free version of Magento eCommerce platform. Therefore, it is an appropriate option for the majority of small business owners whose top priority is cost optimization.
With this edition, store managers could integrate various features and have access to numerous Magento extensions and themes to take advantage of the eCommerce platform to run your business. Moreover, configurations in Community Edition of Magento are not too complicated and do not require too much technical knowledge, which makes it really friendly with business users. However, using this edition means that you will not receive any technical support from Magento team.
What is Magento Enterprise Edition (EE)?
Besides the free version, Magento Enterprise Edition (is now Magento Commerce) is the paid one that is suitable for medium to big enterprises.
This premium version provides store owners with more functionality including reward programs for loyal customers, advanced marketing features and targeted promotions. In addition, contrary to Community Edition, Magento's technical team will offer you 24/7 support if you have any issues when using Enterprise Edition.
To build your eCommerce store based on Magento Commerce 2, you need to spend at least $22,000 per year. And this cost will even higher if your GMV (Gross Merchandise Value) is more than $1 million yearly.
Differences between Magento 1 and Magento 2
Pricing
Community Editions of Magento 1 and 2 are both free for users to download, but there is a small difference between the costs for Enterprise edition of two versions to consider before implementing Magento migration from 1.9 to 2.x.
For Magento 1 EE, store owners need to spend at least $18,000 per year. Meanwhile, the expenditure for Magento 2 EE is fairly higher and ranges from $22,000 to $125,000 yearly depending on your GMV and it has more advanced features that you need to pay to use.
| | |
| --- | --- |
| Gross Merchandise Value (USD) | Magento 2 EE cost per year (USD) |
| 0 - 1 million | 22,000 |
| 1 - 5 million | 32,000 |
| 5 - 10 million | 49,000 |
| 10 - 25 million | 75,000 |
| 25 - 50 million | 125,000 |
Site Speed and Performance
As a business owner, one of the most important aspects you care about when considering migrating to Magento 2 should have been whether your eCommerce website performance is enhanced after migration.
The average loading speed of Magento 1 website is more than two seconds. This is really a big issue since customer experience would be influenced, hence a decrease in your conversion rate. According to data shared by Trinity, the conversion rate will drop by 7% due to a one-second delay in page load time.
After carrying out Magento migration from 1.9 to 2.x, this problem will be addressed. In fact, websites built on Magento 2 will run on average 20% faster than Magento 1 sites. Improving your site performance could not only create a seamless experience for customers but also increase your online rankings since more pages on your website can be indexed by search engines, attracting more traffic and boost sales effectively.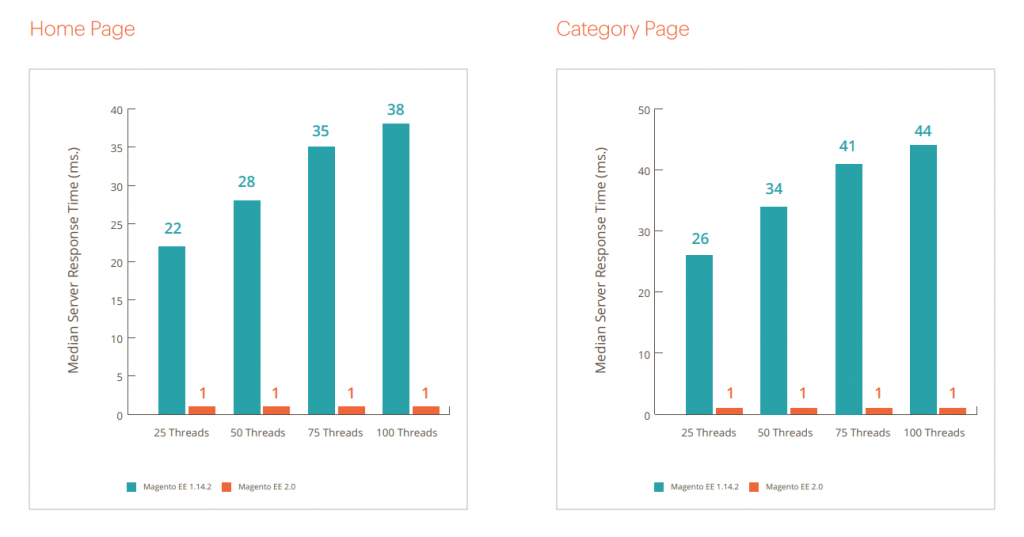 Checkout Process
In Magento 1 store, customers need to go through a 6-steps checkout process:
Choose a checkout method

Provide billing information

Provide shipping information

Choose a shipping method

Provide payment information

Review the order
Each step is often displayed in separate pages and buyers almost can not skip any of those. This could take them much time due to the low loading speed of the site, which is one of the common reasons for abandoning their shopping cart.
Meanwhile, Magento 2 has simplified this process down to just two steps: Shipping, Reviewing & Payment. In addition, customer experience can also be enhanced thanks to the Instant Purchase feature. This feature allows returning customers to quickly checkout with their previous shipping and payment information stored in the system.
Dashboard
The admin interface in Magento 1 back-end is really difficult to navigate and confusing for non-technical users.
On the contrary, Magento 2 provides business users with a more user-friendly and responsive admin panel and a simple design. This helps store owners with little technical knowledge can manage their eCommerce websites with ease.
Security
After June 2020, there will be no security patches or updates for Magento 1 stores. This means that you would have to pay some expensive development costs for those patches to maintain your site's security if you decide not to carry out Magento migration from 1.9 to 2.x.
Once you move to Magento 2, your store will not only stay secure but also get protected even better. The hashing algorithms (SHA-256) for passwords has been strengthened, and therefore, passwords are now more resilient to the dictionary types of attacks.
Differences between Magento 2 Community and Enterprise Editions
Performance
If you are a small business owner having fewer resources on your store, Magento 2 Community would be perfect enough for a great performance. Meanwhile, Enterprise Edition of Magento 2 operates faster and more smoothly on websites with a large number of products and regularly getting high volumes of traffic.
One of the factors influencing the site performance is additional features that are provided in the paid edition. For example, Magento 2 EE allows you to deploy your software through the new Enterprise Cloud to increase the deployment speed.
Marketing
Product marketing style is one of the huge discrepancies between Magento 2 CE and EE. When using Community edition, you are offered only some basic features to improve your store's SEO presence such as customizing meta tags, headings, and URLs.
But in the Enterprise edition, there are also more refined features such as advanced content staging, targeted content, attribute-based customer segmentation, abandoned cart reminder emails, etc.
Security
Magento Open Source is considered as kind of a slacker in terms of security. It does not provide any credit card tokenization or secured payment bridges. Moreover, another big issue of this free edition is that it is not compliant with PCI, which is almost a must for every eCommerce website to protect payment information of users.
With Magento Commerce, this problem is totally solved. Many secure payment gateways like PayPal, Braintree, WorldPay, etc. are integrated into the system. On top of that, this paid edition has a regular scanning process, bug bounty programs as well as external penetration testing.
Final words
Before deciding whether you should implement Magento migration from 1.9 to 2.x or not, make sure that you understand the upside and downside of the two Magento versions as well as differences between the two editions of Magento 2, and consider which one is the best solution for your store.
In case you have made up your mind, we offer you a complete guide on Magento 2 migration and a Migration Tool to help your Magento 1 website go through this process successfully. Or you can just let our specialized team handle all of those stressful tasks to upgrade your store for you.
With 5+ years of experience in implementing Magento 2 migration projects for many leading companies in various industries, we will design a perfect migration plan for your business.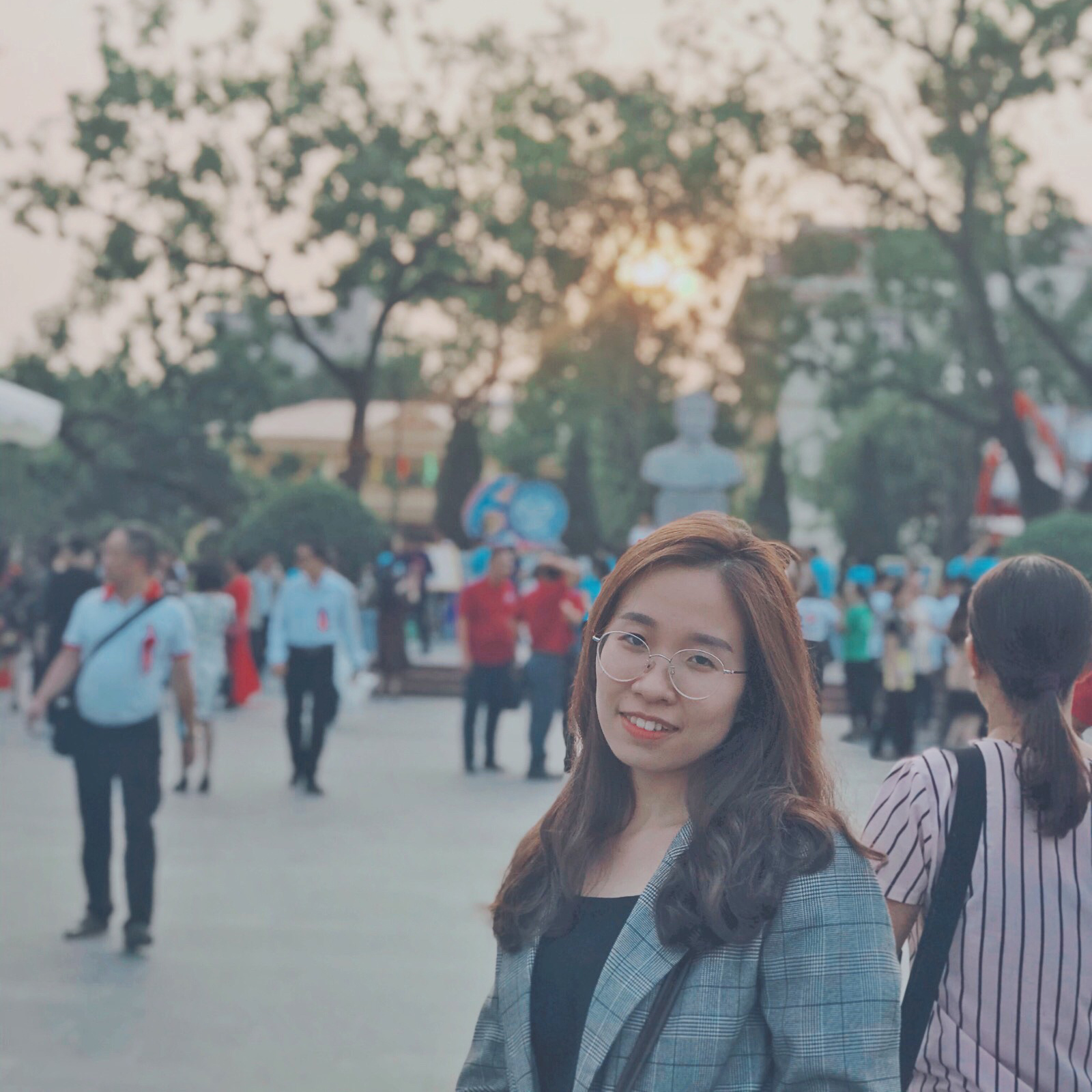 Marketing Executive | Content Manager