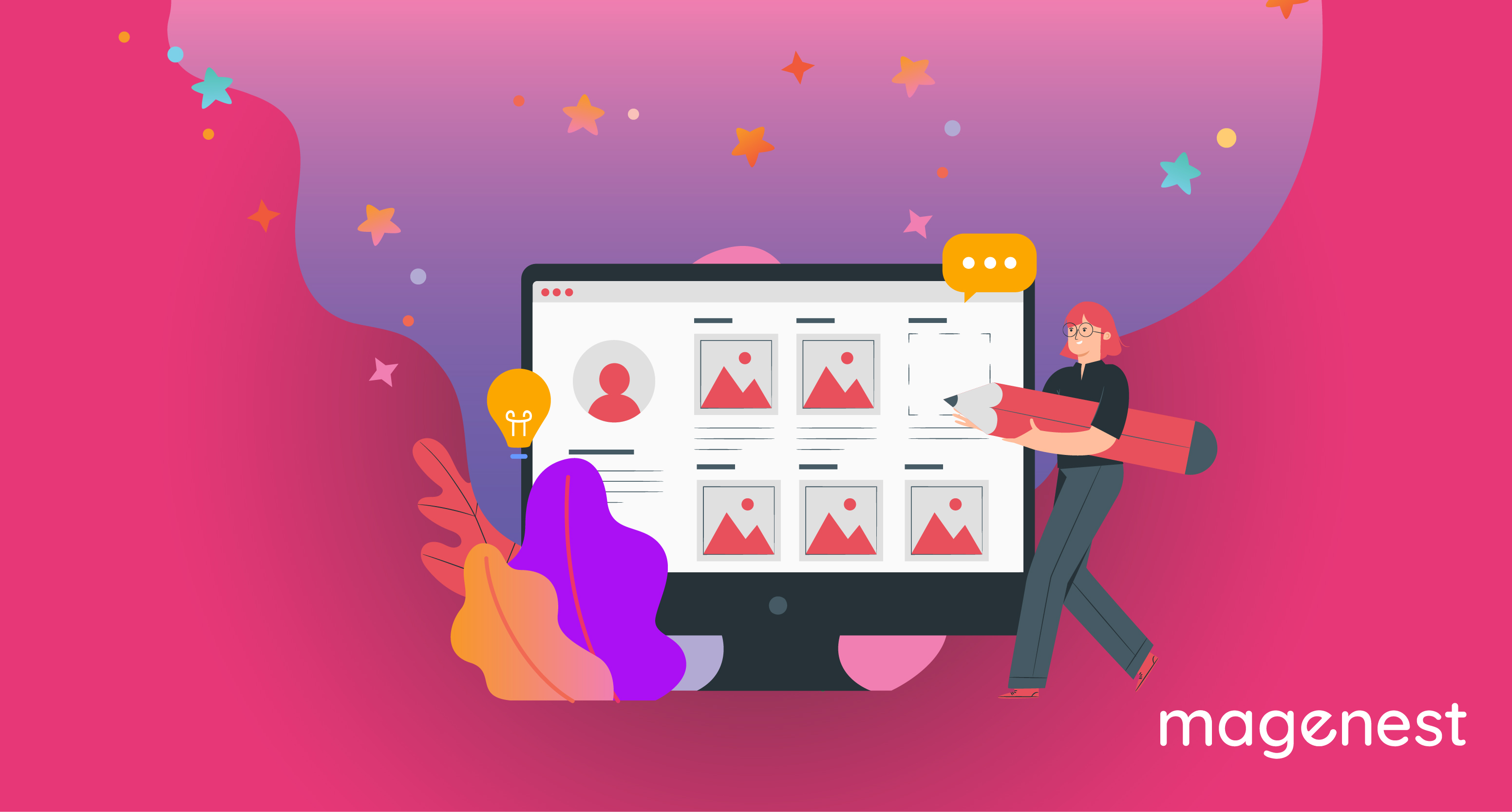 Creating an attractive eCommerce homepage seems to be a difficult task at first. However, when you know the secret recipe, there's nothing stopping you to launch the best homepage ever!
It's undeniable that Magento is the best open-source eCommerce platform at the moment. Magento users are provided with various tools to set up the perfect eCommerce homepage.
Today, we introduce you the 10 must-have elements for the best performance of your homepage.
Navigation bar
Sometimes it can be overwhelmed when entering a new online store: Customers don't know what to focus on. The navigation bar is the easiest way to give a quick introduction to your products. Knowing the wide range of your store will be a strong persuasive point for customers to start the shopping journey.

You can organize your menu to show your hierarchy according to your needs. An interacting menu definitely gains more attention and improve customers' experience.
Search box
For those who know exactly what they're looking for, a helpful search box will make the experience more satisfying. It should be placed clearly on the homepage so buyers can explore your store right away.
A search box which features product image can support the decision of customers. Moreover, you can add auto-completion function to the search bar to reduce searching time.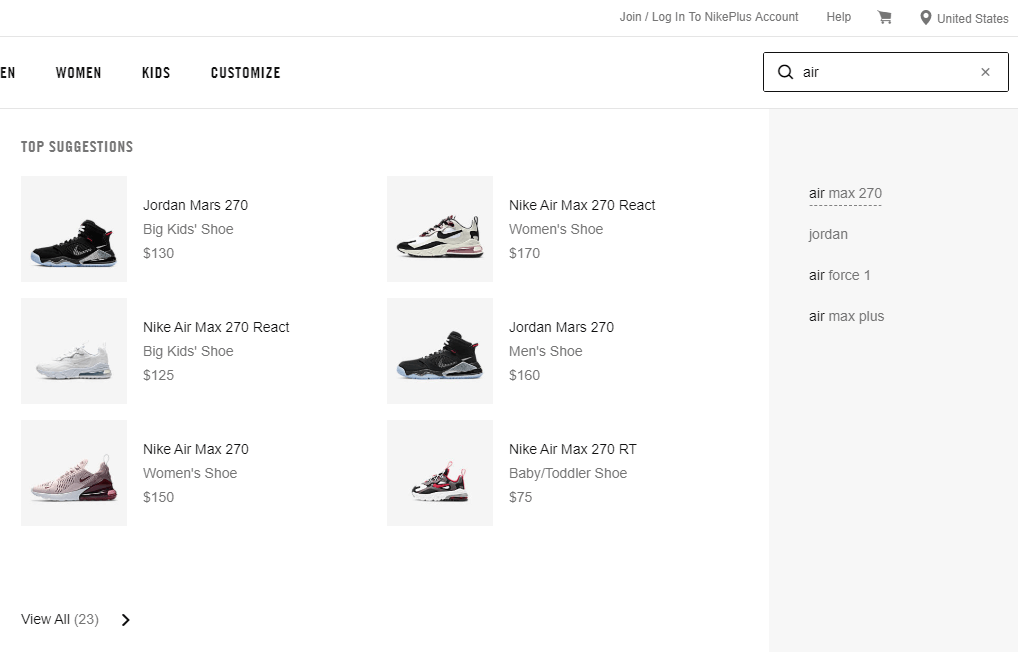 CTAs
Retailers want customers to catch up with all the new trends and campaigns of the business. However, it's hard to grab the attention of consumers if you don't have any 'wow' factors.
So why not make the most from CTAs (Call to actions)?
Like its name, CTAs encourage more interactions from customers. After entering the homepage, customers can be mesmerized with impressive visual elements. CTAs can present your latest trends, new arrival, promotion campaigns, or special events. There are various common types of CTAs such as popup, banners, or instant buttons.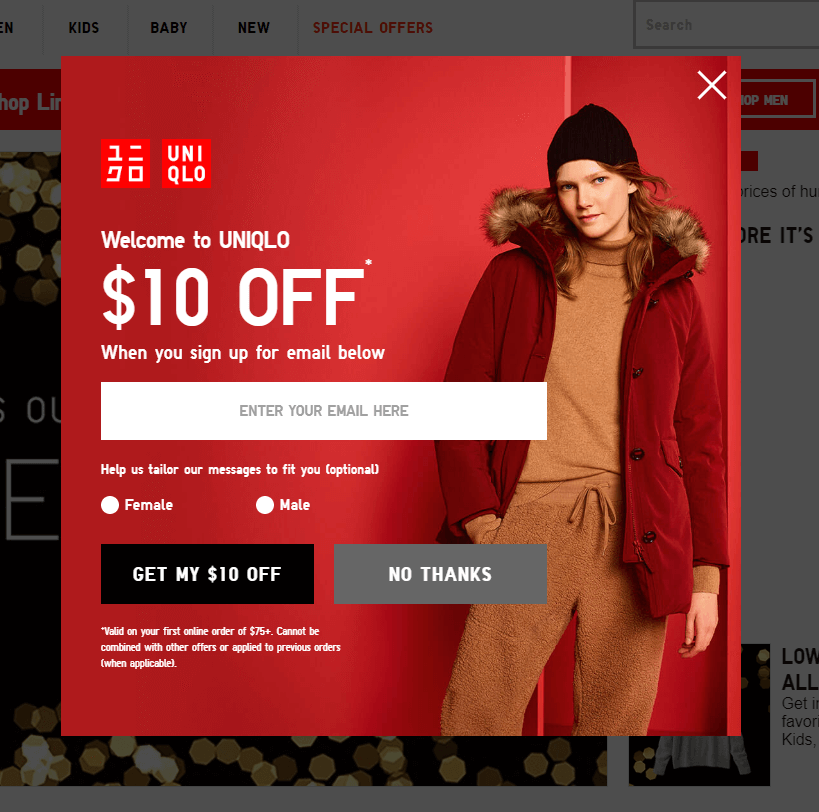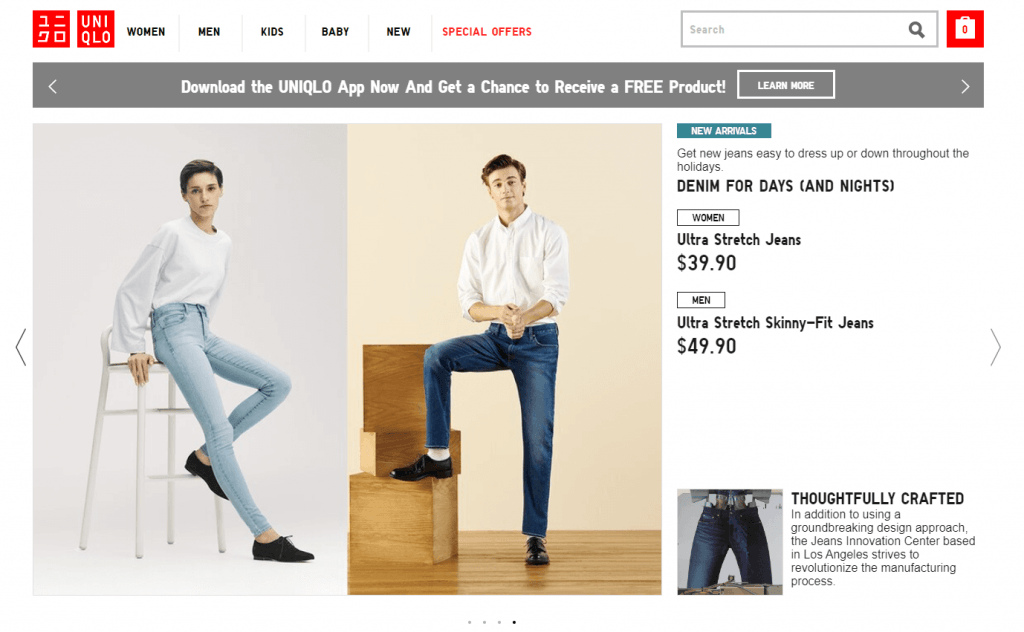 Highlighting products
If you want to navigate customers directly to particular items, highlighting them is a great choice. You can add animations so customers can quickly engage with your popular products.
Besides, putting them on the homepage helps visitors understand your style at ease and encourage more sales. Some common types of products you should consider to be featured on the eCommerce homepage are Best-seller, Sales-off, and New Arrival.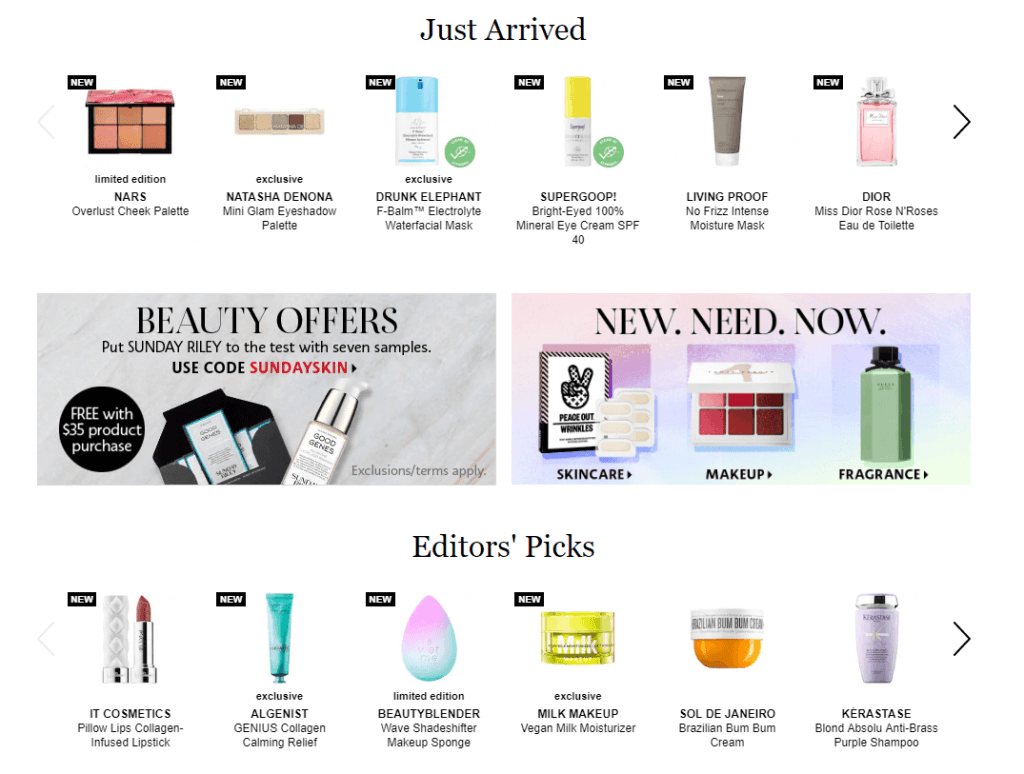 Live chat
What's a better way to serve your precious customers than giving them advice right on-site?
There are many cases that live chat that proves its efficiency: answering further questions, receiving malfunction reports, introducing new sales programs, or providing professional recommendations.
Just through simple conversations, you can understand your customers' needs and decide the most suitable measure to handle their requests.
Language/Currency change
In an integrating world, there's no boundary stopping people to buy their chosen items. Living at the US yet you still want the Japan limited edition? Well, piece of cake. Just enter the Japanese website and purchase what you desire. However, some consumers worry about the language and currency differences will hinder the buying process.
That's why a language and currency change tool is important to make your store available globally. Putting it on the eCommerce homepage is a winning point since you can attract more foreign customers and gain trust as an international online business.
Cart/Log In button
For your loyal customers who have already registered at your brand, it will be easier for them to have the Login button as well as Cart right at the homepage. They can enter their account to check previous purchases as well as the abandoned cart. Thus it's a shortcut to follow the loyalty program as all the information are stored in their account.
For newcomers, they can easily be a part of your business since they can sign up right at your homepage. It requires no complicated steps or entering another site for customers to engage deeper with your store.
We cannot deny the influence of social networks on our life. Online brands quickly realize the potential of these platforms: It's time to find new ways to make social networks their best ally in introducing and selling products.

Creating a seamless route from SNS to eCommerce homepage will benefit both retailers and visitors. Store-owners have more means to expand their reputation while customers can easily share store information and program as reference for their family and friends.
Contact Us button
If customers have any further request and problem that require personal customization or private analysis, the Contact Us button is there for their support.
You can add necessary information such as your contact details and requirement so the store understands your needs. Placing it on the eCommerce homepage is a great proof of enthusiastic customers services.
Loyalty program
More and more stores are implementing a loyalty program into their workflow. Why?
Well, the answer is quite easy: It encourages more actions from the customers. Not only they show the gratitude of the business toward frequent buyers, but loyalty policies also lead to more repeat purchases. All program share the same process: The more you buy, the more rewards you get. There are lots of methods to create customers' loyalty and the most common one is reward points. 
Putting your loyalty program visible on the homepage will definitely draw the attention of visitors right at first glance: There's no way they won't fall in love with irresistible priorities.

Honourable mentions
Above are the 10 must-have elements for your eCommerce homepage. You can build a plan to make your homepage user-friendly as well as fully-functioned. A helpful and attractive homepage means an unforgettable first impression for the customers! This will be the reason to keep them stay at your store and come back in the future.
Still, there are always rooms for improvement. Here are 5 more factors you can consider to set up for the eCommerce homepage:
Brand's logo
Among thousands of brands online, it's a smart move to make customers remember you by striking at their visual memory.
The logos will ensure that visitors have come to the correct page. Presenting partners' logos can help buyers recognize big names for a trustworthy shopping journey at your store.
Blog
Providing your visitors with insights and hottest news can help them with the final decision. You can focus on analysing trends, comparing products or introducing new movements of the industry.
Your informative and attractive blog will increase more traffic and ranking of your site on search engines. By adding a simple Blog shortcut or button, you can create a good impression for your brand.
FAQs
As we have mentioned, customers may encounter some problems in their online shopping way. You can handle these issues from your chatbot, however, it may not provide the explanation on time and some questions are similar. To reduce the workload, you can create a FAQs section on the homepage so customers can find the answer right away.
About Us button
Besides increasing your revenue, gaining brand awareness plays a crucial part in a long-term successful business. 51% of consumers believe that "thorough contact information" is the crucial part missing from lots of websites.
About Us button will show your characteristics which help customers understand your brand and believe in your credibility.

Feedbacks
This is the best ways to gain the trust of customers. Reading the satisfying experiences of previous buyers, newcomers won't hesitate to explore more about your store.
Putting it on the homepage will increase the conversion rate since visitors are now guaranteed with the qualities of your products and services.
Final words
Your eCommerce homepage is the face of your store. So making it beautiful and productive will determine your success in the future. More importantly, it's not hard to transform your homepage.
Take a look at the top 10 features - they are all the fundamental elements you can easily set up. Don't waste any more moment to upgrade your homepage right now!
With more than 7 years of experience in helping eCommerce store optimize their website, Magenest is your best choice for your growing business!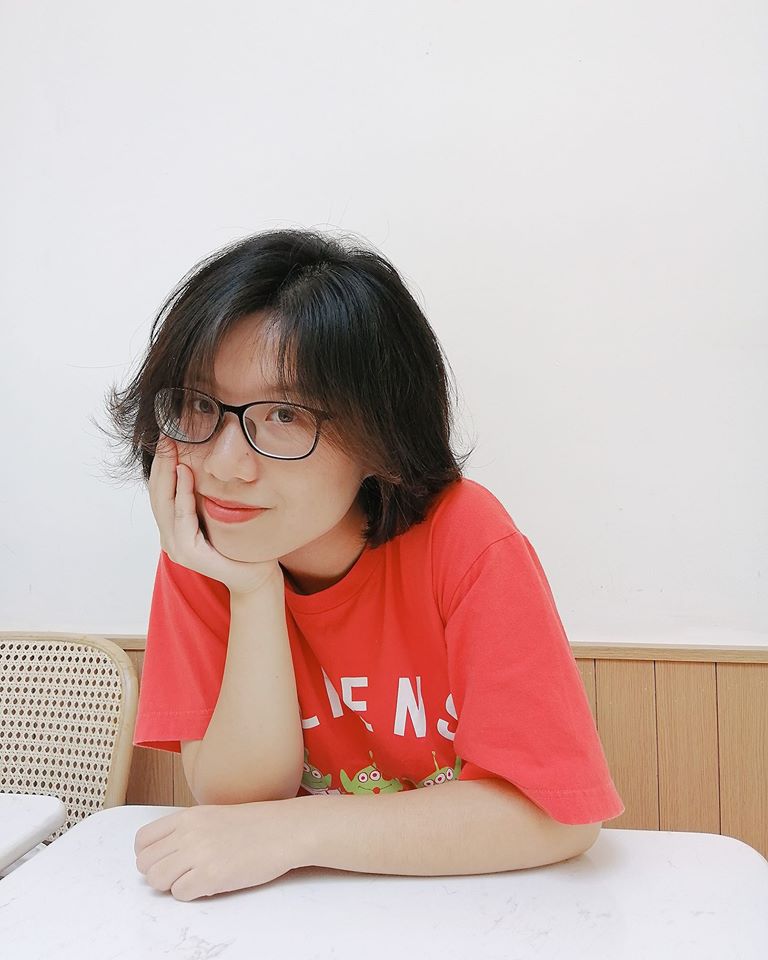 Marketing Executive | Learning new things every day.