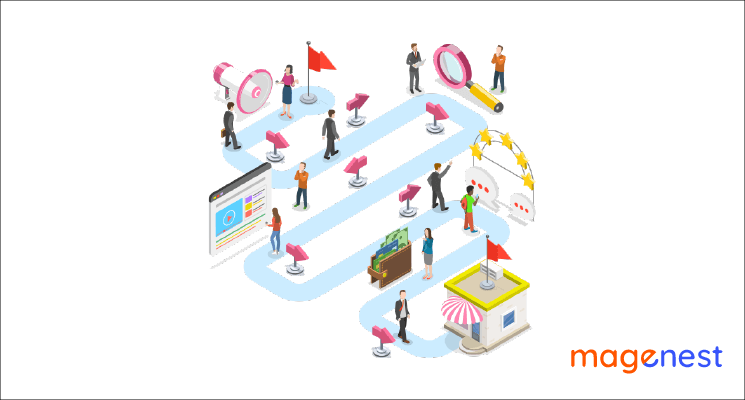 Research from Sales Drivers shows 89% of companies are competing on delivering an excellent customer experience. This involves measuring customer satisfaction, defining the customer journey, and constantly looking to upgrade your performances.
There is no easy way to get into customers' minds to understand how they feel towards your brand. Marketers are looking to conduct surveys, however, the data collected is not comprehensive as it focuses on the customer experience at a certain stage, or too general.
So they have come up with creating a customer journey map to help companies get an insight into the buying process, understand the drawbacks, and more. Then you can wisely plan out a friendly customer experience that wins their hearts.
Building a customer journey map is no easy task, however, we have broken down small steps for you to follow and customize. Before that, let's get to know the fundamentals of the customer journey design.
What is the customer journey map?
A customer journey map is an illustration of the customer journey when they interact with your brand during the purchase. It can be a diagram, drawing, or a mix of both.
The purpose of creating a customer journey map is to visualize all the necessary touchpoints, customer's pain points when they tend to drop out (it's where you should intervene), grasp the overall picture of how you function as a whole.
This is the most friendly way to showcase and engage many departments all together to work towards gaining credit from your customers.
Aim for making a customer journey map to create customer journey that is delightful. Here is how you can do so.
Creating a customer journey map with 6 steps
You can create user journey map with 6 simple steps as below.
#1 Set your goals
This taps on the principles of keeping you grounded with your initial goals.
People build a customer journey map for different purposes: to streamline the buying journey, create seamless experiences for customers on different platforms, improve customer services, connect and align all departments together, etc. It varies.
So keep your eyes on the most important aspects and pick the relevant information to present on the map.

#2 Identify customer persona
A very important part of creating a customer journey map is to understand your customer persona.
Of course, customers have different thoughts and perspectives throughout the same journey. The marketing persona we are focusing on here emphasizes a general trait of a group of people who come in contact with your brand.
Your buyer persona can be something like this:
Age: 26 - 35

Place of residence: Bangkok

Married status: 35% single, 50% married, 15% divorced

Browser: Chrome, Internet Explorer

Hobbies: cooking, love to hang out, coffee

Social Media: Facebook, Instagram, Tiktok, Twitter, Whatsapp, Linkedin

Desires: prefer quick service, good quality products

Hate: traffic jam, late delivery

Favorite celebrities: young singers with good dancing, mid-aged celebs with children
It's quite impossible to get down to each and every customer to understand who they are and what they like, so defining customer persona helps you signal the most outstanding aspects for customer-focused improvements.
#3 Mark out the touchpoints
Touchpoints are must-haves in creating a customer journey map.
These are the times when your customer come in contact with your services from the beginning until post-purchases.
The touchpoints are significantly different from business to business. Regardless, the main point here is to define the crucial ones where you present yourself as a brand.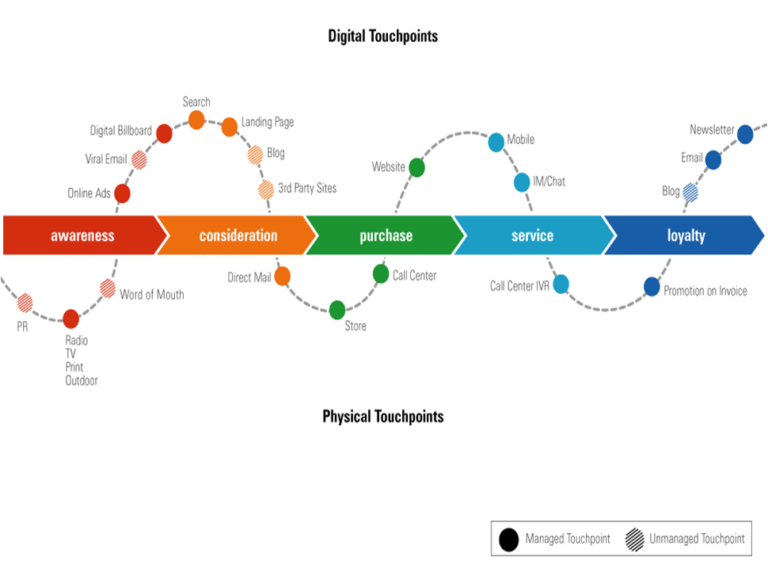 This illustration demonstrates the whole process of a customer journey via different touchpoints: online and offline.
#4 Understand the opportunities and challenges
You need to understand what opportunities to keep customers to proceed and what the drawbacks are that steer them away.
Opportunities here means how you can present yourself and show them the values you can deliver.
For example:
You can create an FAQ to help prospects understand your service better

Creating a manual that comprises no technical jargons and friendly to everyone

Build a Facebook chatbot to communicate effectively with your customer
Offer a reward point program to keep them accompany you in the long run
An eCommerce pop-up offering freeship delivery for the first time purchase

Provide them with useful information on how the products can better their life
On the other hand, challenges are what tend to discourage customers and prompt them to drop out of the purchase.
For example:
The customer card is not accepted for payment

Customers' queries take a long time to get responded

Traffic overloaded during the Black Friday

The product is out of stock at checkout

Guarantee and return policy are not favorable
To point out these important facts, you need to coordinate with different departments, from customer service, call center, website analytics, marketing, and so on.
#5 Define customer's emotions during the purchase
An essential part of creating a customer journey map is to define how customers feel.

This one example of how you can illustrate customer emotions when interacting with your business.
A customer can come in with excitement to look for their desired products, however, the excitement can't prolong if you keep them wait to access your site, confuse them with unordered product lists, or discourage them with an expensive delivery fee.
So keep track of customer emotions and look into how you can improve.
There are many factors affecting customer satisfaction during their journey that you should watch out for. You can improve it, by figuring out what that is.
>>> Read more: 10 Key Factors Affecting Customer Satisfaction in Ecommerce
#6 Get the customer's thoughts on their journey
How? Reach out to the customer service department or keep your eyes on the reviews displayed on Facebook or the website. The verbatims are so important to verify how your customers feel, what they need, how much they are interested, or how likely they will come back. Below is a prime example of creating a customer journey map with customer thoughts attached.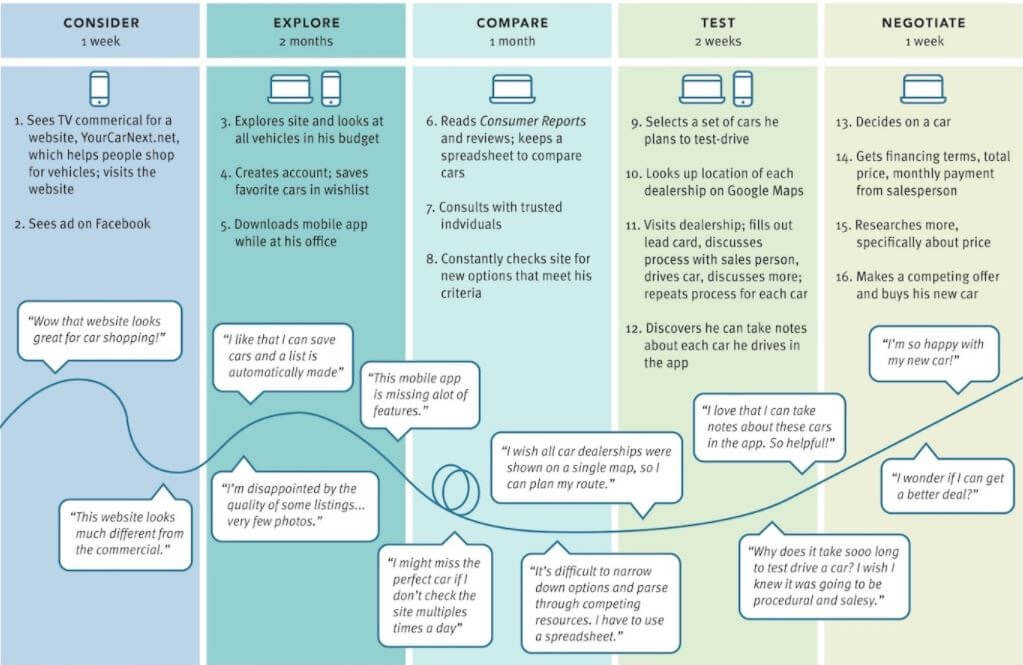 Customer's thoughts also pinpoint how happy or frustrated they are in each step and it's an important metric in measuring customer satisfaction.
Customer journey map creator
You can opt for creating a customer journey map with simple office tools. It's proven to be just as effective and good enough. However, if the buying process involves multiple partners, different stakeholders, and touchpoints, you might want to illustrate it by using a customer journey map builder.
There are many available tools out there to help you map out the best customer journey, like Touchpoint Dashboard or UXPressia. Make the best use of it in creating a customer journey map that tells a story and presents all the necessary information all at once.
Creating a customer journey map is an art
This art captures customer thoughts, pain points, opportunities, and all to help you stay on top of the happenings and drive you to better decisions. All in all, it's a reflection of how you have been performing. Use the customer journey map to create a better prospect for your business!