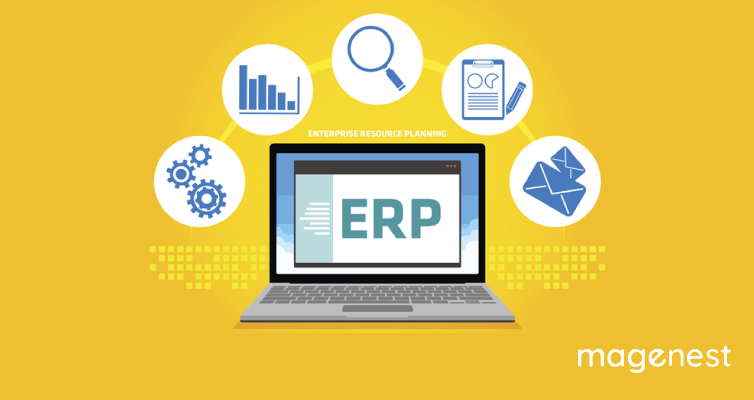 ERP stands for Enterprise Resource Planning. As its name implied, ERP is a system that helps you to effectively manage your business in an automated way. Integrating ERP with your business activities in several platforms such as e-commerce, CRM, accounting, etc. helps you to easily keep track and manage data from different sources.
However, integrating ERP with other platforms is not easy at all. The thing is you need to find a reliable and valuable automated extension for it. This extension allows you to sync and connects data in a wide range of departments such as marketing, sales, CRM, and so on.
In this article, we are going to explain the definition of ERP Integration, how vital it is to your business, how many types it may be classified, and some best practices your business should do without any hesitation.
What is ERP Integration meaning?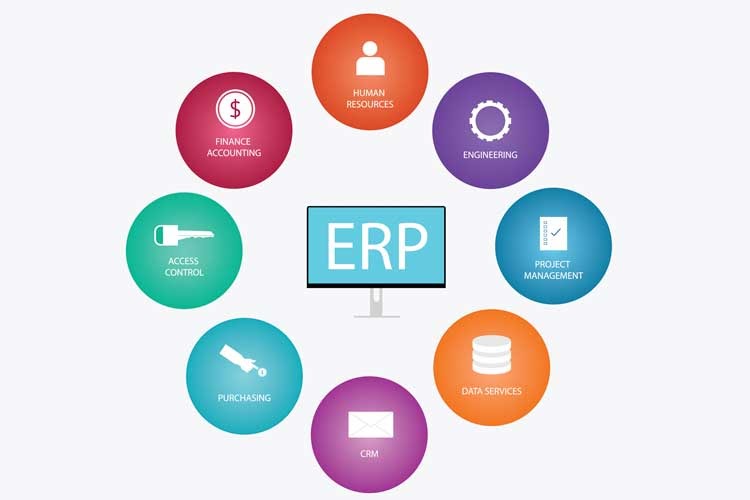 Simply put, ERP is a business management software that directly handles, tracks and works with all functions that a business may have (accounting, customers, products, logistics, HR, supply chain, and so on). In other words, ERP simplifies and plans data from starting points to ending points.
So, ERP Integration definition may be understood to be an intermediate ground that connects and synchronizes your business's data including (customers' information, inventory, real-time process, etc.) between ERP and other platforms. ERP Integration mainly services marketing activities such as analytics and other databases in different departments like accounting, e-commerce, CRM, etc that your business operates with.
What are the Benefits of ERP Integration?
Automated Business Process
In this technology era, it is so weird for your business if you keep doing work with the manual process. Without ERP Integration, your staff has to submit all the information from leads, prospects, and loyal customers 100% by hand. That means the workload will be much burdensome and time-consuming. In this case, ERP Integration is a must if you want to get the effectiveness of the operation.
Let's imagine when you get ERP integrated. Every step discussed above from entering customers' data, order details, and other processes will be automated with only one set. You do not need to manually work with all the functions (e-commerce, CRM, EDT, EAM, etc.). As a result, ERP Integration allows you to streamline business processes and workload across departments.
Time Effectiveness
Instead of spending 8 hours a day manually working with data and other processes, you only need 1 (depending) each day. This facilitates you to spend time on other useful business tactics and operations such as market analytics, business expansion, lead gaining, and so on. All the data will be automatically synchronized between ERP and business' different platforms.
Accuracy of Operation
What happens when working with incorrect information? Yes, your activities will be delayed and not effective. With this in mind, ERP Integration helps in this case. Accuracy of information leads to the effectiveness of the business operation. All the process of entering data thanks to integrating ERP and platforms will be 100% automated. Therefore, the chances of making mistakes may be at zero.
Ultimately, you have to remember that making mistakes when working with data is not a rare situation for anyone, even the one who is so meticulous. Therefore, integrating ERP in your system is considered the best way to avoid making errors in the database.
Easy tracking and Controlling
As mentioned above, ERP Integration is essential because it helps you manage your workflow properly. Besides that, thanks to the proper management, you and your co-workers have a chance to keep track and control all the data in an easy way.
Every step is done and recorded in the history button. Therefore, tracking and controlling your data is much easier than ever.
Team Collaboration
Working in a company leads to cooperation among co-workers for sure. If you manually put or enter data, it may take more time and your co-workers may have to wait for the results.
Moreover, because of lacking collaboration, your team may be conflicted at some time. Therefore, ERP Integration really helps in this case. It automatically connects and strengthens your business's collaboration among teams.
What you will receive?
Customers know exactly and quickly products' information
Sales team and inventory team work effectively
The end result is satisfaction
Proper Customer Management
ERP Integration especially works best with customers' data. But the journey for someone to become a customer is not easy. It has gone through stages from lead, prospect, customer and repeat customer. Therefore, a complete ERP Integration in your system helps you to gain high conversion rates by productively managing their data. With this tool, the customer journey would be more easy-tracking.
>>>> Read more: ERP Integration with Magento: 2 Best Solutions for eCommerce
Types of ERP Integration
After having a look at the benefits of ERP Integration for your business, you may wonder how many types it has. Depending on platforms that ERP may be synchronized with, the answer is right below:
#1 eCommerce - ERP Integration
E-commerce is the common platform that needs integrating ERP with. Because it directly works with leads, prospects, and customers' data every single day. Hence, making mistakes in putting or entering data may be usual.
ERP Integration with eCommerce ensures that data is available and accurate to all members, even customers. Almost 100% of businesses having e-commerce stores provide this ERP application nowadays to optimize the accuracy of their data.
For Magento store owners, if your business has Odoo as an ERP platform, you should try our Odoo Integration extension. It is productive and easy to use, leading to the effectiveness in your operation.
What you can get from integrating Odoo ERP with Magento-based e-commerce website by Magenest extension are as follows: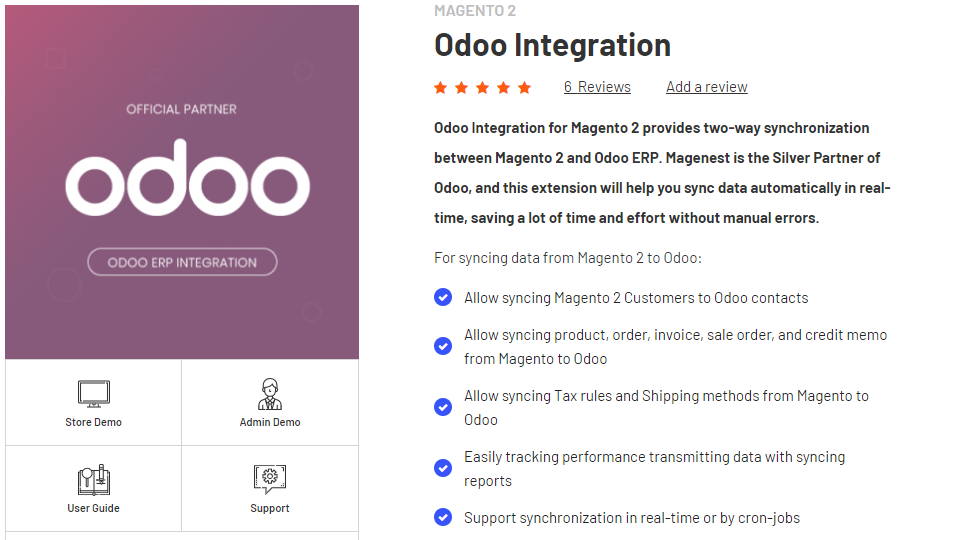 Automatically sync data in real-time
Sync customer data from Magento 2 to Odoo
Sync products' information (including inventory, etc.) from Magento 2 to Odoo
Sync orders, invoices, credit memos, tax rules, and shipping methods from Magento 2 to Odoo
Easy-tracking and easy management
Saving time and effort without manual errors
#2 CRM - ERP Integration
If eCommerce - ERP Integration relates to data of customers in the front-office function, CRM - ERP integration works with data of customers in the back-office one. It stores all customer data and their transactions, orders, communications and much more.
READ MORE Customer Relationship Management (CRM): Everything You Need to Know
This ERP Integration allows all teams in the company to facilitate each other. Other departments may gain effective operations such as logistics and inventory teams.
Benefits CRM - ERP Integration may bring to your business:
Collaborative operation among teams
Sales funnel conversions and performance will be optimized
Quick and automated access to customers' data
Unification across systems and departments in a business
#3 EDI - ERP Integration
EDI stands for Electronic Data Interchange. As implied in its name, this platform allows electronic data transfer easily and quickly across organizations such as trade partners, suppliers, distributors, and many more.
Without any manual effort, integrating ERP with EDI will help purchase orders, transactions, shipping information or even inventory details connect across departments. Besides that, EDI ERP Integration also plays an important role compared with e-commerce and CRM Integration. Because it collects data from the two platforms.
Benefits EDI - ERP Integration may bring to your business:
Easy data transferring
Information about orders, transactions, shipment, invoices and inventory will be satisfied
Logistics and supply chain data will be improved to boost e-commerce activities
#4 ERM - ERP Integration
ERM stands for Enterprise Asset Management. This is what you need for a business to properly manage its assets. Data on raw materials, devices, vehicles, and equipment will be stored in a safe place. Especially, if your business is in the manufacturing sector, ERM ERP Integration is a must.
Benefits ERM - ERP Integration may bring to your business:
Effective utilization of your tangible assets
Easy maintenance
Effective management of human resources and their assets' use
>>>> Read more: 10 Best Magento 2 ERP Integration Extensions Free & Paid 2020
ERP Integration Best Practices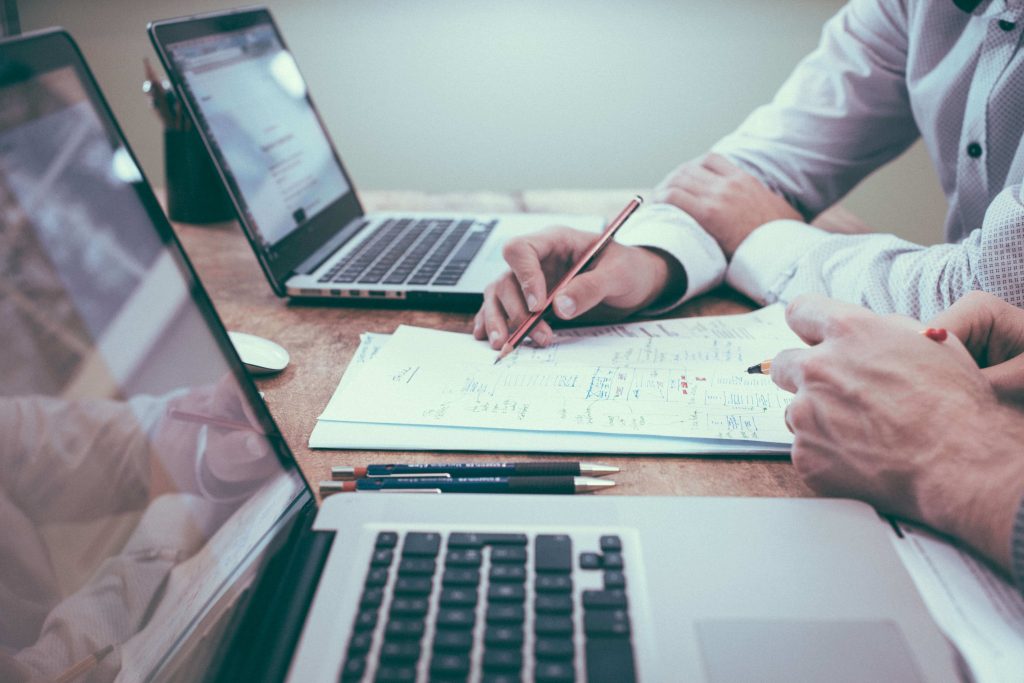 Knowing the importance of applying ERP Integration in your business's platform is never enough. In reality, there are challenges your business has to face and solve before choosing a really good extension supported. Below are the 3 best practices you must do now before thinking of applying ERP Integration:
Build A Business Case
Analyzing your business situation carefully first. This process may take time but trust us, well preparation leads to effective operation. Answering questions such as "Who would be benefited if you integrate ERP?" "Do your departments need it?" "How would you apply?"
As you see, a comprehensive business case should identify who is going to be affected by the ERP Integration. After considering them, you will quickly spot the entire picture of your business and easily find the answer about which ERP Integration should be applied.
Choose the right people
Not everyone understands and knows what ERP Integration is about. Therefore, the second step is to get the right one involved. Who is the leader? Who is the conductor? Who is the specialist for each platform?
Answering these questions helps you to simplify the integration process with your business platforms.
Plan, plan and plan
Do not be so rushed to integrate immediately, you will make mistakes. What you need to plan in this step are:
Source: Where is your data coming from?
Target: Where is your data going to?
Frequency: How does often the integration need to run?
Once you have identified answers for all the questions, you have to put it down in a note. According to what you have spotted, this is the right time to integrate.
Final thought
Based on our experiences, you must get the right and reliable third party involved to save time and effort. This party provides useful extensions helping your business integrate ERP with other business platforms without making any mistakes.