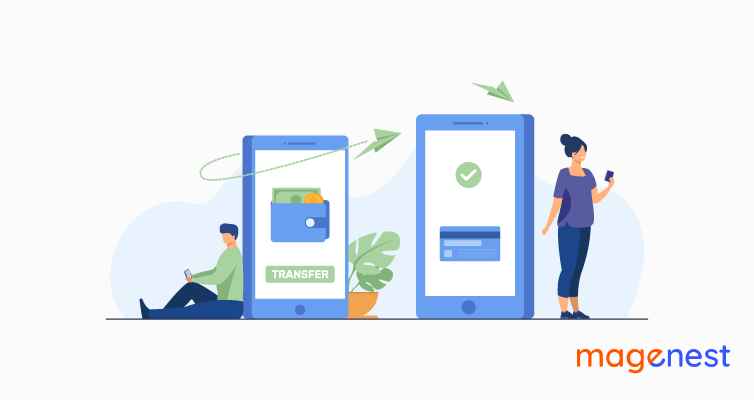 Have you ever heard of the service that has laid the foundation for the era of modern e-Commerce called payment gateways?
Whether you own an e-Commerce store or about to, having at least one payment gateway is a requisite, thus we write this article for any of you guys who are not clear about its variance.
This entry will throw light on what payment gateways are and how typical types of payment gateways used on e-Commerce sites work. We also examine their pros and cons so you can decide which one best suits your business.
Let's get the ball rolling!
What are Payment Gateways?
A payment gateway is a merchant service delivered by an eCommerce application service provider that allows credit card or processing for traditional brick and mortar, e-businesses, bricks, and clicks, or online retailers. The payment gateway may be provided by a bank to its customers but can be provided by a specialized financial service provider as a separate service, such as a payment service provider.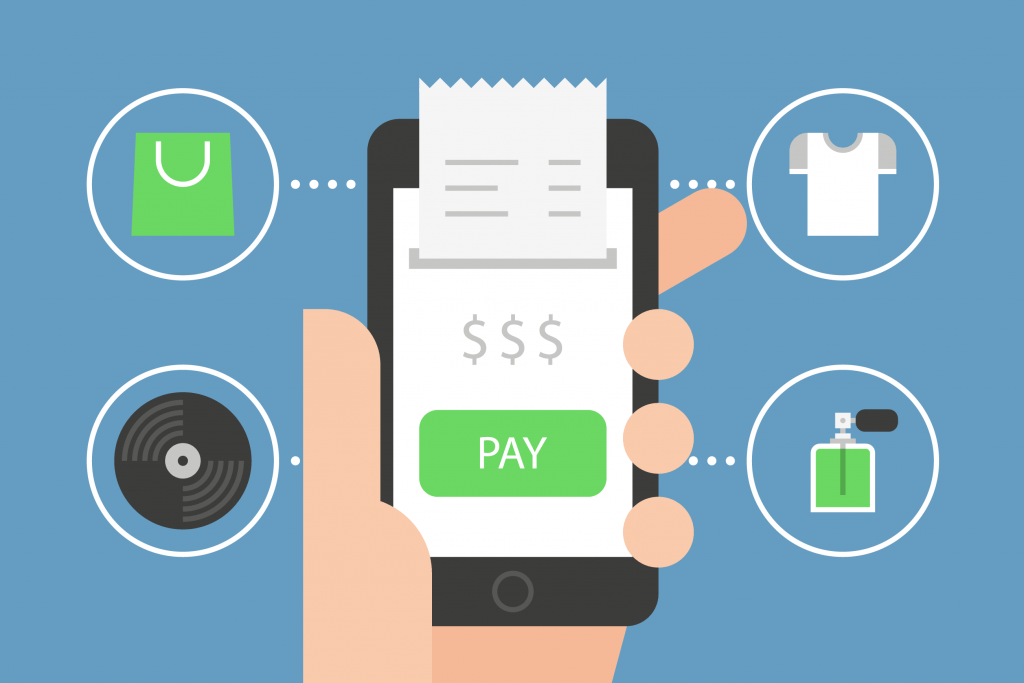 Payment gateways are designed to facilitate a payment transaction by transferring information between a payment portal (such as a mobile phone, website, or interactive voice response service) and the acquiring bank or front-end processor.
Payment Gateways vs. Payment Processors
You may discover payment "gateways" and "processors" used interchangeably, yet, there are some key points of distinctions:
A payment processor examines and transmits transaction data. That includes transferring relevant data to an issuing bank, such as the debit or credit card number that links to a bank account.
This is different from the payment gateway, which does the work listed above but also allows the transfer of funds between buyer and seller. The distinction seems subtle at first but consider the gateway as the overall system at the point of purchase: the metaphorical cash register. The payment processor is the step that "swipes" the card and runs the information by the issuing bank in the process.
Similar to a payment gateway, a processor can hold both a digital and hardware component — or it can handle the processing just through software.
Read more: Top 10 best payment gateway for eCommerce business
Why are there so many payment gateways?
You have probably heard of Paypal, Stripe, Amazon Pay, etc. They are all payment gateways, but have you ever wondered why there are so many of them?
Consider this, your customers might come from several countries, each has a different preferred method of payment. Nonetheless, you only authorize Paypal. Although Paypal is superior and popular, not everyone uses it. Geographic, cultural, and linguistic factors affect the choice of payment methods that customers use.
If businesses want to become a multinational or global online retailer, supporting more payment gateways online helps their own stores gain access to a broader market base.
There are three main types in general:
#1 Redirects Payment Gateways
Redirects payment gateways might include an option for payment, for instance, Paypal. When the gateway takes a customer to a PayPal payment site to carry out the complete transaction (i.e. processing and paying) it displays a "Redirect."
The advantage for the retailer lies in simplicity. A small business can use a Redirect gateway to combine the security and convenience of a supported platform like PayPal, however, the process also implies less control for the merchant — and a second step for customers.
#2 Checkout on site, payment off-site
Take into account the case of Stripe's payment gateway: the front-end checkout will take place on your site, but the payment processing occurs through Stripe's backend.
The Co-Founder of Barn2 advised that "Always use established payment gateways such as Stripe or PayPal, and make sure that customer's credit card data is directly collected on the third-party site so that your own site will never have to handle sensitive payment data. Also, use Secure Sockets Layer (SSL) on your own site to ensure that connection between your site and the payment gateways is encrypted under all circumstances."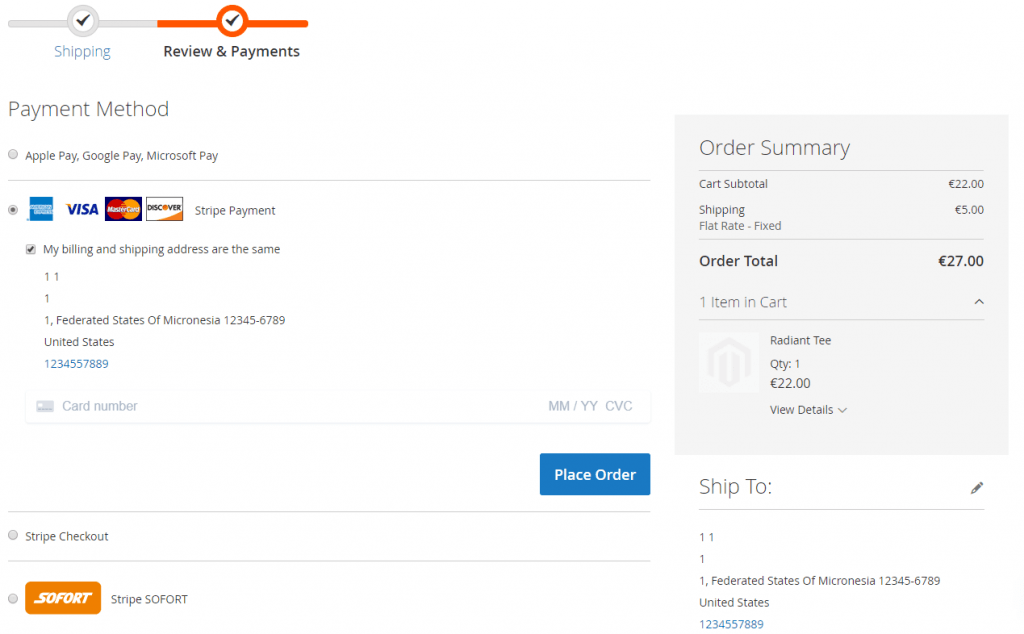 Alike redirected payment gateways, there are some benefits of handling your payments that have to handle means, including simplicity. But you won't be able to control the user's whole experience throughout the payment gateway.
You'll finally be at the mercy of the quality and also the quirks of the offsite gateway.
#3 On-site payments
Large-scale companies tend to use on-site payments handled completely on their own servers. The checkout and payment processing on behalf of the customer all work through your system.
The advantages are now flipped: you'll have more control, but along with more responsibility.
Every variable counts if you handle payments on-site. As retail has a cart abandonment rate of nearly 75%, any improvement made to the shopping experience can bring about dramatic changes in your bottom line. This is particularly true for any retailer working with a high volume of sales. Remember when you handle your payments on-site, it's necessary that you understand your options as well as your duties.
Direct or Redirect Payment Gateways - Which to choose?
When making the decision of direct types or redirect types of payment gateways, you may need to consider all elements below: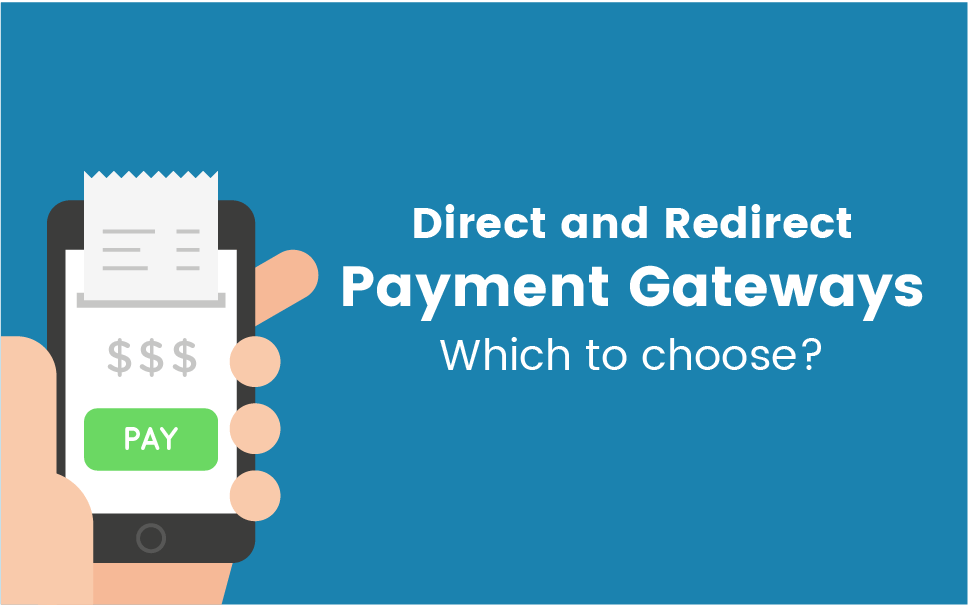 Considerations for Choosing a Redirect Payment Gateways
Pros:
Customer Safety Assurance: PSP are trusted worldwide and they comply well with security requirements. Using redirect payment gateways helps the customers to feel more confident as their information is in the hands of those who are well-known for handling them securely.

Reduced PCI DSS requirements for businesses: The PSP captures the card details, the e-Commerce site will not be responsible for the data.
Cons
Lacks customization: Because the site redirects customers to the PSP's end, there is not much you can do about the payment page. The best thing you can do about the payment site is to add your brand logo to reassure the customers that you are still with them.
Considerations for Choosing a Direct Payment Gateways
Pros
Highly customizable: Embedding the payment page into the e-Commerce site allows merchants to customize its interface to fit with the whole website.

Consistent Customer Experience: Because customers stay on the e-Commerce site, they will feel more comfortable and less confused when submitting their information.
Cons
Slightly higher cost: Takes more effort to work with than redirect payment gateways as direct payment gateways require more customization.

Strict PCI DSS requirements: The e-Commerce businesses will be liable for the security
Read more: 8 Must-know Criteria When Choosing Magento 2 Payment Gateway
How to Choose a Payment Gateway?
Having in mind what to expect from a payment gateway eCommerce will help you to narrow the focus to how to pick your payment gateway of choice.
You won't have any trouble finding a mainstream payment gateway that gives your shopping carts convenience, so let's just focus on security since 27% of customers abandon a cart only due to a lack of visible security, according to Experian.
To know whether you're working with a secure payment gateway or not, ask yourself the following questions:
What Payments do your Customers Use?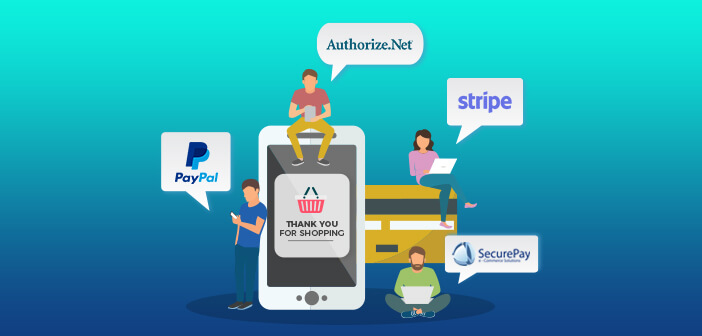 It's one of the necessary questions you need to ask: what are your customers previously using to handle their payments? If you stack your payment gateways and promote the type they can use, you'll run into fewer problems and also fewer security risks.
What is the Charge from the Payment Gateway?
The costs of eCommerce fraud can add to your bottom line, which indicates that when a payment gateway's lower costs are exceeded by the money you spend on additional fraud detection and security concerns, it might not be worth that investment.
So, consider the fee of your payment gateway and how it links to your security costs.
How Secure is their Encryption?
The Payment Card Industry Data Security Standard (PCI DSS) is a system of standards set up to maintain security provisions for the electronic industry, protect customer data and payment information.
It cannot be denied that everyone wants to cooperate with PCI compliant companies. Before pulling the trigger on anyone gateway, you may double-check that they strictly follow PCI compliance.
For instance, if you were weighing using PayPal as your payment gateway of selection, you discover that their solution is PCI compliant, which further gives you reliance on the sophistication of their encrypting process.
What is their Reputation?
If over a quarter of customers require to see visible security marks at the point of checkout, you'll have to provide a payment gateway that they trust. Consider that a Verisign seal once helped BlueFountainMedia increase its percentage of form fills by more than 40%.
If you want to prevent customers from leaving their carts, avoid sketchy and defective payment gateways.
Instead, focus on big payment gateway providers with verified reputations, such as PayPal, Opayo, Amazon Pay, Apple Pay...
This brand recognition works at your disposal by highlighting your security and promoting a customer to continue shopping.
Conclusion
There are a great number of popular providers, the most common are PayPal, Stripe, Amazon Pay, Opayo (formerly Sage Pay),... Each of them offers both redirect and direct payment integration options for you to consider for your eCommerce businesses.
If you still don't know which sort of payment gateway integration to choose or need more technical information, you can check our Payment Integration Extensions for Magento 2 out to learn more about Magento 2 payment gateways.